The Best Guitarists of All Time (Updated in 2022)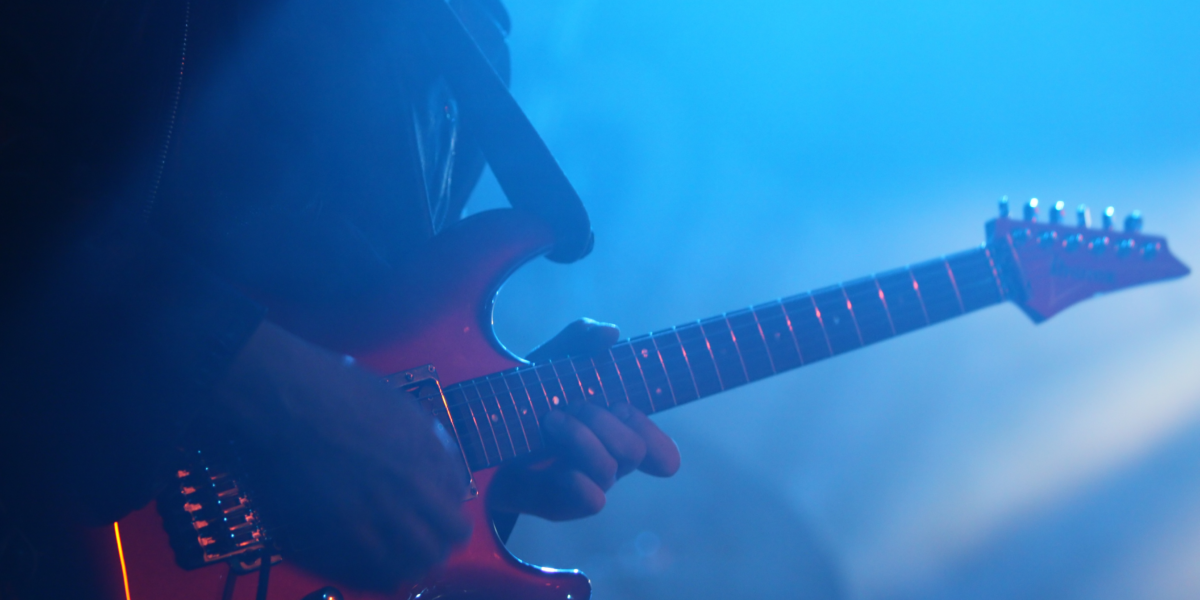 Do you know who the most famous guitarists of all time are? 
Countless guitarists have graced the stage over the ages, each knowing how to move crowds, injecting them with life and passion. Some performed well, others did great, but some distinguished themselves from everyone else.
Who were these guitar legends?
This article introduces ten of the greatest guitarists who've ever lived.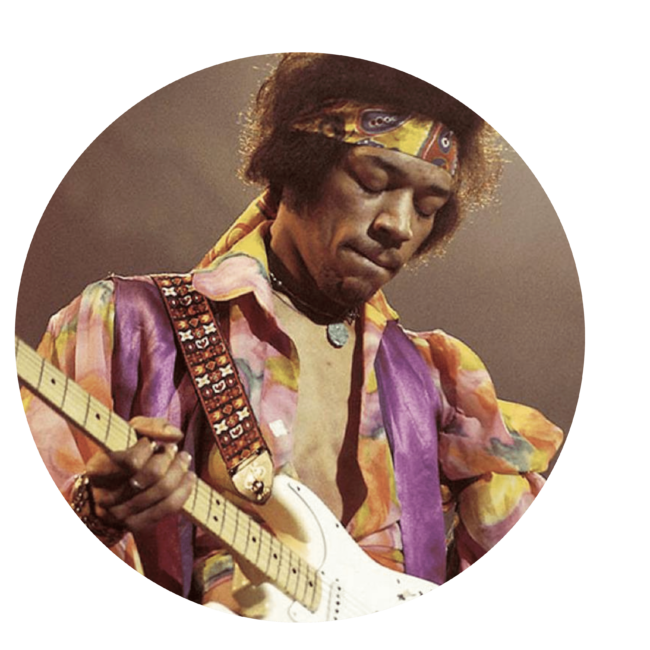 Born in Seattle, Washington, Jimi Hendrix is a legendary musician and one of the most influential guitarists. He's a pioneer in feedback and distortion in rock music and is known for his innovative and experimental playing style.
Hendrix was also a master of the blues, fusing elements of blues and rock to create his own unique sound. He died tragically at 27, but his legacy continues to live on through his music.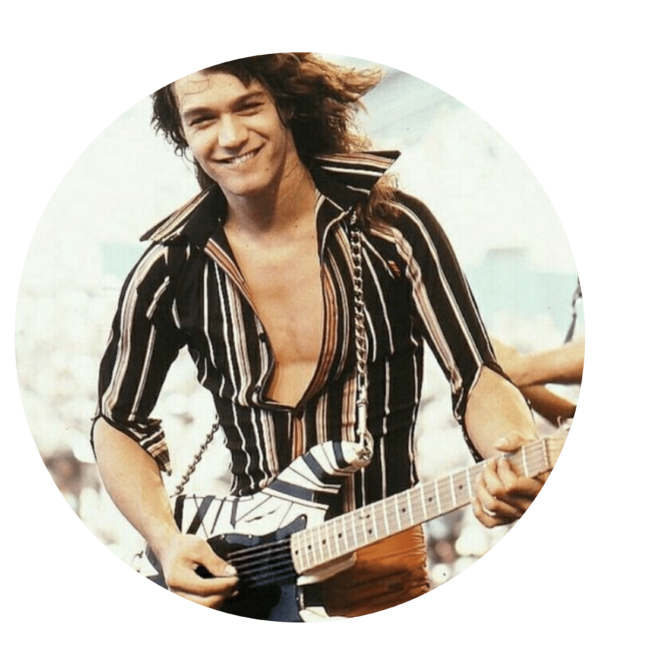 Eddie Van Halen
1955 – 2020
Eddie Van Halen was a rock guitarist, songwriter, and producer–responsible for some of rock's most iconic songs and albums. He's famous for his innovative and ground-breaking guitar playing style, influencing the sound of hard rock and heavy metal in the 1970s and 1980s.
Van Halen passed away in 2020, but his legacy as one of rock's greatest ever musicians will live on forever.
Many musicians have a passion for songwriting and have been doing so early in their careers. If you're a guitarist looking to write your own music, take a look at our blog So You Want to Be a Songwriter.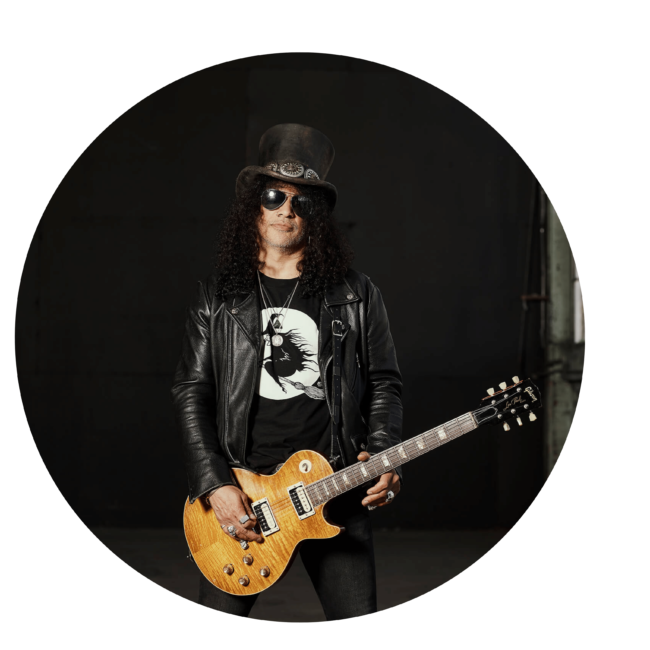 Slash is a world-renowned guitarist and songwriter. He's best known as the lead guitarist of the American rock band Guns N' Roses, achieving worldwide success in the late 1980s and early 1990s.
Slash's guitar playing is on a whole other level. Like many of the guitarists on this list, he's considered one of the greatest rock guitarists of all time.
Don't take our word for it. Take a look at this Youtube video of Slash entertaining thousands of people.
He's received numerous awards and accolades, including being inducted into the Rock and Roll Hall of Fame.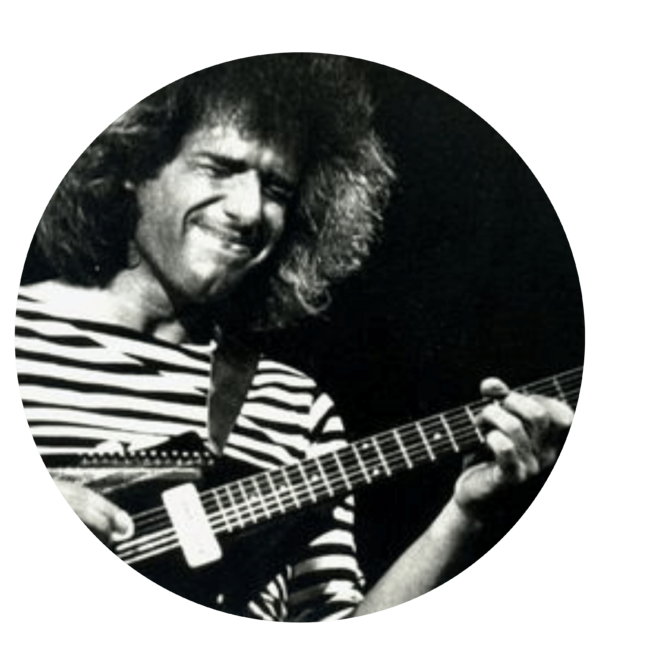 Pat Metheny
1954 – present
Pat Metheny is an American jazz guitarist who was born in Kansas City. He started playing the guitar when he was just 12 years old.
Metheny was one of his generation's most innovative and successful jazz guitarists. He released his first album in 1974, and over the next four decades, he recorded more than 40 albums as a leader and sideman.
Metheny won 20 Grammy Awards, and in 2015, he was inducted into the Down Beat Jazz Hall of Fame.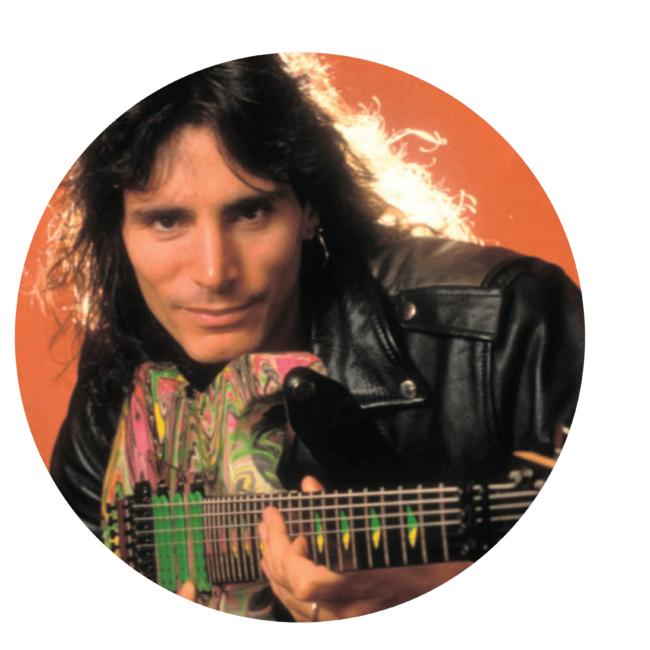 Steve Vai is an American guitarist, songwriter, and producer. Vai's work with legendary guitarist Frank Zappa and his solo work in the 1980s and '90s established him as one of his generation's most technically proficient and innovative guitarists.
His signature style combines elements of rock, metal, blues, classical, and jazz, and he is known for his use of harmonics, tapping, and sweep-picking.
Vai has released 15 solo albums and has collaborated with a wide range of artists, including Ozzy Osbourne, David Lee Roth, Whitesnake, and Alcatrazz. He is a three-time Grammy Award winner and was inducted into the Rock and Roll Hall of Fame in 2015.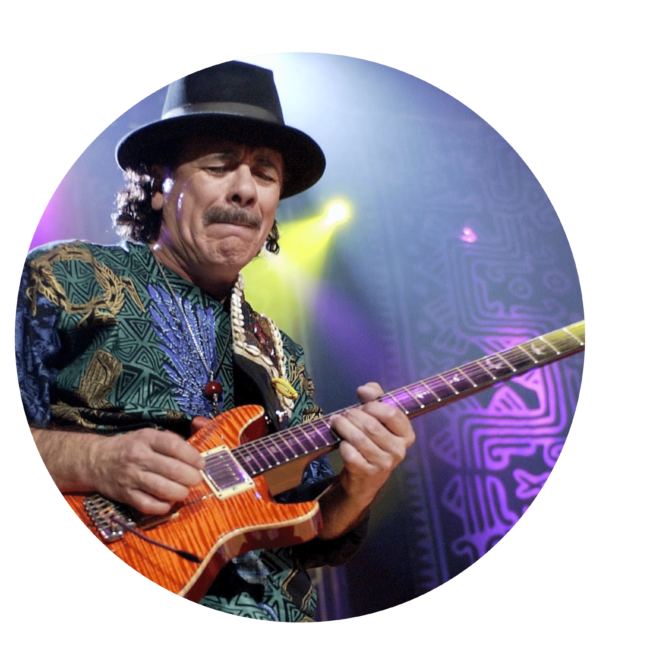 Carlos Santana
1947 – present
Carlos Santana is a Mexican-American rock guitarist. He first became famous in the late 1960s and early 1970s with his band, Santana, which pioneered a fusion of rock and Latin American music.
Santana's music is characterized by its catchy melodies and Latin-influenced rhythms. Some of his hits include "Black Magic Woman," "Oye Como Va," and "Smooth."
He's won 10 Grammy Awards and 3 Latin Grammy Awards. In 2000, he was inducted into the Rock and Roll Hall of Fame.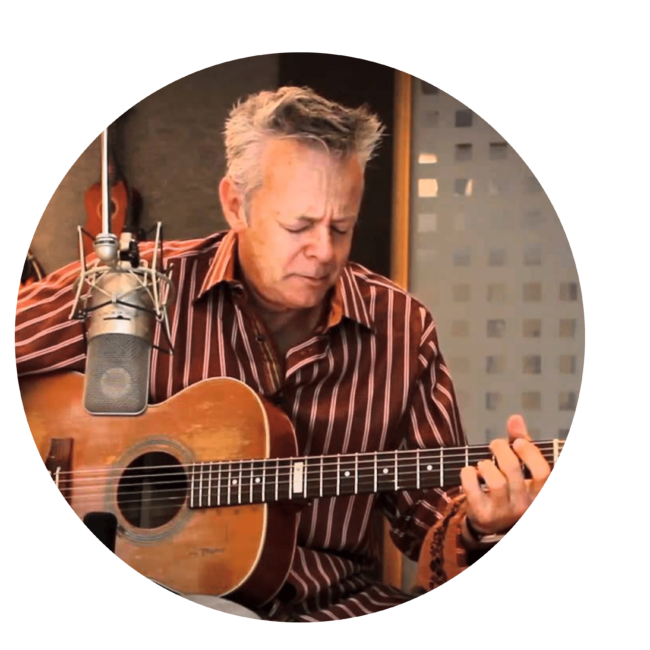 Tommy Emmanuel
1955 – present
Tommy Emmanuel is an Australian guitarist and singer-songwriter. He's been voted "Best Acoustic Guitarist" by Guitar Player magazine five times and awarded the Order of Australia.
His live performances are renowned for their technical mastery and showmanship. Emmanuel's style of guitar playing is often described as "fingerstyle" or "cheater guitar," as he uses various techniques that allow him to play melody, harmony, and rhythm simultaneously. He is also known for using percussive techniques on the guitar, which create a drum-like sound.
Emmanuel has been awarded multiple Grammy Awards and was inducted into the Guitar Player magazine Hall of Fame and the Australian Music Hall of Fame.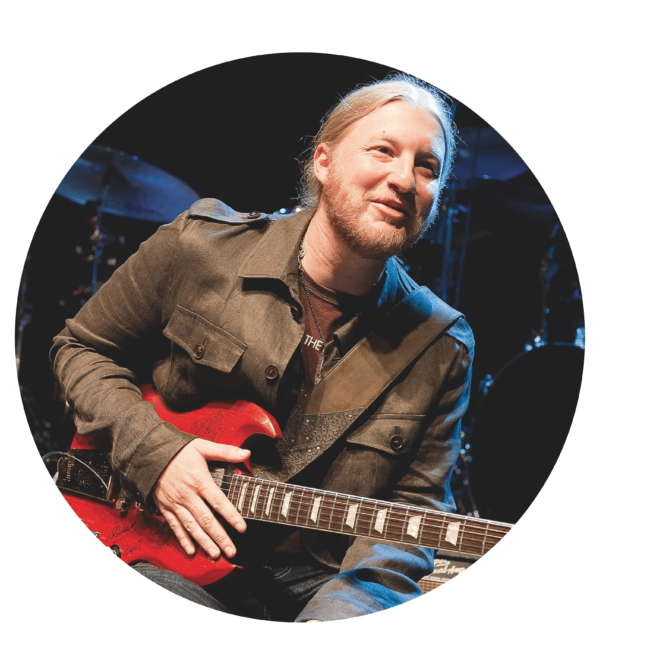 Derek Trucks
1979 – present
Playing since the age of nine, Derek Trucks is a slide guitar virtuoso and Grammy Award-winning musician.
He is best known for his work as a member of the Allman Brothers Band, with whom he played from 1999 to 2014. He won a Grammy Award with the band in 2012 for their live album, Live at the Beacon Theatre. In 2010, he formed the Derek Trucks Band, releasing seven studio albums. The band's most recent album, Already Free, won a Grammy the same year it was released for Best Contemporary Blues Album.
Trucks is considered one of the greatest slide guitarists of all time and have been ranked as one of the 100 Greatest Guitarists of All Time by Rolling.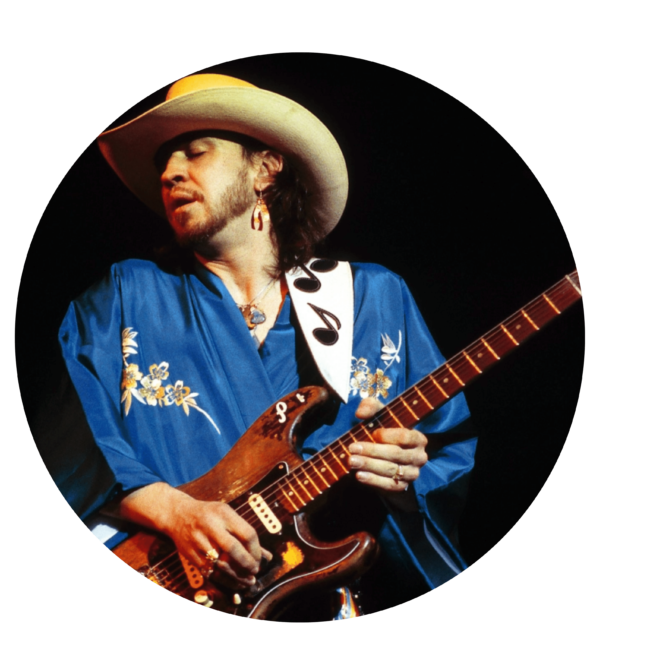 Stevie Ray Vaughan
1954 – 1990
Stevie Ray Vaughan was an American blues rock guitarist, singer, and songwriter. Vaughan was born and raised in Dallas, Texas. He began playing guitar at seven and was influenced by blues artists such as Muddy Waters and Albert King.
Vaughan formed the band Double Trouble in the early 1980s and released his debut album, Texas Flood, in 1983. The album was a commercial and critical success, and Vaughan became a mainstream celebrity.
Stevie released four more studio albums before his death in 1990–a helicopter crash that took his life. Vaughan was posthumously inducted into the Rock and Roll Hall of Fame in 2015.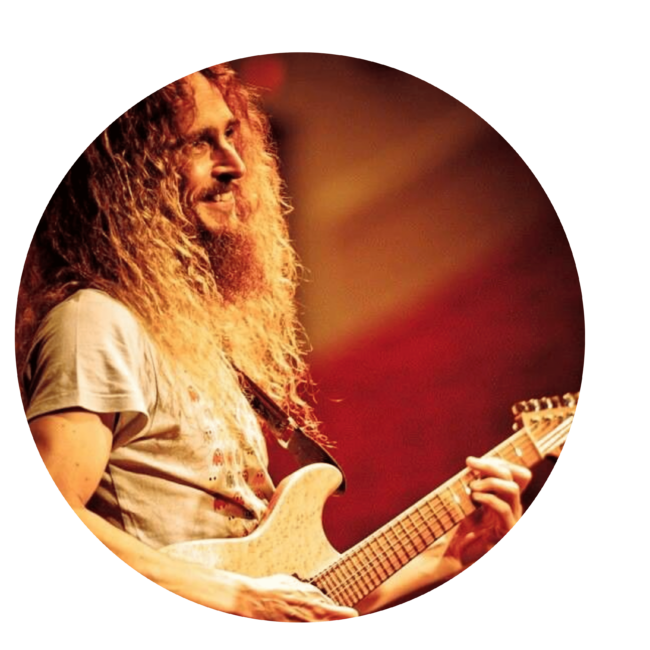 Guthrie Govan
1971 – present
Guthrie Govan is a world-renowned guitar virtuoso and one of the most influential guitarists of our generation.
He's known for his incredible technical ability, unique and instantly recognizable style, and ability to make complex guitar playing look effortless.
Guthrie has inspired a new generation of guitarists with his skills, shaping the sound of modern guitar music. He is a pioneer and a true master of the instrument. His crisp playing earns regard by many to be the greatest guitarist ever to live.
Join the best guitarists.
The guitar is incredibly dynamic, and in the right hands, it can produce beautiful and inspiring sounds. Many of these legends helped shape the music genre they played in or demonstrated mastery of the instrument on a whole other level.
Each of these legends shared an understanding of how to play with their guitars. The good news is you don't have to be a legend to join them. Simply Guitar is an app that helps you make consistent steps toward guitar greatness.
FAQs.