The Best Female Guitarists of All Time (Updated in 2022)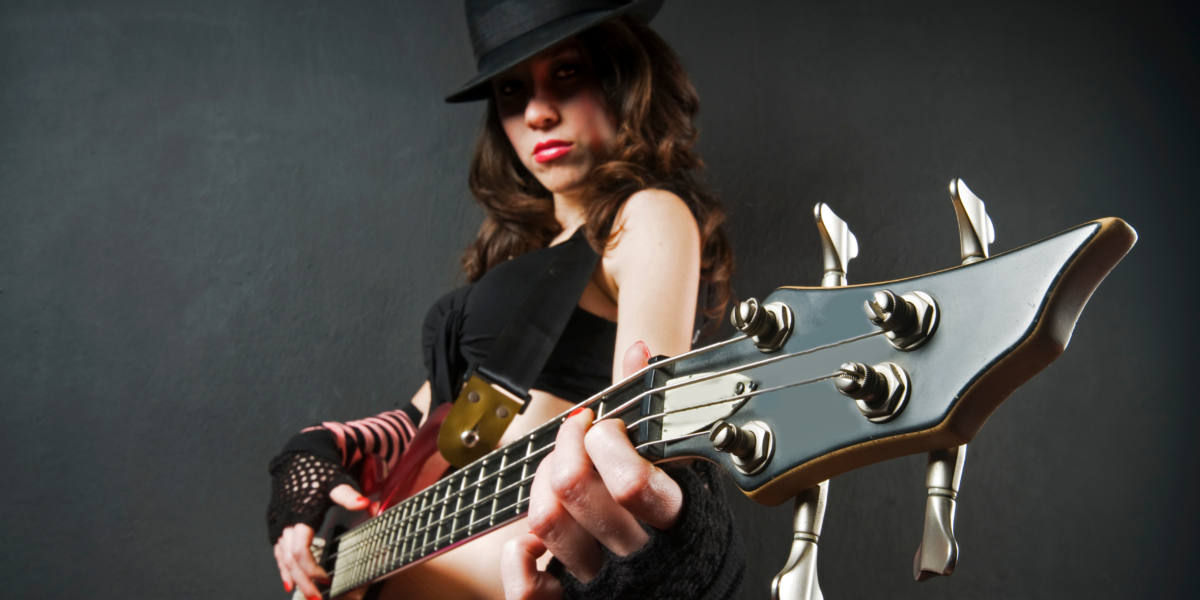 Who are the greatest female guitarists of all time? Who is the best guitar player of them all? Find out the answer in this article.
Female guitarists make up a significant portion of the guitar field. When Fender studied over 20,000 U.S. guitarists, they found that at least half of the new guitarists were female.
If you are a guitarist searching for some female role models to teach you their ways, there is certainly plenty of talent to go around. Women have been rocking it in the guitar field since the creation of the guitar.
Whether you enjoy playing blues, jazz, rock n' roll, or gospel, there is a female powerhouse that has already blazed the trail for you on the guitar.
Take a look at these famous female guitarists. Then follow in their footsteps and show your skills to a waiting world.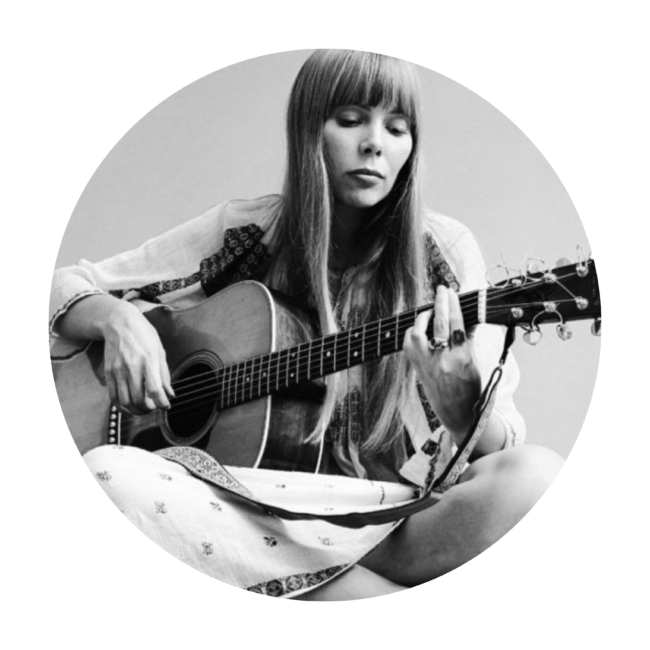 Joni Mitchell
Joni Mitchell is a musical legend whose talent and hit songs inspired other musical icons. Well-known musical artists such Bob Dylan, Prince, Taylor Swift, and Alanis Morissette point to Mitchell as a source of inspiration. Although she made it big in the music scene, Mitchell's was a Cinderella story.
Joni Mitchell was born Roberta Joan Anderson in a small town in Canada. She suffered from Polio as a child and found a love for performing and singing while recovering. She taught herself how to play the guitar and had a small following as a teenager. In adulthood, she was alone in an attic apartment with no money.
In 1965, Joni married and became Joni Mitchell. The marriage lasted only two years, but her new last name would carry her through her 40+ year career as a guitarist. In 1968, Mitchell's debut album, Song to a Seagull, began to attract attention, launching her into the music industry.
As a guitarist, Mitchell is well known for her rich and mellow songs. Her trick to get this sound on the guitar is opening tunings and tuned-down guitar. Her childhood bout with polio left her with a weak left hand. Open guitar tunings allowed her to form chords on the frets and learn to play the guitar. In her career, Joni used over 57 different open tunings in her guitar compositions.
Joni's life has had its ups and downs. However, she leaned into music as a source of comfort and self-expression. In doing so, she became an unforgettable guitarist.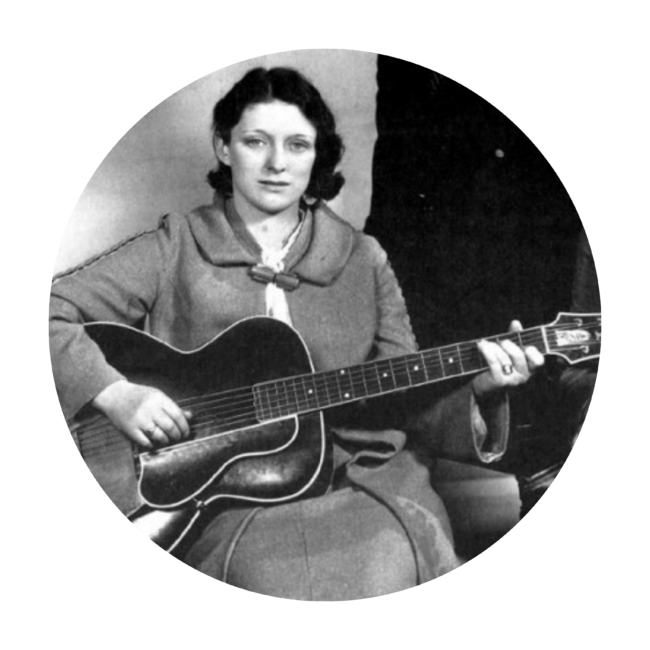 Mother Maybelle Carter
Born in 1909 in Southwest Virginia, Mother Maybelle Carter was a guitar master and significantly impacted the county-western music genre. She taught herself to play the guitar by ear at the young age of thirteen. Once she learned the basics, she began blazing her unique trail.
Many innovative guitar techniques such as the church lick, thumb brush, and Carter Family picking trace back to her. She could make one guitar sound like many when she played back-up for the Mother Maybelle and the Carter Sisters' band.
Mother Maybelle's fingerpicking techniques and overall skill on the guitar turned a background instrument into a lead. She also inspired many other musicians in the music industry. Chet Atkins, Doc Watson, and Johnny Cash were just a few of Mother Maybelle's famous admirers. Mother Maybelle was among the first women inducted into the Country Music Hall of Fame.
Today we recognize Mother Maybelle Carter as a trailblazer in the Country Western music scene. We also know her as the mother of June Carter Cash and the mother-in-law of Johnny Cash. She earns her place as one of the best female guitarists.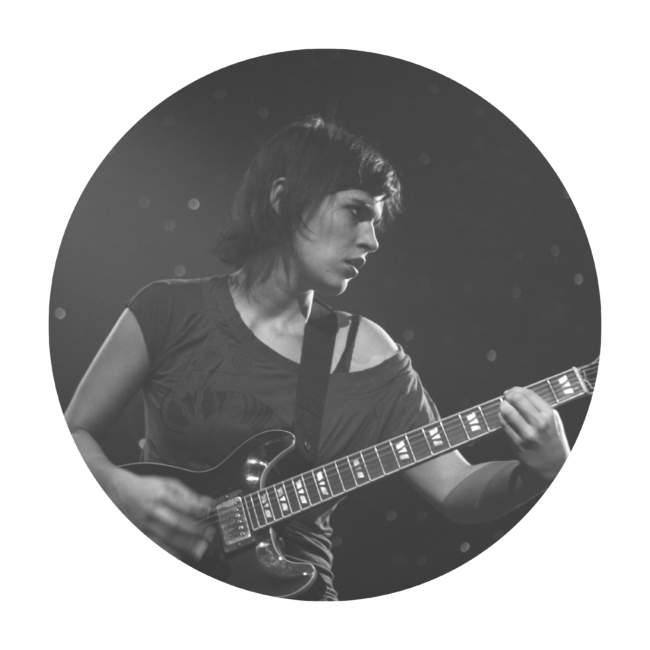 Kaki King
Kaki King is an alternative-indie artist and the first female guitarist to get a slot on Rolling Stone's list of "guitar gods." At a young age, she had an ear for music and became a prodigy on the guitar at four. After a few years of playing, she set aside the guitar for the drums. However, her first passion never really died. It just lay dormant.
While attending New York University, Kaki picked the guitar back up and has never been able to put it back down. She admits, "The guitar has been my adversary, as well as my best friend. It's shaped my life entirely, and I owe it everything I have."
Kaki has a unique approach to guitar playing and is not afraid to mix it up in her music. She interweaves classical guitar, progressive jazz, flamenco, and pop styles to create her signature sound. Her album, The Neck is a Bridge to the Body, is an original multimedia performance with the guitar as center stage.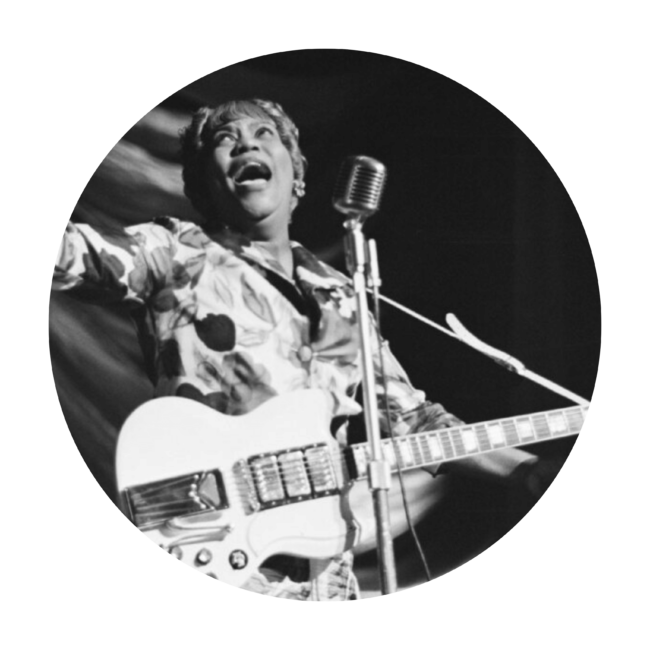 Sister Rosetta Tharpe
In 1915, Sister Rosetta Tharpe was born to a religious and musically-gifted family on a cotton farm. When she was only four years old, Tharpe already knew her way around the guitar. By six, this budding prodigy was a traveling performer in an evangelical music group.
Rosetta Tharpe took her unique playing style, vocals, and gospel music to nightclubs, churches, and concert halls. As a performer, she revamped the "norms" and created a sound uniquely her own. Through her skilled fingers, gospel music met up with blues, jazz, and an electric guitar.
Although her dress was often unassuming, her guitar skills and personality were larger than life. She is known as the "Godmother of Rock 'n Roll" and "the Original Soul Sister." Some famous admirers of her talent include Elvis Presley, Keith Richards, and Miranda Lambert.
In 2007, Tharpe was posthumously granted a well-earned spot in the Blues Hall of Fame. Years after her death, Sister Rosetta Tharpe still inspires many other artists to show off their talent to the world.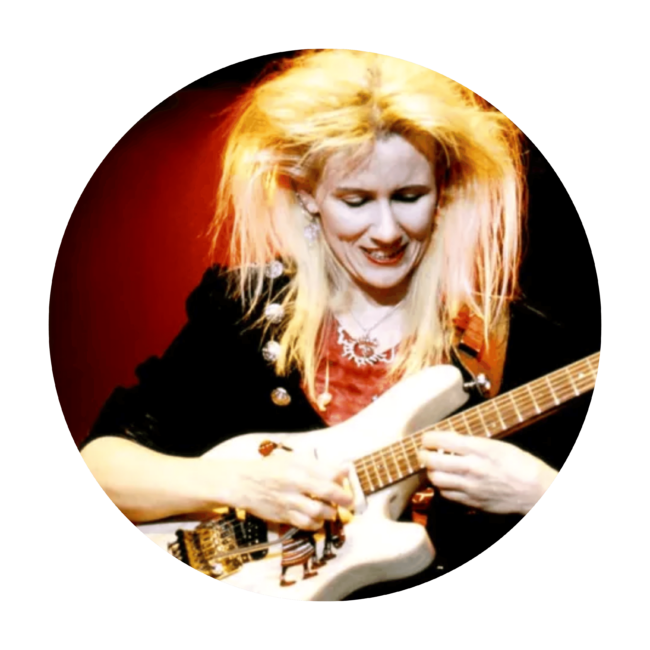 Jennifer Batten
If Michael Jackson was the King of Pop, Jennifer Batten would be the high priestess of shred. You can see playbacks of this musical powerhouse rocking out next to Michael Jackson and showing off her skills on the electric guitar. With so few female lead guitarists on the stage, Jennifer Batten was sure to stand out. Also, her big, blonde hair, wild costumes, and amazing solo riffs on the electric guitar certainly kept the audience's attention.
Through the 80s and 90s, Batten grew her career next to Michael Jackson. She later collaborated with the British guitarist Jeff Beck. In an interview with Guitar Girl Mag, she admits that working with other creative artists, such as Beck and Jackson, encouraged her creative style.
When she decided to perform as a solo act, Batten wanted to bring a new element into her performances. She kept the electric guitar and decided to go fully instrumental without vocals. To create a sensory-rich environment, Batten includes visual media in her solo act.
In her guitar teaching program and steampunk art, Jennifer Batten keeps creativity alive on and off the stage.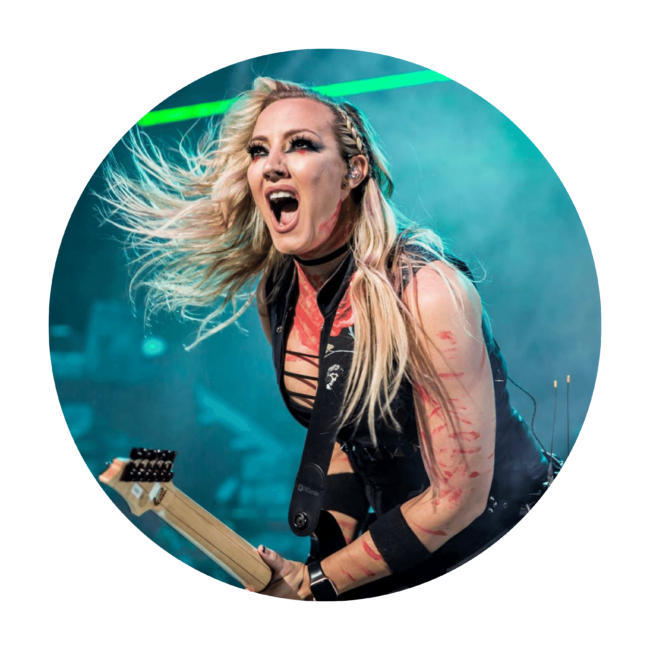 Nita Strauss
Born in the 1980s, Nita Strauss lost no time making a name for herself in the guitar world. She is a modern-day giant in the guitar niche and even got the top spot in Guitar World's 10 Female Guitar Players You Should Know list.
Also, she is certainly motivated when it comes to career goals. Her mad skills on the guitar first got attention when Strauss was part of The Iron Maidens band. From there, Strauss continued to build her resume playing with big names such as Femme Fatale, Consume the Fire,
Critical-Hit, and LA KISS.
In 2014, another female guitarist, Orianthi, passed off the torch to Strauss when she resigned from Alice Cooper's band. Strauss took over and continued to play for Alice Cooper until 2022, when she left to begin work with Demi Lovato.
The guitar company Ibanez also recognized Strauss's special talent when they chose her as their first female signature artist.
With a successful career already behind her and more goals ahead, Nita Strauss has made a mark on guitarist history. Some even consider her the best female guitarist in the world today.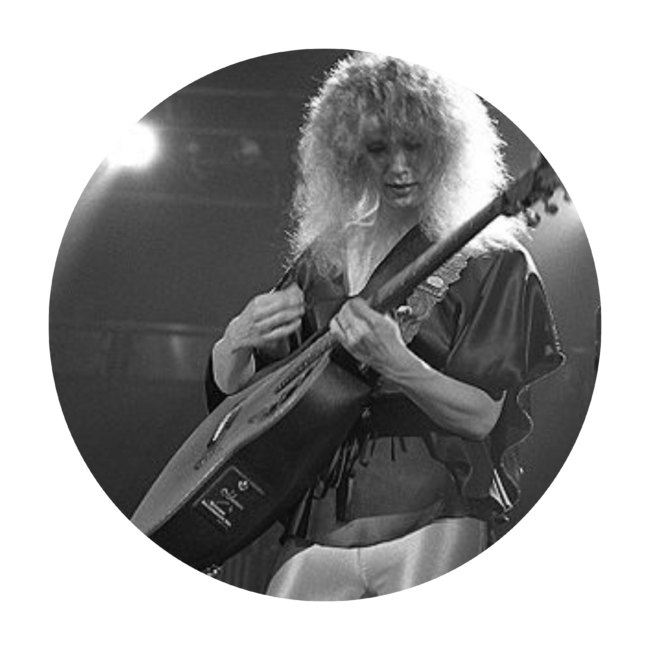 Nancy Wilson
Nancy Wilson is a gifted guitarist paving the way for women guitarists in rock and roll. She started playing the guitar when she was ten and became a guitar virtuoso. In the 1970s, Nancy joined the male-led rock band Heart. She played lead guitar, sang, and wrote songs next to her sister Ann, Steve Fossen, and the brothers, Roger and Mike Fisher. Heart started to get attention when they released the hit song Dreamboat Annie in 1976.
After Heart's founders left the band in the 1980s, Nancy and Ann became the band's leaders. The sisters continued to write new albums and added new members. Together they created many platinum albums, selling over 35 million records total.
Wilson mixes techniques from hard rock, flamenco, and classical guitar to achieve her iconic sound. Her band went on to make it into the Rock and Roll Hall of Fame, and the guitar brand, Gibson, named Nancy one of the greatest female guitarists of all time. She and her sister Ann also received a star on Hollywood's Walk of Fame.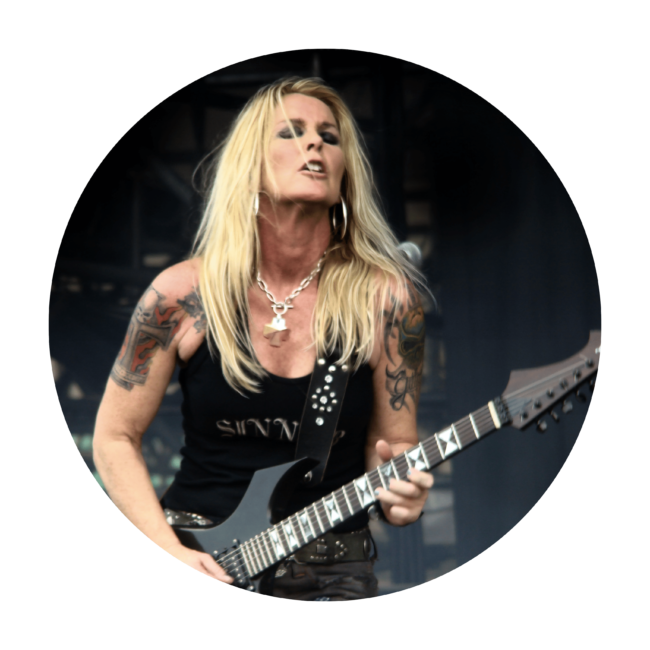 Lita Ford
The '80s punk rocker, Lita Ford, is known as the "Queen of Metal." She has also been called the "Goddess of Shredding." Ford carved out a spot as lead guitarist in the band, The Runaways, next to Joan Jett's powerful vocals. She quickly became essential to the band's iconic sound. Her edgy riffs, metal hooks, and talented guitar solos reveal Ford's show-stopping talent. When the band split up in 1979, Ford became a successful solo act, firmly establishing her place in the Rock and Roll genre.
Guitar Player Magazine granted Lita Ford a Certified Legend Award for being the first female shredder in the history of Rock and Roll.
Recently, Lita Ford launched a guitar line called Lita Ford Guitars. Other aspiring guitarists can pick up a guitar in her name and follow in the footsteps of a legend.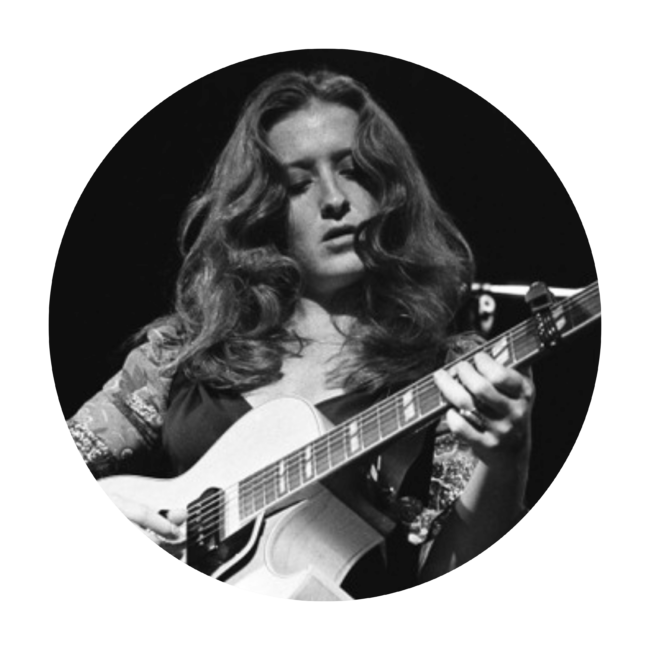 Bonnie Raitt
Bonnie Rait is arguably one of the most influential guitarists of all time. She received the Rolling Stones' approval twice by making it to their "100 Greatest Singers of All Time" list and the "100 Greatest Guitarists of All Time." But the accolades and applause don't stop there.
Raitt grew up in a Quaker family in California. Her father, John Raitt, was a Broadway musical star, and it seems that Bonnie followed in his footsteps with musical talent. She dropped out of college to follow her music dreams. She toured with blues and folk performers and played guitar alongside names such as Sippie Wallace, Jackson Browne, and Little Feat.
As she moved into more of a pop sound in the 1970s, her career picked up speed. Her slide guitar skills and first hit recording, Runaway, earned Raitt a place in the spotlight. In 1990, she received not one but three Grammy awards.
Although Raitt's roots are in blues music, she pulls in techniques across rock, folk, and country. When you combine her guitar skills with her voice and lyrics, this ten-time Grammy winner becomes a legend.
Get inspired. Be an inspiration.
Although the guitar world has historically been a male-dominated enterprise, times are changing. Women guitarists are on the rise and are ready to take center stage. These famous women guitarists use innovative techniques on the guitar and play across all genres. 
Speaking of innovation—the Simply Guitar app can help bring your guitar skills closer to these great guitar-wielding women.
Allow these famous women to inspire you as you learn to play the guitar. Once you start shredding tunes on the guitar, you, too, can be an inspiration to other music beginners.
Check out these famous Female Pianists to meet more famous females in the music world.