All You Need to Know Before Buying a Guitar Strap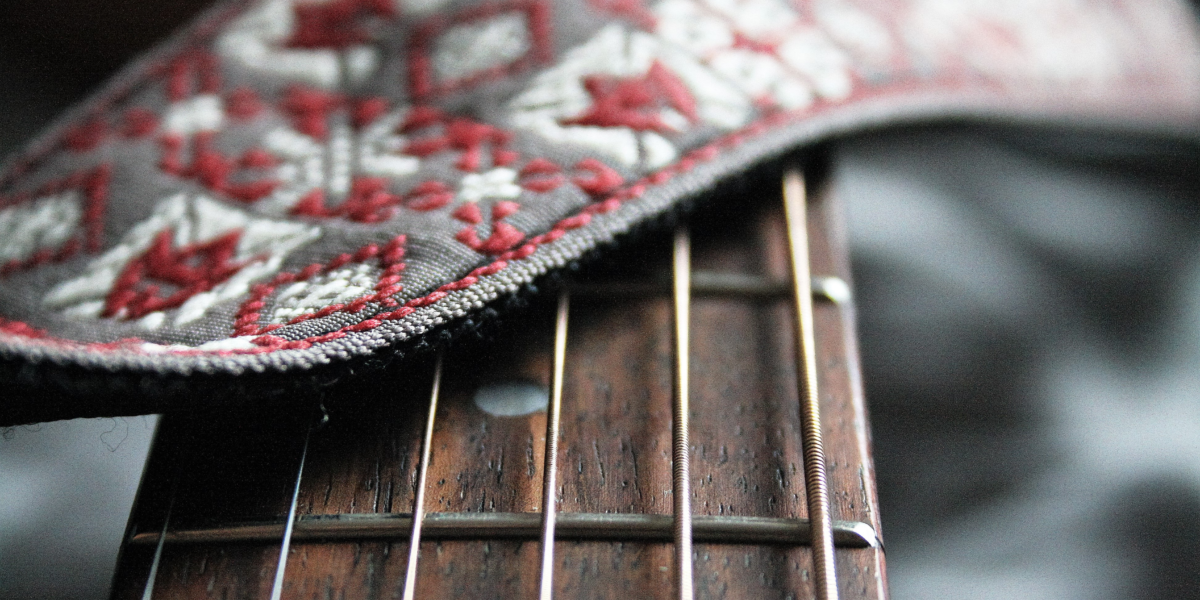 This article covers everything you need to know about a guitar strap, from characteristics determining a quality strap to ideal straps for beginners.
A guitar strap is a worthy investment for any guitarist. They give you the freedom to move around while playing and provide your instrument with a measure of security at the same time.
There are countless styles, designs, and materials used for guitar straps–the sheer number of options can be overwhelming.
Get up to speed and discover all you need to know about guitar straps to figure out which one is best for you.
What is the role of a guitar strap?
Guitar straps comfortably secure your instrument around your neck and shoulders, allowing you to play while standing. Straps can make your instrument feel lighter than it is and are essential for performers and useful for jamming with other people.
What makes a guitar strap good?
Ultimately, it comes down to the instrument that you have and your personal preference. However, guitar straps come in different materials and styles, offering varying degrees of comfort and durability.
Different types of guitar straps.
There are a lot of guitar strap brands. They manufacture straps that suit the needs of acoustic and electric guitarists and bassists. Interestingly, there's a lot that goes into making guitar straps.
Many guitar brands also make straps. Learn about them in our blog post, The Best Guitar Brands Every Beginner Should Know.
Material
Manufacturers create straps using various materials.
Leather straps are long-lasting, look good, and get more comfortable the more you use them. However, they can be on the pricier side.
Suede straps are less expensive, have a sleek look, and are durable and comfortable.
Nylon is a cost-effective option. They're durable and comfortable, and it's easy to add designs to them–making them among the flashier options.
Polyester is a popular choice for beginners. Similar to nylon, they look cool and are comfortable, durable, and affordable.
Cotton straps offer more friction in contrast to other strap materials. This is ideal for heavier instruments of musicians who move around a lot. The one caveat is that they get dirty easily.
Length and width
Guitar straps are adjustable. However, not everyone is built the same, and the same goes for straps. Some straps are designed to be extra long, while others are short.
Choosing the correct strap length depends on your stature and how high or low you hold your guitar.
The width of your strap plays a significant role in how comfortable and much support it provides–the wider the strap, the better it distributes the weight. Wider guitar straps are ideal for heavier instruments.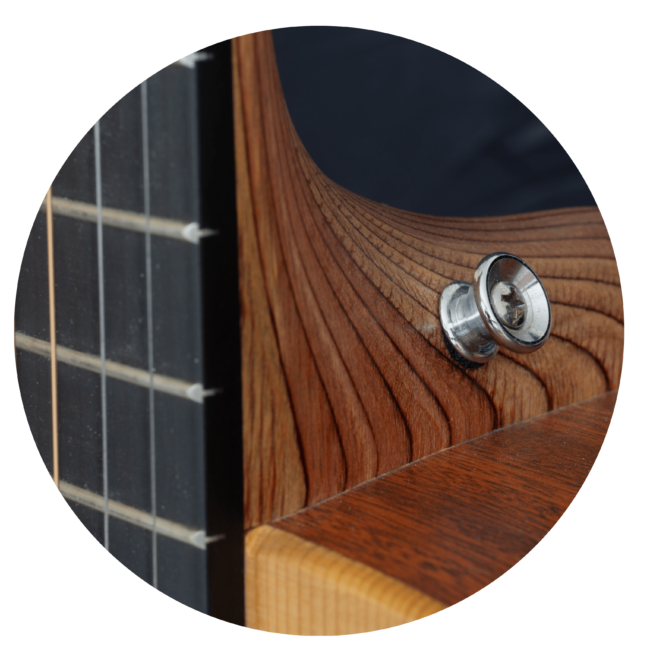 Strap buttons
Depending on your instrument, you may have one, two, or no knobs for the strap to attach to. Lucky for you, there are strap designs that accommodate every guitar.
Single button straps have a hole on one side that attaches to the knob at the base of your guitar (the body) and a set of strings on the other.
Two button straps have a hole on both ends–they're the most common and hook onto two knobs.
Some guitars have no knobs. Therefore, some straps have a hook that attaches to a guitar via the sound hole.
Guitar strap styles
Though it's not essential, the aesthetic aspect is another thing to consider when buying a guitar strap.
When shopping for a cool-looking strap, consider the genre of music you play, whether you're performing or playing by yourself, and the color and style of your guitar.
Acoustic guitar straps Vs. electric guitar straps.
The difference between an electric and acoustic guitar strap is how it connects to your instrument.
Straps attach to a guitar usually via a knob built into the instrument's body. Electric guitar straps have two knobs, one at the body's base and the second on the top horn. Therefore, the straps have two buttons on either end–making them simple and easy to strap in.
Some acoustics come with two knobs (one at the body's base and the base of the neck). Others only have one. So at one end of an acoustic strap, you have a set of strings.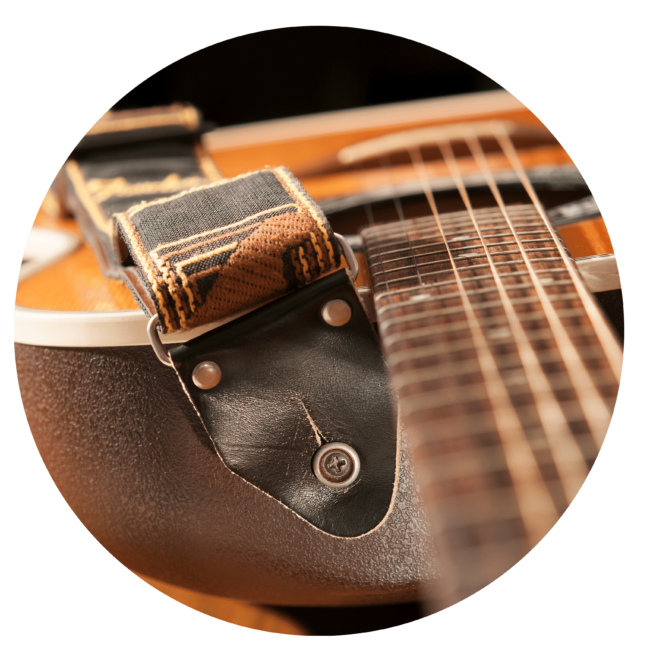 How to strap an acoustic guitar
To secure your acoustic, attach the stringed end around the guitar's headstock just before the bridge. Feed one of the strings underneath the guitar strings and make a knot.
If tying a knot every time feels like too much work or feels uncomfortable, you can always buy a button strap and use a two-buttoned strap.
Alternatively, you can install a knob onto your guitar. However, because you can damage your instrument if you do it incorrectly, we recommend hiring a professional.
What's the average cost of guitar straps?
Guitar straps fall into three categories: budget, mid-range, and premium.
Budget straps have a simple design, use cheaper materials, and can be uncomfortable when playing for an extended period. They're typically made with cotton, nylon, or cheap leather and cost up to $30.
Mid-range straps incorporate some luxuries that come with premium straps while staying well-priced. They offer users more comfort, look cooler, last longer, provide more security for your instrument, and cost between $30 to $70.
Premium quality guitar straps bring everything to the table, from security, comfort, style, and durability, and can make your instrument feel lighter than it is. You're looking at spending $70 or more for a premium strap. However, you get what you pay for.
Quality guitar straps for beginners.
The ideal guitar strap varies based on the individual's needs, stature, and budget. Here are a few quality guitar straps at different price ranges.
Fender Monogrammed guitar strap
A classic among acoustic guitar straps, the Fender Monogrammed offers users a quality strap for an affordable price. It's a single-button strap with reliable strings that allow you to tie it to your guitar's headstock easily.
The strap is polyester and fully adjustable (36"-58"). And it comes in various styles, so finding a matching strap for your guitar is easy!
Ernie Ball Neoprene Polylock guitar strap
If securing your instrument is a priority, we recommend the Ernie Ball Neoprene Polylock guitar strap. Ernie Ball's patented Polylock system securely attaches to your strap buttons for a safe connection. So you can jump around and rock out to your heart's content.
In addition to top-notch security, the strap is comfortable and adjustable.
Taylor Wings leather guitar strap
The Taylor Wings leather guitar strap is a premium quality strap. The multilayered brown leather material gives it a rustic look. This gorgeous accessory has a two-button design. It's durable, comfortable, and works well with acoustic and electric guitars.
Guitar straps are an essential accessory for playing the guitar. They allow you to play while standing and seriously enhance your ability to entertain and express yourself. Playing while standing can take some practice–especially if you're used to sitting.
Like a strap, a guitar tuner is of the utmost importance for any guitarist. Simply Tune is a free tuning app that allows you to tune your instrument easily, so you can get back to playing. Try it out today.
FAQs.