Blind Piano Players: Top 5 Greats of All Time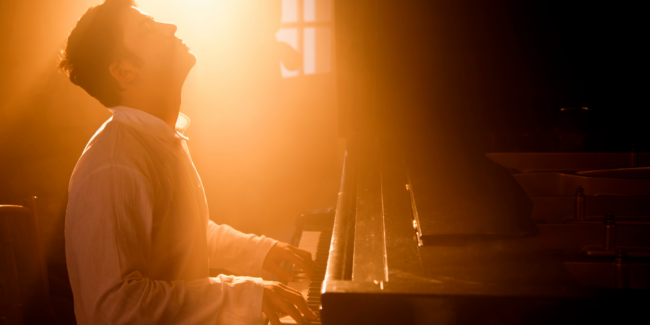 Check out this article about the five greatest blind piano players of all time, from Stevie Wonder to Ray Charles. Learn about how their life of darkness became the key to the light they shared with the world.
Many great masters advise their students: to set their eyes on the prize. Well, what about when you can't see?
Paradoxically, many who have dealt with blindness or vision impairment seem to have a strong capacity for inner vision and determination.
In this article, we will explore the lives of some of the greatest musicians of all time – all of whom were blind. Each story is unique, but they all share a familiar spark – a profound ability to listen, magical talent, and an inextinguishable flame of passion.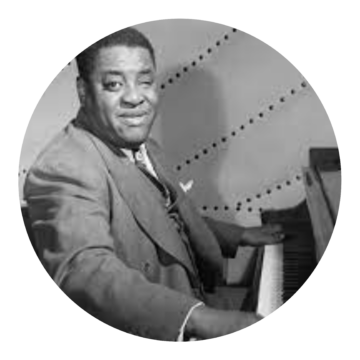 Art Tatum.
In the early 19th century, a musical talent emerged from the depths of Ohio that greatly influenced Jazz music. Arthur Tatum was visually impaired from his early childhood. He began learning violin but soon switched to piano at 13.
Tatum's style was heavily influenced by stride piano, though his improvisational language was diverse. He was known for flamboyant chord progressions, pop tunes reharmonization, and wild rhythmic explosions cascading on the keys.
While Tatum did not hide his blindness, he also didn't like to draw too much attention to it. He would plan his walks to the clubs so he could do them without assistance, and he didn't share much about his personal life in interviews or performances.
His manner was always gentlemanly and polite, but Tatum's darkness found its way into the music and the lifestyle. He would play requests and improvised pieces well after his final official set, drinking his way on the stage deep into the night. Tatum's drinking didn't stop him from creating prolifically, but it did affect his health in the long term. He is considered to be one of the forefathers of jazz music.
If you're interested in Jazz, check out this Complete Guide to Beginner's Jazz Piano.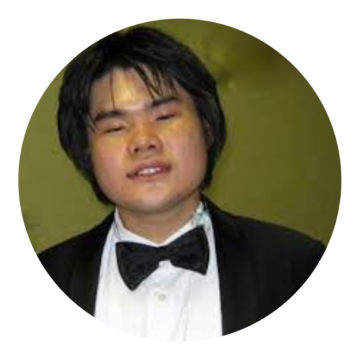 Noboyuki Tsuji.
Where were you at age ten? I bet not performing with the Century Orchestra in Osaka (not to make you feel bad or anything).
Nobu Tsuji, as his fans like to call him, was. Like many other visually impaired musicians, Tsuji showed signs of blindness and exceptional musical ability from a very early age. Tsuji had microphthalmia, which presents as eyes that are abnormally small and anatomically malformed.
But this was no barrier to Tsuji's talent and love of music. Before he was 30, he had toured the United States, France, Russia, and the Chopin Competition in Warsaw. He performed his own piece, "Street Corner of Vienna," at the age of twelve and has released many albums of original music.
The critics share the exact words of awe and adoration of Tsuji's music. Many describe him as divine, as having healing powers. His performance of his original piece, Elegy for the Victims of the Tsunami of March 2011 in Japan, had thousands of people in tears, including himself, as he played the music. The performance was videoed and went viral, with over 38 million views on YouTube.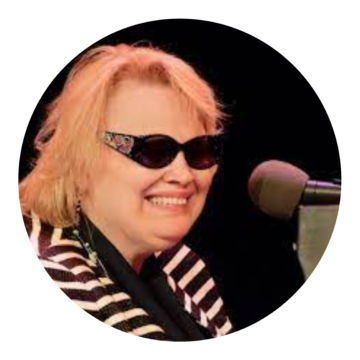 Diane Schuur.
Deedles, as her friends call her, is not a token feminist implanted into this article. Diane Schuur has built a wildly impressive international career of spreading love through jazz and blues.
She was blind from birth. In her case, she had retinopathy of prematurity – a condition understood to be a side effect of life-saving neonatal oxygen therapy on prematurely born babies.
In an unusual twist of fate, her twin brother had perfect vision but significant hearing loss. She's only ever known the world in darkness, so the light within quickly learned how to shine.
Her musical exploration started with her voice from as early as four years old. When Schuur was only 14, her mother passed away, and she left behind a collection of Duke Ellington's records. She would sit on her father's lap, who was an amateur musician himself and started to play the piano. First by ear and then using braille transcriptions of music – though she quickly found this frustrating and impractical. She returned to her ears and soon realized that she had absolute perfect pitch memory.
Since her big break at the age of 22, when Ed Shaughnessy accidentally discovered her, Schuur has performed worldwide. Everywhere from Carnegie Hall, The White House, and the Kennedy Center, alongside the most outstanding musicians on the planet: Quincy Jones, Frank Sinatra, B.B King, Ray Charles, Stan Getz, Allison Krauss, and the list continues.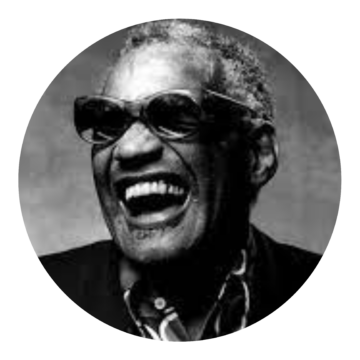 Ray Charles.
"The genius." That's literally what his contemporaries used to call him. Heavy nickname, no? Charles thought so too – he preferred to be called "Brother Ray". Very few souls walking this earth don't know Ray Charles.
Charles' blindness developed a few years into his childhood – the cause is not officially known, though it was thought to be a type of Glaucoma. But Charles must have seen enough beauty in those few years to last him a lifetime of turning that beauty into music. It wasn't all roses – Charles was born through adultery and scandal, with an unstable childhood of moving people and places and the death of his four-year-old brother George. By the age of seven, he was completely blind, and when he was 14, his mother passed away.
This sent Charles into years of wandering; through Jacksonville, Orlando, Tampa, and Seattle as he gradually built a name and a career for himself.
He played in the McSon Trio and arranged numbers for musical idols Cole Porter and Dizzy Gillespie.
He skyrocketed in the 1950s when he was signed to Atlantic Records and produced hits such as "Hallelujah I Love Her So."
Ten years later, he signed to ABC-Paramount and came out with game-changing tracks such as "Georgia on My Mind" and "Hit the Road Jack".
Unfortunately, like many artists of his generation and many people with disabilities, Charles became dependent on drugs and sex to numb the pain. For over 17 years, he was addicted to heroin, and it wasn't until later that he managed to get clean, culminating in his first sober album, "Crying Time".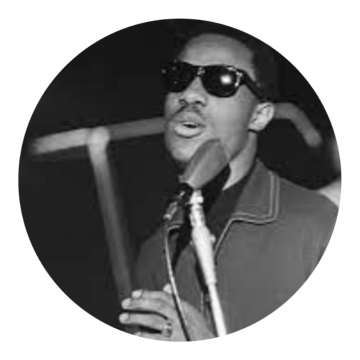 Stevie Wonder.
What Stevie's real name was? Steveland Judkins. Not quite as marvelous, but striking. This is one of the greatest creative pioneers of the 20th century.
He got his nickname Little Stevie Wonder from the president of Motown Records after making his recording debut at the age of 12. He quickly earned his name in the music industry and transformed from being Little Stevie, a mini Ray Charles, into a musical legend.
In the late 60s and early 70s, Wonder came out with some of his greatest hits, "My Cherie Amour", "I Was Made to Love Her", and "For Once in My Life" – but then his taste and sound started to rapidly and evolve and expand.
This concerned his production team at Motown records that his music would stop being commercial – those concerns were knocked into oblivion in the late 70s when Wonder released his masterpiece albums: Innervisions in 1973, Fulfillingness' First Finale in 1974, and Songs in the Key of Life in 1976.
He was a piano virtuoso, a master of so many idioms, bringing together in his music the sounds of African rhythms, jazz harmony, and the passion of church music.
What you see is what you get.
What stands out the most about these blind musicians is their ability to show and express themselves so freely and honestly. Perhaps when you cannot see, you do not feel as conscious of being seen, so you don't feel like you have something to hide. Whatever the reason, one thing is sure about their stories – they teach us that every person's suffering is often their most incredible gift in disguise.
Through our pain and our struggle, we grow, learn to be ourselves, succeed against all odds, and give what we have and know to those around us.
FAQs.