5 Best 88-Key Digital Pianos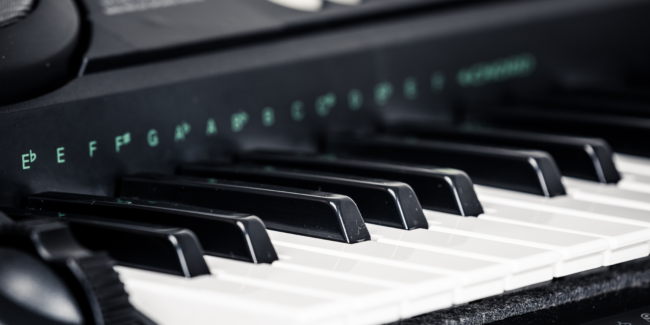 Find out everything you need to know about the top five 88-key digital pianos. We'll look at what makes these instruments unique and help you find one that fits your learning style, budget, and needs.
Digital pianos can be an excellent choice for a pianist because they have the sound and feel of an acoustic piano. However, a digital piano can also give you extra perks such as playback, instrument voices, internal memory, and more.
There are a lot of incredible 88-key digital pianos, but the Yamaha DGX670B takes the cake! This digital piano with weighted keys has 260 piano styles and 630 high-quality instrument voices – more than other pianos in its gamut.
You'll also benefit from its Adaptive Style, which accompanies your melodies to make every piece sound professional. At less than $900, this digital piano is an excellent buy at any level.
But this isn't a post about one piano, so let's take a closer look at the top five, shall we?
Why buy a digital piano?
It can be tough to decide whether to buy a keyboard, acoustic, or digital piano. So, why would you choose a digital piano? Here are some reasons a digital piano may be right for you!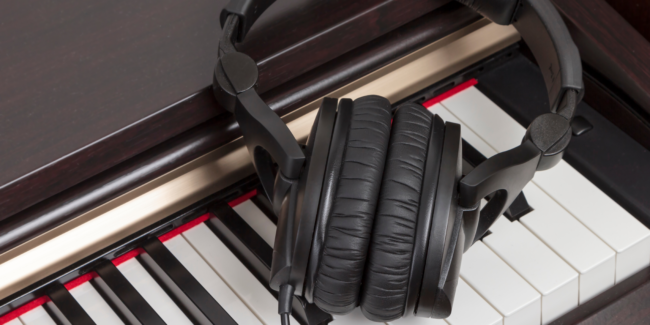 The touch of an acoustic piano with soft and loud tones.
Digital pianos have weighted, standard-size keys just like a piano. You also get a good sound definition when you press down the key. If you play a key more forcefully, you get a louder tone. Softly pressing a key gives you a pianissimo sound. These weighted keys are just like those on an acoustic piano.
A great sound that doesn't go out of tune
Digital pianos don't require tuning like acoustic pianos. Still, they have a natural sound because most digital pianos use recordings of each key from grand pianos.
Digital pianos should not go out of tune as long as they stay well-maintained. If you notice your keys are sounding off, it may be a technical difficulty or an inadequate power supply.
Recording and playback options
Many digital pianos allow you to record songs as you play. You can listen to your playbacks and discover trouble spots in your piece. You may have other instruments loaded into your keys for a second voice. You won't find these options in an acoustic piano!
The price is right
Acoustic pianos usually run at higher prices than digital pianos. If you're not ready to shell out $5000 for your keys, it's better to invest in a digital piano with solid sound than a low-quality acoustic piano for the same price. While keyboards are generally the cheapest option on the market, you generally get closer to the feel and sound of an acoustic piano with a digital piano.
Buyer's guide for an 88-key digital piano
When you buy an 88-key digital piano, here are a few things to consider:
Sound
When buying a digital piano, you'll want to test the keys to ensure they have a clear sound and are responsive to your touch.
When you have a piano that sounds great, it will likely motivate you to play more tunes.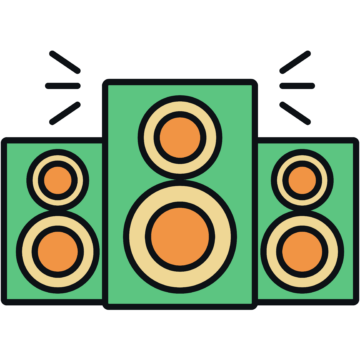 Polyphony
Polyphony is how many notes you can play at once. For example, if you press down the pedal and play all 88 keys, you'll have 88-note polyphony. You may think you'd never need that much polyphony as you play. But, remember that using a built-in metronome doubles how much polyphony you use. Adding a second voice doubles it again. Most high-quality digital pianos will have 128-note polyphony or above.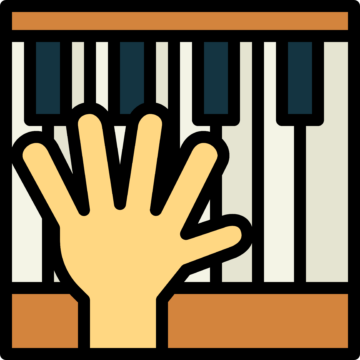 Portability
Do you want to practice at home or take your piano on the go? Some 88-key digital pianos are too heavy to pack with you and are better at-home models. However, some digital pianos give you the complete 88-key set and are light enough to take on the go. We'll show you one such piano in our best list.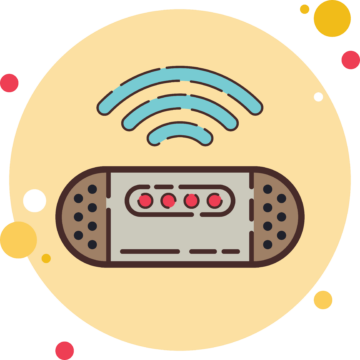 Add-ons
In the beginning, you may want to use your budget to get the best 88-keys out there and add extra.
However, if you can afford a package deal, you can save money on add-ons. Some helpful extras include a stand, pedals, and headphones.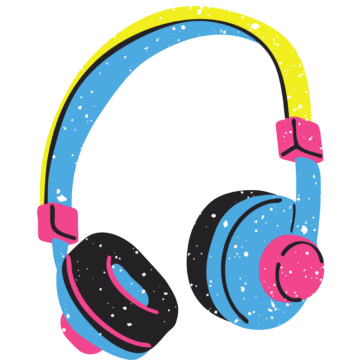 The five best digital pianos with 88 keys.
Whether you plan to take your digital piano on the road or make it a centerpiece in your home, we've got a few digital pianos you'll want to know about. Let's take a look at a few of our favorite models.
The Yamaha DGX670B is an 88-key digital piano with a professional sound. This model packs in many features and will take you far in your musical journey.
The arranger's weighted keys give you a concert piano's clarity and realistic feel.
And the Yamaha CFX voice can fill the room with sound indistinguishable from the real deal. This compact powerhouse gives you over 260 style options and 630 instrument voices. For a digital piano, that is an impressive selection!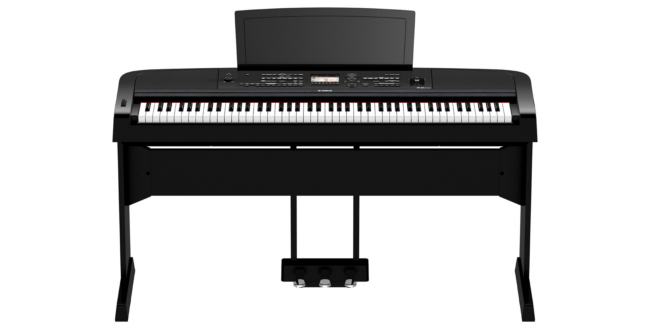 You'll also get the perk of a digital accompanist with its advanced Adaptive Style. This feature analyses your music as you play and fills your sound with rhythm, a bass section, and more. This can make your music satisfying to play, even with simple pieces.
The Unison & Accent function doubles your melody line, and it will accent any notes you play with extra force. Smart Chord mode fills in your playing by adding chords and triads by rounding out the notes you play to build chords and triads to your music.
At 68 pounds, this won't be the most travel-friendly model. However, this fantastic 88-key digital piano is packed with features and gives you an excellent value for under $900. You'll get all the tools you need to advance your piano skills.
2. Best for advanced performers: Roland RD-2000
The Roland is one of the most expensive digital pianos on our list. However, this one has a professional quality you can take to the stage. Unlike other digital pianos, this has two different sound engines giving you more sound for your money. It includes 1100 non-piano sounds, including organs, synths, strings, brass, and more. That's impressive!
It is built with a wood and plastic hybrid structure, has 88-weighted keys, and comes with three pedals and three separate sound jacks.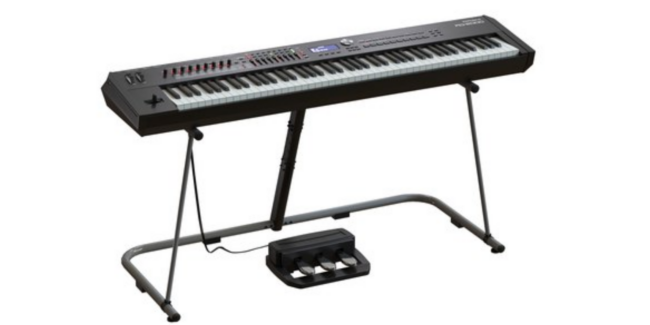 You'll get full polyphony with its Second SuperNATURAL-based sound engine and 128-voice polyphony for electric pianos and non-piano sounds. This keyboard includes vintage sounds, including BOSS CE-1 Chorus Roland Dimension D with analog effects.
The RD-2000 currently sells for 2,899 on Amazon, which may leave many buyers wide-eyed and clutching their wallets. . While this digital keyboard packs more than you need at a beginning piano level, advanced students will love the rich depth of sound it offers.
3. Most portable full-sized digital piano: Casio Privia PX-S1100
Many 88-key digital pianos can be a little hefty to pack and go. However, Casio's Privia PX-S1100 is super-slim and light enough to take with you. It weighs less than 25 pounds but still gives you great sound and value.
The sleek digital piano gives you a Smart Scaled Hammer Action Keyboard. These keys let you feel like you're playing on a real acoustic piano. It may have fewer knobs and buttons. However, you can still split the keyboard, layer sounds, and change the acoustic sound to get 18 different instrumental tones using function+key combinations. It also has 192-note polyphony.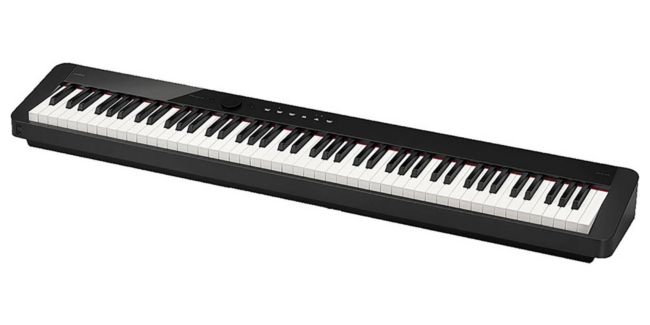 The internal speaker system gives you decent sound even without external amps. The Cassio Privia includes Bluetooth connectivity, MIDI capabilities, a USB port, and headphone jacks for quiet practice sessions.
This digital piano is in the $750 range. It's not a bad price for a digital keyboard with a solid sound, weighted keys, and light enough to take anywhere you need to be.
The Kawai ES 110 feels like an authentic acoustic piano with 88 weighted keys and compact graded hammer action. It has 19 extra sounds built-in, which is more than most other digital pianos in its gamut. Choir, vibes, organs, orchestral strings, electric pianos, and eight piano sounds are some of the voices this keyboard offers. You can play these instrumental tones in split or dual modes to have more than one instrumental voice at a time. This will give your pieces a rich, full sound.
You'll also get a built-in stereo speaker system, built-in 192-note polyphony, Bluetooth connectivity, MIDI ports, and jacks. It even includes a damper pedal with damper resonance and half-damper support.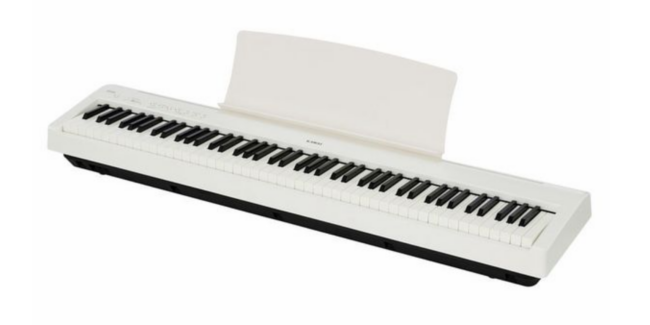 This digital piano uses harmonic imaging technology and 88-key sampling. You'll get a more authentic sound with this piano than with digital pianos that use sound-stretching technology. You can record your performances with a 3-song recorder and store them in the piano's internal memory.
The Kawai ES-110 is a fantastic digital piano that will help you develop your piano skills. It even includes Alfred piano lessons to launch your piano-playing journey.
5. Best entry-level model: YAMAHA P45
There are a variety of digital pianos made with both budget and beginners in mind. As usual, Yamaha comes in with a model that gives you excellent quality at a fair price. The Yamaha P45 is a solid 88-key digital piano with a great sound and touch.
The weighted keys have graded action to get heavier low and lighter high keys. These keys let you feel like you are playing on a real acoustic piano!
The sound doesn't let you down, either. The P-45 has ten extra voices, and each instrument chooses to play a high-quality sound. It is also effortless for piano players to switch between sounds with its minimal single-button interface.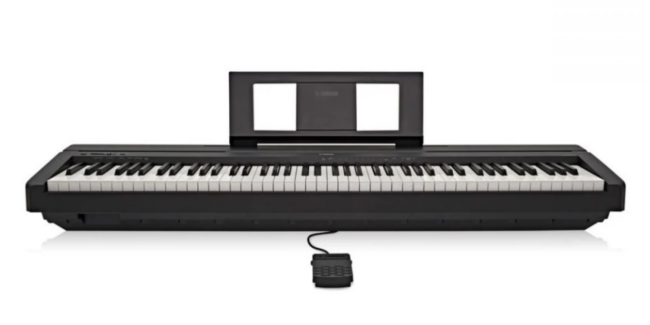 This package gives you a sustain pedal to plug into your piano. It gets the job done, but you can also add an upgraded pedal as you grow your skills.
If you want to save your tunes, you can plug your USB into the back of this piano. You also get a headphone jack if you like to keep your practice sessions private.
One limitation of this entry-level digital piano is that you only get 64-note polyphony, and this model is not compatible with a full pedalboard.
While this basic Yamaha has its limits, it gives you a true acoustic touch and high-quality sound at a reasonable price.
The best 88-key digital piano for you
We've given you some of our top picks for 88-key digital pianos. Now it's up to you to decide what type of digital piano fits best into your lifestyle.
Once you bring your digital piano home, you're ready to download the Simply Piano app to get your fingers warmed up on the keys. We'll help your piano skills take flight!
FAQs