The Ultimate Guide to Buying a Used Piano
Are you thinking of buying a used piano? This guide has all the information you need to invest in a second-hand piano.
Buying a piano can be an exciting experience. It marks the beginning of your dream of playing the piano. You've set your budget, measured your space, and are ready to bring your new instrument home.
But where do you start?
New pianos are attractive but also expensive. Used pianos can be much cheaper, but are they any good?
We'll look at how to check the strings, keys, and tuning pins to ensure everything is in order. Also, we'll dive into the pros and cons of buying a used piano.
Should you buy a new piano or a used one?
Buying a new piano is pretty straightforward. Most pianos from well-known brands such as Yamaha, Kawai, Steinway, Stuart & Sons, and others give you what you pay for.
The sound may vary slightly from one piano to another, but you don't have to question the quality with a new brand-name piano. You just have to decide your preferences.
Do you like a brighter sound or a more mellow one?
Do you want an upright, baby grand, or grand piano?
Do you like shiny black, white wood or a show-stopping red piano?
If you have the resources to buy a new piano straight off the market, the possibilities are endless, and little to no risk is involved. However, the price of a new piano can be prohibitive for some. Even a new upright can cost up to $25,000.
But maybe you don't need the Most Expensive Piano in the World. You just want some keys with a decent sound to improve your playing skills.
Used pianos are much more affordable than most pianos. Most pianos have a lifespan of 20 to 50 years. Some handcrafted pianos can last up to 100. Even an old piano can still have life—but how to find a good used piano?
Like buying a car, you need to give the keys a test drive before bringing it home. You don't want to buy a used piano sight unseen, or you may end up with more problems than you can afford to fix.
Check the keys' sound quality and the used piano's overall condition. A thorough inspection can let you know if you are getting a reliable instrument and a good deal.
What should you look for when buying a used piano?
Some used pianos have a sound quality comparable to a new piano, but others can't stay in tune. So, how do you know which second-hand piano is a deal and which is a dud?
There are a few key elements to inspect before buying a used piano.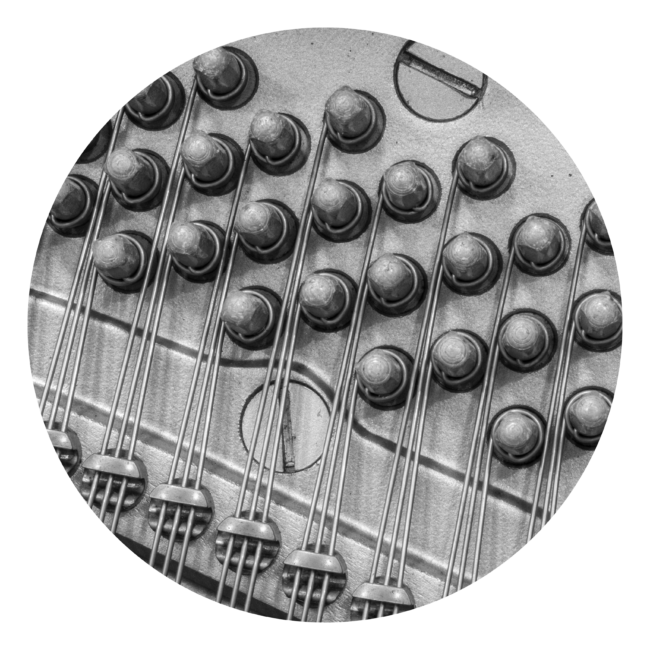 Is the pinblock in good condition?
The pinblock is one of the most critical parts of the piano. This is where the strings get the proper tension for good sound. If pins are loose or broken, the piano won't be able to stay in tune. However, this piano part is one of the most difficult to inspect because it isn't visible. To know if the pinblock is in good condition, you must test the keys and listen to the sound.
How do the keys sound?
When you test the keys, don't just play a few chords and call it a day. Try out each piano key to ensure no keys are stuck or soundless. The used piano may sound slightly out of tune. However, this could point to more significant issues if it sounds severely out of tune.
If there is any buzzing, or if one key sounds like it plays more than one note, the pinblock may be compromised. It is best to give that piano a miss and try another.
Are the strings rusty?
Stings may show some rust. Layers of old rust mean strings are weak and may not withstand your practice sessions. If many strings are damaged or broken, the instrument needs restrung. Even if the piano is free, it won't be worth the repairs.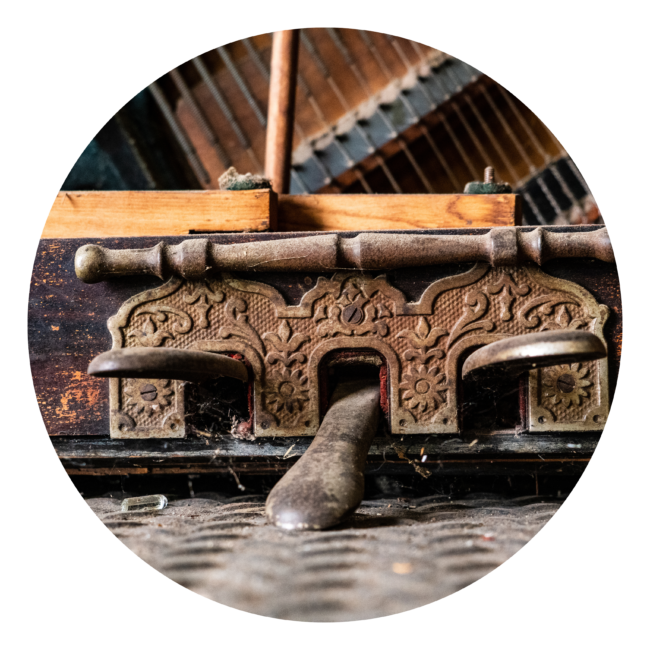 Are the pedals worn?
As you inspect the piano, look at the pedals. If you see major wear on one or more pedals, it may mean that the piano has seen some intense practice sessions. This could mean that its lifespan will be shorter than other more gently-used pianos of the same age.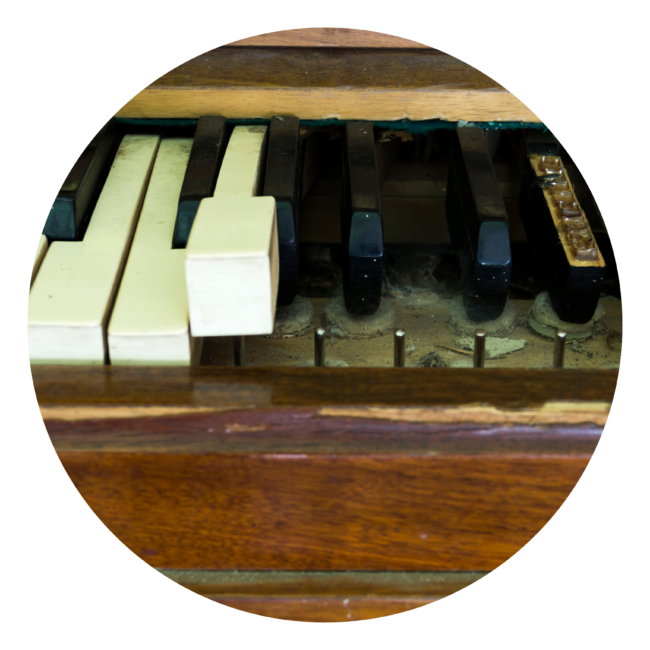 Are parts loose or damaged?
Some wear is normal on an old piano. However, you want your piano to be able to withstand a move. If hinges are broken or the structure is comprised, you may have trouble getting it home in one piece.
When was it last tuned?
You can ask the owners when it was last tuned. A piano left untuned for five or more years may need a few tuning sessions to get it back in shape.
If it has gone 20 years without tuning or care, it may be past the point of return.
Does it smell ok?
Even the smell of a piano can indicate what kind of shape it is in. A piano from a temperature-controlled, non-smoking home should have a neutral odor.
If the piano smells like mold or mildew, you can be sure the sound quality and strings have also suffered. If it is from a smoker's home and you are a non-smoker, you might consider whether the quality of the piano is worth the smell. How the piano smells in the home is what your home will smell like when you move it there.
Buying a second-hand piano online and offline.
With Google at your fingertips, finding a piano online is an easy gig. You can simply type your search words in the bar or check out some of these platforms directly.
Take a look at some of the most common places on the world wide web to find a piano close to home:
Facebook Marketplace
eBay
Craigslist
Online local newspapers
Used piano store websites
Keep in mind that individual sellers can be hit or miss. If the first piano is a dud, the next one may be your dream instrument.
Buy from piano dealers
If you buy a used piano from a dealer, you should be able to trust that it is a good instrument for the price.
You may pay a higher price but save money in the long run when you buy from a used piano dealer. The instrument is most likely in good shape, repaired, and tuned. Some used piano dealers may even offer reduced rates to transport the piano to your home.
Contact teachers and technicians
You can also contact piano tuners, technicians, and music teachers to point you in the right direction. They may know someone with a decent used piano for sale or direct you to a trusted used piano dealer to make a solid purchase.
Find Free Pianos
Some people are willing to give a piano away for free to anyone willing to move it. You can search for free piano ads in your area or check out PianoAdoption.
Adopting a piano gives someone the peace of mind that their family treasure is going to a good home. And also, give yourself extra room in your budget to move, tune, and repair the piano properly. That looks like a win-win situation!
Count the cost before you buy.
When considering a used piano, you want to count the cost before buying. Make sure you have room in your budget for the costs of moving a piano and repairs.
Simply moving a piano can cost hundreds of dollars– even if you are just moving it across town. Check out this article on How to Move a Piano for more information on the process and the costs.
When buying a piano, it is a good idea to bring a piano technician with you to see it. A piano technician is trained to know which pianos are worth the investment and which ones are a money drain. They can also estimate how much money you will need to put into the instrument after you buy it.
It's Time to Play.
When you buy a used piano, ensure it is in good condition and all the keys work. You will be more motivated to practice when you play the piano with a full, rich sound.
You can download the Simply Piano app to learn about your new (used) piano. This is an excellent way for beginning students to learn to play the piano with skill and accuracy. 
We'll walk you through the basics and help you keep your fingers on the right keys. Download the app, and then try out your skills on your piano!
FAQs.