Best Digital Pianos with Weighted Keys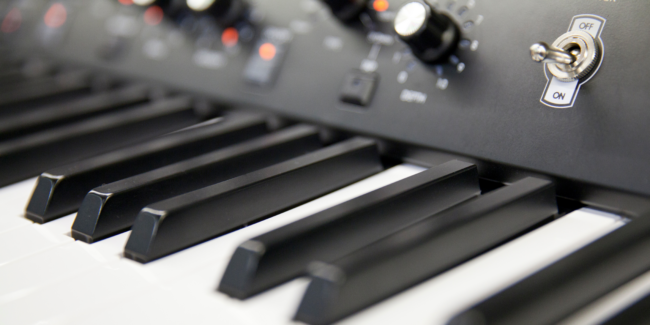 What are the best digital pianos with weighted keys? If you're asking yourself that question – you're in the right place!
A digital piano is a smart option because it's a great compromise between the piano and keyboard. Weighed keys on a digital piano make it feel like you're playing the real thing.
This article will help you pick the right digital piano as we review the best ones on the market and answer essential questions.
What are weighted keys?
Weighted keys on a digital piano offer an experience closer to playing on an acoustic piano. The design adds weight to each key, provides more resistance, and simulates the mechanics of an acoustic piano.
You'll hear louder when you press a weighted key down harder. Also, the additional weight helps you gauge how hard you need to push down to get the desired volume. Keyboard players find this more authentic and more satisfying because it resembles the playing experience of an acoustic piano.
What are semi-weighted keys?
A spring system is responsible for the weighty feel when playing with semi-weighted keys. In some semi-weighted keys, manufacturers use both the spring system and weights.
As a result, semi-weighted keys on a digital piano offer more resistance than an ordinary keyboard. The drawback is that keys don't jump into place as quickly as weighted keys after pressing them. For example, quick repetitions aren't possible.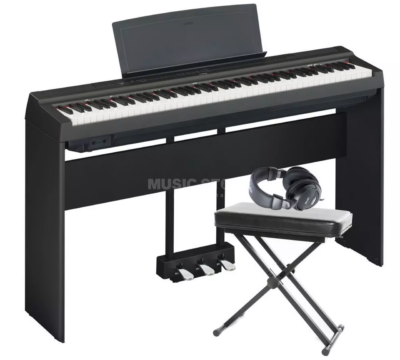 Yamaha P-125
Size: 52.19 x 11.63 x 6.56 inches
Weight: 26lb
Keys: 88
This one is our best digital pianos with 88 weighted keys because it impresses on many levels. From the responsiveness of the keys to the digital features, you'll find dynamic characteristics to create a great playing experience. Also, the P-125 comes from a well-known brand, Yamaha, so there's no concern about quality!
Interestingly, you'll feel the bottom section's weighted action is heavier than the top half, as is the case with acoustic pianos. Also, the keys are full size, which simulates an experience very close to playing on a real acoustic piano.
Other attractive features include:
Stereo sound
Playing different types of sounds simultaneously by splitting the keyboard and allocating sounds to different sections
Outputs to connect audio cables such as MIDI cables
Using an app to control settings via your mobile device
This will be a wise investment if you're looking for a digital option but used to acoustic pianos.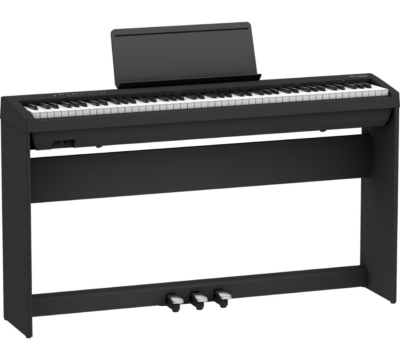 Roland FP-30
Dimensions: 59 x 11 x 5 inches
Weight: 31.2lb
Keys: 88
If you need a quality digital piano but have limited space, the Roland FP-30 could be your answer. Its design is more portable, streamlined, and compact. It's excellent value for those looking for a high-end digital piano with weighted keys.
It's available in black and white, so let your new piano match the aesthetics of your existing musical gear. Helpful features of this model include:
Bluetooth connectivity enables you to connect your mobile device with your digital piano and benefit from using it with apps like GarageBand
Sound options include drums, organs, 128 voices, and over 30 piano tones
SMF recorder that can save around 30,000 notes
USB connectivity for your flash drive or other external memory
Twin Piano mode is helpful when learning to play digital piano with the help of a teacher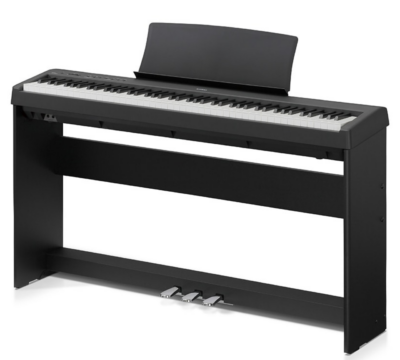 Kawai ES110
Dimensions: 57 x 14.5 x 11.5 inches
Weight: 26.5lb
Keys: 88
In the Kawai ES110, you have the perfect combination between quality digital piano features and affordability. So, those shopping on a tighter budget can put this on their shortlist.
Thanks to its Responsive Hammer Compact keyboard action, a digital piano with weighted keys provides a satisfying playing experience. This results in smooth key action and playing it will feel similar to using an acoustic piano.
It's a wise investment for many different types of players. Whether you want drum rhythms or different sounds than the grand piano, this model has it.
Some of its standout features are:
There are built-in lessons from the Alfred range. When looking at our article on the best piano books for beginners, you'll see how valuable this brand's resources are.
With Bluetooth 4.0 technology, you can connect the ES110 to other devices.
The line-out jacks provide stereo sounds.
Kawai also sells accessories for this model, including a stand and pedal.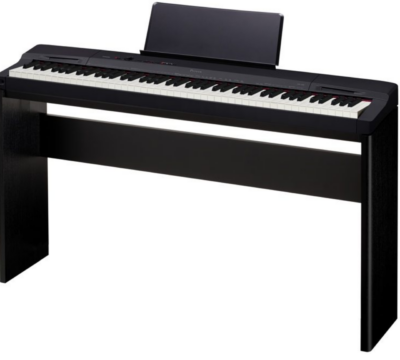 Casio PX 160
Dimensions: 57 x 14.5 x 11.5 inches
Weight: 24.5lb
Keys: 88
The Casio PX-160 is part of the brand's Privia range, designed to combine the latest technology with stylish design. After all, you want your instruments to look good while performing on stage, right?
This model has hammer action keys, a subcategory of weighted keys. Instead of a spring system, it contains mechanisms with small hammers and levers. This is another way to simulate the feel of playing on an acoustic piano.
In addition, on the PX-160, the keys simulate ivory, which prevents your fingers from slipping.
Another excellent feature of this model is the speaker system. They will fill the room with rich, deep tones while you play, enhancing the overall experience.
Additional specs:
18 built-in tones
60 built-in songs
The recorder can keep around 5,000 notes
Duet mode is available
Note that it doesn't have a MIDI output, so you'll have to use the USB port if you need to connect it to other equipment.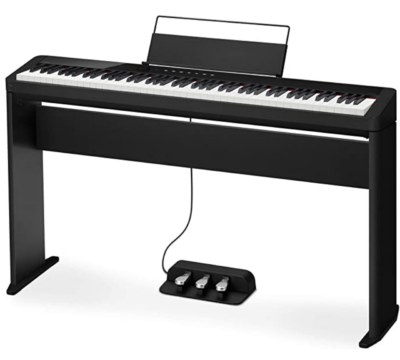 Casio PXS1000
Dimensions: 52 x 9 x 4 inches
Weight: 24.7lb
Keys: 88
The Casio PXS1000 is another model that uses hammer action keys. This one has Smart Scaled Hammer Action, which includes different-sized hammers. It's another way Casio helps you get the feel of grand piano.
Casio also uses Morphing Air sounds that produce very natural sounds.
It's one of the slimmest digital pianos with hammer action. So, it's another innovative option if you only have limited space available but want a very authentic playing experience.
Some interesting specs:
18 built-in tones
Simulated ebony and ivory keys for an authentic feel and less slipping
Control settings via an app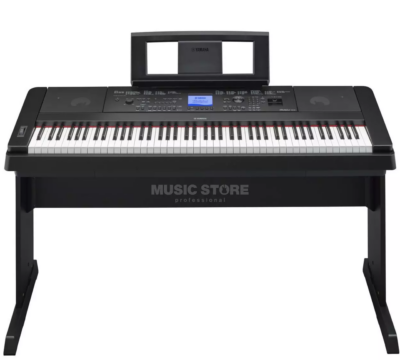 Yamaha DGX660
Dimensions: 55 x 17.5 x 5.75 inches
Weight: 46lb
Keys: 88
The Yamaha DGX660 is all about customization. Pick from piano and acoustic settings or set up a microphone for singing. You'll hear your voice through the speakers. This makes it a dynamic instrument for many scenarios, including teaching.
Note that this model is heavier than many others on our list, so not the most portable unit.
The keys on this digital piano require a heavier touch on the lower keys, resembling what you'll find with an acoustic piano.
Important facts:
The LCD screen can display a score
100 preset songs available
You can record up to 80 minutes of audio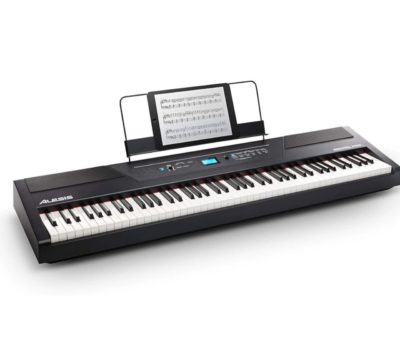 Alesis Recital Pro
Dimensions: 5.52 x 51.6 x 13.8 inches
Weight: 26lb
Keys: 88
The Alesis Recital Pro is a smart beginner digital piano with weighted keys. If you still need to learn to play the piano, you'll appreciate the Skoove subscription that provides you with lessons to get started.
Need more help to improve your skill? You can also use Simply Piano as an additional tool to learn to play the piano. 
This Alesis model also has customization options to help you create the ideal playing environment. You can adjust the touch response feature on the keys. So, if you already have a playing style, set this one to simulate the same conditions you're used to.
Helpful features of the Alesis Recital Pro:
Built-in effects include reverb and chorus
Audio options include 12 voices
Stereo outputs
Although there's a sustain pedal input, this accessory isn't included.
For experienced players, digital pianos with weighted keys are valuable thanks to the authentic playing experience they create. And for beginners, invest in a digital piano with weighted keys so you know what to expect the day you can play on a real grand piano.
Check out our article on How to Play Piano for Beginners if you're just starting. And if you have more questions, please use our comments section below.
FAQs.