Piano Restoring: Give New Life to Your Piano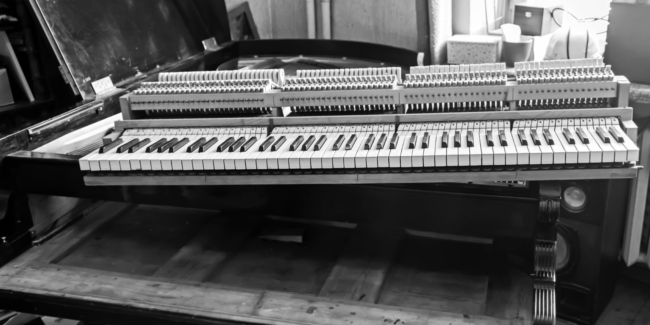 What should you consider before restoring your old piano? Find out all the answers in this article.
The right piano can assist you in your journey of becoming a musician. However, if your piano is a few decades old, you may need to spruce it up before it can give you a satisfying sound.
You can give an old piano new life through restoration and repairs. But is it worth the price you pay?
Let's look at how to restore a piano, the costs, and when a piano is past the point of no return. We'll also give you ideas for retiring an antique piano.
When to consider piano restoring?
Restoring a piano may cost as much or more than replacing it. However, in a few situations, it may be worth it.
Here are some situations when refurbishing a piano may be better than trading it in.
The piano is a high-quality instrument
Restoring a high-quality, handcrafted piano can be worthwhile. If a master originally built the soundboard, you can bring this instrument back to life by refurbishing it. You may end up with a better instrument by fixing it than if you trade it out for a newer manufactured model.
You want to preserve a family heirloom
Sometimes a piano is more than just an instrument. It may be a family heirloom or historical ties. In this case, the sentimental value may make it worth fixing your piano. You can't put a price on memories.
The piano was free or inexpensive
If you adopt a piano or find a cheap piano, you may have the money to invest in refurbishing it. Keep in mind that just moving a piano can be hundreds of dollars. You may want a piano technician to look at the used piano to see how many repairs it needs.
Questions to ask yourself before piano restoring.
Ready to give your old instrument new life? Consider a few things before you commit to an old piano restoration. Ask yourself these questions:
How much is my piano worth?
Most pianos depreciate over time. Many have a lifespan of 20 to 50 years. If your piano is any older, the sound quality may not be up to par. You may not want to spend thousands of dollars repairing an old piano in rough shape. In this case, you should probably trade it in for a newer model.
However, if the piano has had regular tuning and appropriate servicing throughout its lifetime, it may still have some value. Some handcrafted pianos can last up to 100 years with proper care.
If you are not sure of the value of your piano, have a tuner or a piano technician give you an expert opinion.
How much does it cost to restore a piano?
Before repairing and restoring a piano, you want to count the cost. The price of repairs and upgrades can vary widely depending on the work that needs to be done. An old piano may need costly repairs, and its sound quality may suffer from age. Standard services include restringing, hammer replacement, damper pedal work, tuning, and a pitch raise.
Repairing a high-quality piano can cost anywhere from $25,000 to $40,000. For other old and antique pianos, you can expect to pay $750 to 9,500. You may want to talk to a few different piano restorers to get an estimate on what needs to be done and how much it should cost.
Does piano restoring increase its value?
Any changes could damage the value of your piano has significant historical value. Like if you were to scrape the iconic gum off of the Casablanca piano, one of The Most Expensive Pianos in the World.
However, restoring an old piano in most cases only increases its value.
If you want to keep the piano restoration period-appropriate, some professional piano restorers replace broken parts and pieces with antique parts. Or, you can give a new look to an old piano by refinishing the wood.
The piano restoring process: Step by step.
While some choose to turn every project into a DIY, we'd recommend using a professional to assess the need and restore your piano. This way, you are certain you will have a quality instrument in the end.
If you want to know what goes on behind the scenes in a piano's restoration. Here are some steps for bringing your instrument back to life:
Take apart the cabinet to reach the tuning pins and soundboard.
Sand the wooden parts of your piano, including the outside of the cabinet, piano bench, and soundboard. Then refinish each piece.
Inspect the keys—if there are chips in the acrylic, ivory, or Yamaha's "ivorite," repair or replace the coverings.
Replace the felt inside the piano and in the damper blocks.
Check the pin block for broken pins.
You have to restring the instrument if the strings are corroded with rust or broken.
Pitch correct and tune the strings. Add tension as needed.
Make sure the hammer height corresponds to the key height. Play the keys to check the height.
Clean all piano hardware and replace any broken hinges.
These are some of the basic steps in piano restoration. However, depending on its condition, your piano may need fewer (or more). If your piano is not valuable enough to make restoration worthwhile, you may have to look for a new instrument.
What to do with an old piano.
If your piano breaks down and it's too expensive to fix, you can consider other uses.
Here are some things you can do with an old piano that can no longer make music:
Trade it in
Many used piano dealers accept trade-ins when you buy a piano from them. They may evaluate your instrument and give you a lower price on a piano on the floor. You can make room in your house and budget for a better-quality instrument.
Sell it
You can sell an old piano. Someone else may have the skills to fix it up or the desire to invest in an old piano. One man's unusable piano may be another one's treasure! You might get at least a nice dinner for your price.
Donate it
If you can't restore the piano, it may be hard to find a buyer for it. In this case, you can donate it to a charity to get rid of it. You can help a good cause and get your piano hauled off for free. You can also try listing it on PianoAdoption.
Use it as decor
Many coffee shops and photographers enjoy using old pianos as props and decor. You can take photos with your piano. No one has to know it doesn't play!
Repurpose it
Many do-it-yourselfers enjoy repurposing old pieces of furniture. Some have turned old grand pianos and uprights into bookshelves, cabinets, coffee tables, headboards, and much more. The possibilities are endless if you have a creative mind and the right tools.
Dismantle it
Many old pianos have valuable pieces such as ivory and exotic wood. You can dismantle your piano and see if you find a market for piano hardware and parts. Or you can use the pieces yourself in different projects.
Restoring your old piano can be the first step if you want to learn to play music. A piano that sounds good to the ear is more motivating to play.
The next step is to download the Simply Piano app. This app helps you get to know your piano better and keeps your fingers on the right keys.
You can reach your dreams of playing the piano with a little practice and a solid instrument.
FAQs.