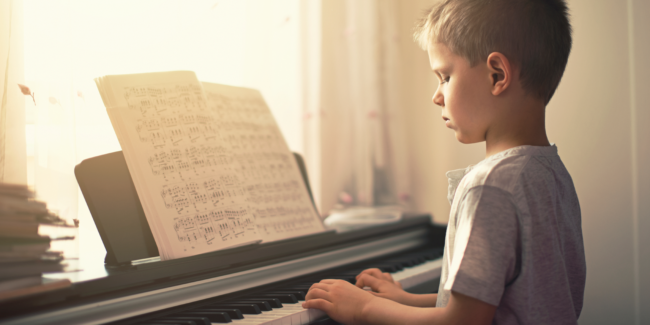 Unsure which digital piano is the best for you? Fear not – this guide will prepare you for a confident walk down the piano aisle!
Whether or not you're just starting out, purchasing an instrument is exciting, and helps you commit to your musical journey.
As stationary instruments, digital pianos add aesthetics to your home and help with a consistent practice routine.
This guide will map out the essential factors to consider when making your purchase and break down a few of the best models of digital piano.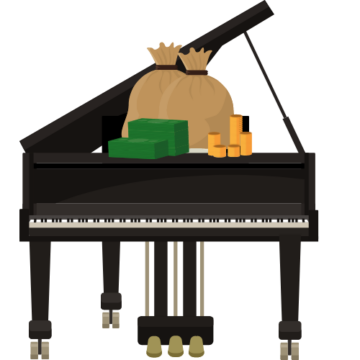 Budget
The most complicated part about choosing an instrument in this day and age is narrowing down your options. Figure out the ballpark of your budget, and it will help focus your search.
If you're looking at a lower-end instrument, you can find a digital piano for as little as $500.
If you're looking for something of good quality in the mid-range, you'll probably be looking at spending at least $2000.
Want to invest in digital piano luxury? The prices can go up to $8000.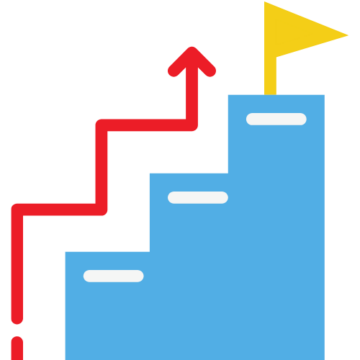 Goals
Once you know your budget, you must think about what you want from your instrument.
Just beginning to learn piano? You're better off choosing a more straightforward, cheaper, and lighter model. This will help you understand the art before committing to a higher-quality instrument.
If piano playing is already part of your life, you could look at the more sophisticated options with sturdier hardware and a more comprehensive range of features.
Maybe you just want an instrument to fill out the design of your new dining room and for the occasional twinkle on the keys? Some high-end digital pianos look like the real deal.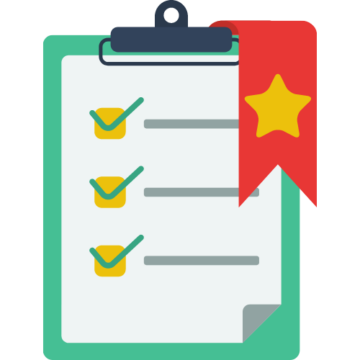 Features
You know your budget, and you've started thinking about your piano playing goals. Now you've got to dig deeper.
Digital pianos have different features. You should know your way around them when you make your choice.
Keyboard action and touch response – This is about how the keys feel and how sensitive they are to your fingers.
Sound Quality – Digital pianos use recorded samples of acoustic pianos for their sound. Some are better than others – make sure you like what you hear!
Learning tools – Some digital pianos will have inbuilt programs to help you practice your skills and technique. (Great for beginners!)
Quantity of sounds – Too many sounds can be confusing and distracting, and not enough can be limiting and frustrating. Make sure at least one acoustic and one e-piano sound hit your sweet spot.
Amplifiers and speakers – While you can plug most digital pianos into an amplifier, you will mostly hear the sounds from the inbuilt speakers. Check that they are appropriate for your music and resonate well in whichever room you play in.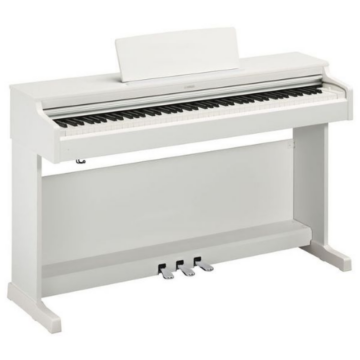 Yamaha YDP-164
This digital piano is a safe and successful recommendation. It comes from the Arius line of Yamaha digital pianos, which has an excellent and well-deserved reputation for high standards and low budgets. Depending on where you buy, you will find them ranging from $1000-$2000.
The YDP-164 has 88 weighted keys with a comfortable and authentic touch. It is perfect for beginners and has high enough quality that you won't need to replace it when you go pro. It also has dual 20W amplified speakers and is compatible with learning apps (like Simply Piano).
Though limited to ten sounds, Yamaha's samples for this model are some of their finest. The flagship Yamaha CFX concert grand piano sound is large and lush, with sparkly high frequencies and powerful bass. The Graded Hammer 3 keyboard sound is expressive and sensitive, perfect for a more intimate show.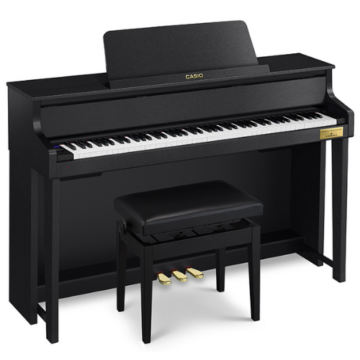 Casio Celviano GP-310 Grand Hybrid
If you're looking for fancy, the Celviano GP-310 oozes class. It looks and feels like a grand piano with a fine satin finish. It is a significant financial investment, with most costing around $4000. But it certainly doesn't disappoint, not in aesthetics nor function. If you intend to buy a piece of beautiful furniture that is also a professional-level instrument, you needn't look further.
The external and internal designs reflect the C Bechstein acoustic grand pianos. Its 88 weighted keys are the same Austrian spruce design, and the Bechstein logo is emblazoned in gold on the lower right-hand side.
The GP-310 also has 26 sounds, with three European acoustic grands and a series of electric pianos and organs. The six-speaker inbuilt sound system is impressive and perfectly resonant for larger and smaller spaces.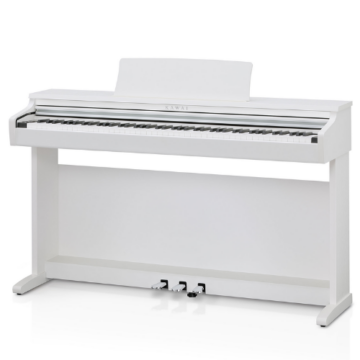 Kawai KDP-120
If you're an intermediate player taking your piano seriously, this would be a perfect instrument for making that extra commitment to your music. The KDP-120 upright piano can cost anywhere between $1500 and $2500. This makes it a worthy investment for beginners who want to deepen their practice and knowledge.
The KDP-120 includes Responsive Hammer Compact II (RHCII) keyboard action, with three different levels of touch sensitivity on the 88 weighted keys. The piano playing experience is smooth, natural, and genuine. Of the 15 sounds, the highlight is the Shigeru Kawai SK-EX concert grand, which has a reputation as Japan's premier piano.
The built-in speaker system has two powerful 20Q amplifiers and a low volume balance feature. This allows you to adjust the tone and equalize the lost frequencies when the volume is low. It has a three-track recording system and connects with all the latest learning apps, including SimplyPiano, making it the ideal practice companion.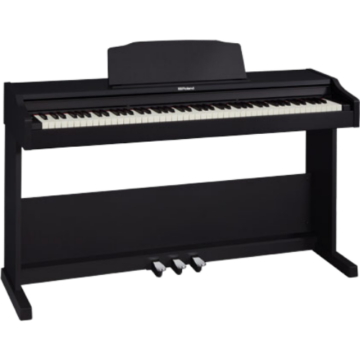 Roland RP-102
The Roland RP-102 is simple and stylish, and great for beginners. It is a universal favorite for good digital pianos under $1000. Besides a traditional cabinet cover, Roland has stripped away extraneous elements. It is clear and comfortable for you as you start your piano journey.
It carried the famous Roland SuperNATURAL sound engine. This differs from others in that it produces sound without using samples. This means it generates the sound from scratch rather than playing back a recording of an acoustic piano.
The fifteen sounds available on the RP-102 are more than satisfactory, with four different concert grand piano options. It also has beautiful effects such as ambiance, brilliance, and damper resonance.
The RP-120 speakers carry 12W in two speakers, which will adequately fill a small room. The functions of this digital piano are reasonably limited in the interest of simplicity. However, Roland has an app, The Piano Partner 2, which you can download to expand some features. It still has all your standard ones available – metronome, transpose, master tuning, and recording.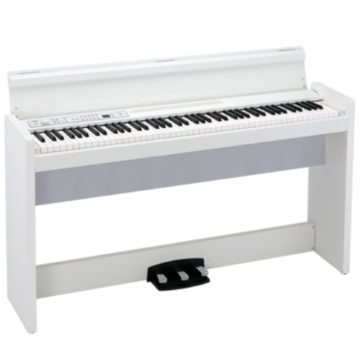 Korg LP-380
If you were to ask a mirror on the wall who is the slimmest of them all, it would show you a reflection of the Korg LP-380. Weighing in at only 37kg, this is a perfect digital piano if you only have a small corner for practice in your home. If aesthetics are your primary concern, this piano isn't going to win you any awards. But it is excellent value for money at around $1200, especially considering the wide range of effects – three levels of touch sensitivity and nine levels of temperament.
There is an excellent variety of 30 sounds, including five acoustic pianos (two of which are good concert grands) and six electric pianos. This will give you freedom and motivation to be more adventurous in your playing. Its controls are straightforward, abandoning the function + key system by just having buttons for everything.
The speaker system on the Korg LP-380 is its best feature. With 22W, the inbuilt amplifiers will resonate crystal clear in any space and go up to full volume without distortion. The reverb has several room-size options, and you can incrementally raise or lower the chorus and brilliance.
Still unsure?
Choosing is hard – we get it. Especially with so many options.
Take your time.
Weigh the pros and cons.
Then, forget everything and go with your gut!
Whatever you choose, the Simply Piano app can upgrade any digital piano into a fully interactive learning station.
FAQs.