How To Choose A Yamaha Keyboard For Beginners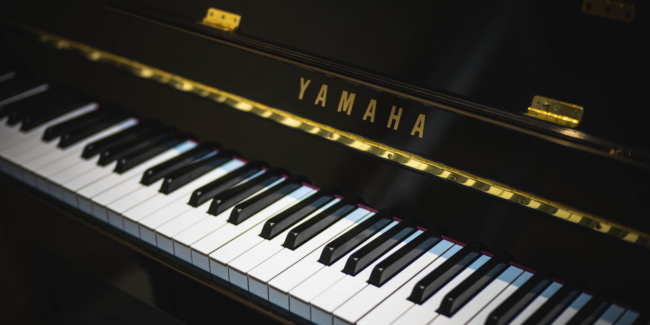 A Yamaha keyboard is ideal for people of all skill levels. Although, beginners may be overwhelmed when searching for the right keyboard.
Buying an instrument is a big decision, especially if you've never played one before. Knowing what features you need and how much money to spend is challenging.
Keyboards and digital pianos come in various shapes, sizes, and qualities.
And between your musical needs and budget, there's a lot to consider.
So the team at JoyTunes put together a brief to help beginners choose the ideal Yamaha keyboard for their needs.
A brief history of Yamaha.
Over the past century, Yamaha Corporation has produced countless pianos. You can find them in educational institutions, religious facilities, concert halls, recording studios, and in the comfort of many homes.
The first Yamaha piano was created in 1900 by Torakusu Yamaha. For the first 20 years, the company remained in Japan. However, by the 1920s, representatives of Yamaha regularly traveled to Europe to learn about the latest developments in piano technology.
Yamaha released their first FC concert grand piano in 1950–the instrument was welcomed with resounding approval. This eventually led to the company building a new, superior facility—fully equipped with the world's first computer-controlled wood drying room.
By the 1960s, Yamaha established itself in the United States and produced more pianos than any other manufacturer.
Finally, the first Yamaha synthesizer was released in 1974, and released their first portable keyboards.
Since then, Yamaha has stayed at the cutting edge of technology by constantly refining, innovating, and producing hundreds of different products.
What to look for when buying a keyboard.
While the assortment of available keyboards is incredible, choosing the right instrument can be daunting.
Keyboards are built with various keys, sound options, and quality and vary in portability.
So before shopping around for Yamaha keyboards, take some time to reflect on your needs and consider the following questions.
What is your budget?
Having a rough idea of how much you're willing to pay for your instrument will help you narrow down your choices.
Keyboards range from $100 to over $1000. If you're just starting out, you may not get the most from a higher-end instrument, so we recommend beginning with an entry-level or intermediate keyboard.
What kind of sounds do you want to make?
Knowing the kind of music you want to play will also help you find the best instrument for your needs.
Keyboards come with different sound options, making them rather adaptable. On the other hand, if you're looking to emulate the sounds of a piano, take a look at some digital pianos.
Another thing to consider is the sound quality. Some keyboards have built-in speakers. Others you hook up to computers or external speakers.
This leads us to the following question:
Under what contexts do you want to play?
It might be helpful to visualize the environment(s) that you want to play in and reflect on why you're pursuing the keyboard.
Try asking yourself:
Do you play by yourself or with people?
Are you plugging in headphones or performing?
How much storage space do you have?
Is portability important to you?
What kind of music will you play?
With a precise vision, it's easier to select the right keyboard.
Best Yamaha keyboards for beginners.
With the immense variety available, it might be worth showcasing a few quality keyboards.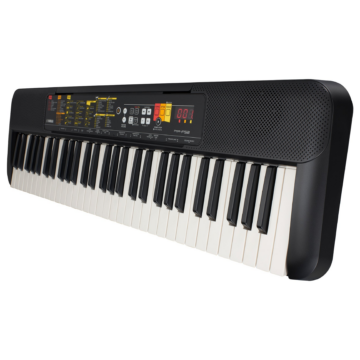 Yamaha's PSR-F52: A simple setup
The PSR-F52 is an excellent keyboard for beginners. It's affordable and easy to use and has a unique color-code design, making it accessible for kids and adults. Additionally, this keyboard comes with a headphone outlet for when you need to be discreet—you can play anywhere, any time.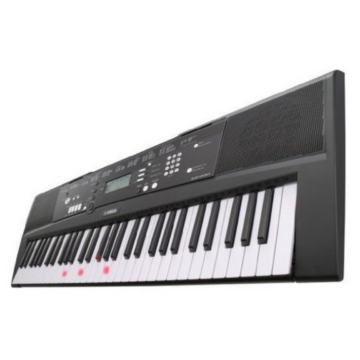 Yamaha's EZ-220 61: Light and portable
The Yamaha EZ-220 comes with 61 keys and is affordable and portable. This keyboard also comes with headphones and a stand, meaning you're fully equipped to set up shop wherever you want. This beginner-friendly instrument is a feature where the keys will light up to guide your fingers.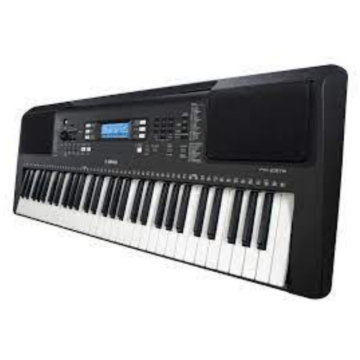 PSRE373: The frontrunner
While the PSRE373 is more expensive, you get what you pay for. Enjoy high-quality speakers, a two-track, five-song recording system, and a library of 622 instrument voices. However, this instrument is worth investing in the touch-sensitive keys that recreate the feeling of playing on an acoustic, giving you greater expressive power and seamlessly transitioning to other pianos and keyboards.
Yamaha produces a plethora of keyboards suitable for musicians at all skill levels. It's hard to choose the right Yamaha keyboard as a beginner, but finding one will be easy with a clear understanding of your needs.
Once you have your instrument, it's time to learn to play! Start your musical journey on the right foot with Simply Piano.
FAQs