The 9 Best Piano Books for Beginners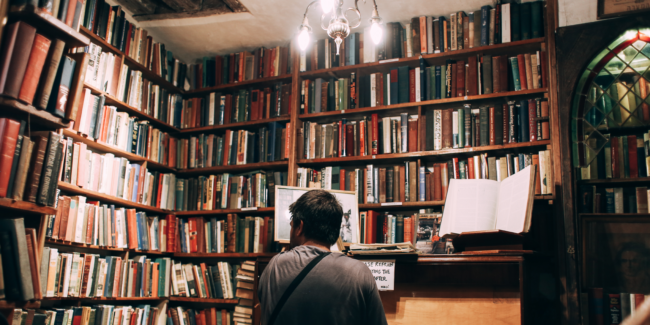 Independent learning and practice are essential whether you're taking lessons or not. Here are nine of the best piano books for beginners.  
Writing plays a vital role in the development of society and the human race. Through reading, we can learn about virtually anything.
Reading about the piano can offer insights about the instrument that you may not find anywhere else.
However, there are thousands of piano books. As a student, you want to be effective with your time, so finding the right piano book is vital.
Here are the nine best piano books for beginners.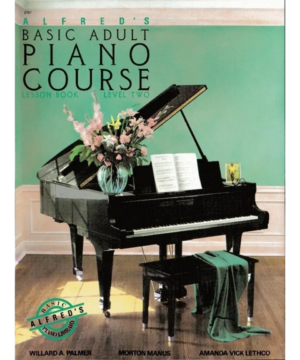 1. Alfred's Basic Adult Piano Course
Alfred's Basic Adult Piano Course provides piano lessons for beginners. The 'Alfred's brand has been publishing piano books since 1922. The series is popular for people of all ages and breaks ideas down into small, easy-to-follow steps.
The book teaches basic techniques and provides beginners with the necessary information to practice correctly.
Additionally, it offers a ton of information about chords–teaching you everything from learning how to form and play them. Additionally, the book provides some sheet music for various well-known songs, including 'Happy Birthday' and 'Greensleeves.'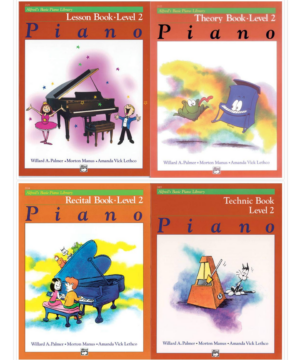 2. Alfred's Basic Piano Library
Some of Alfred's books are for kids. This book, in particular, offers lessons for children as young as five.
There's an art to capturing a child's attention and relaying information. Alfred's Basic Piano Library presents piano techniques for kids. This book makes learning the piano fun with eye-catching illustrations, simple text, and catchy tunes.
And should you have a child prodigy on your hands, there are many more books in the series to move on to next.
Handy tip: These books and many others on our list are available on Kindle. Easy on your budget AND portable.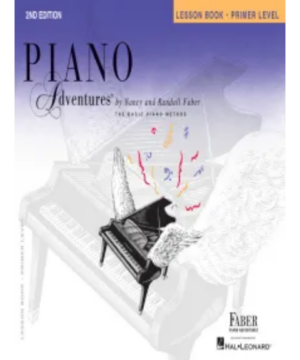 3. Primer Level – Lesson Book: Piano Adventures
Learning to play piano is an adventure, and Primer Level – Lesson Book: Piano Adventures helps you make the most out of it.
This book's lessons are strategically designed to help you improve your skill. You start with basic techniques and review concepts from the previous lesson, so you can keep moving forward consistently.
This one is also part of a wide range of piano lesson books created by Nancy and Randall Faber, both respected pianists and teachers in the industry.
These books are also kid-friendly and a great tool to improve your note-reading skills.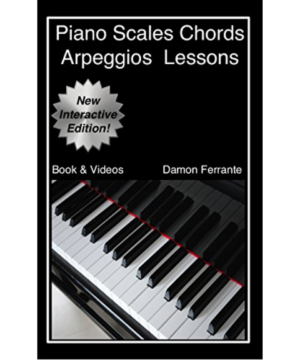 4. Piano Scales, Chords & Arpeggios Lessons with Elements of Basic Music Theory
Damon Ferrante is an accomplished composer who has performed in many famous concert halls throughout North America. His book Piano Piano Scales, Chords & Arpeggios Lessons with Elements of Basic Music Theory offers valuable lessons about scales, chords, and arpeggios.
Ferrante's book can be a potent tool. It contains 140 lessons and 30 additional classes via video streaming.
If you're learning on your own, this is a resource you want to have. However, you don't necessarily need books to find the necessary information. For instance, there are tons of blogs that go over basic piano techniques. Check out our blog, Quickly Learn Piano Notes and Chords, and get started!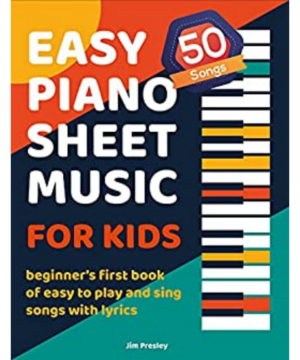 5. Easy Piano Sheet Music for Kids
Another powerful piano book for kids, Easy Piano Sheet Music for Kids, offers a collection of 40 popular songs to learn from.
Of course, you must convey information in a digestible way to your audience. Easy Piano Sheet Music for Kids does this perfectly! Each note of every song has clear labels, helping kids learn to read sheet music while having fun.
Kids rarely know what they want. This book is ideal because it also covers both piano and keyboard playing–this is a must-have!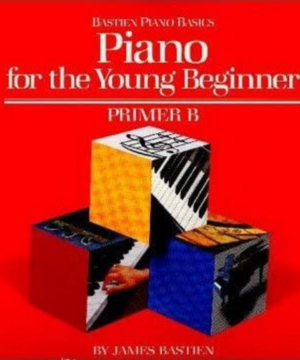 6. Piano for the Young Beginner
A 'best of' list for books on learning piano is incomplete without the famous name 'Bastien.' This piano primer helps children five years or older learn to play. 
It takes them through the basics and prepares them to read and play proficiently. Additionally, the book offers various popular songs for them to learn, and their stunning illustrations keep their exuberant minds engaged.
If your child enjoys the book, the brand has many more on playing piano for beginners. Add them to your collection, so your little Mozart can keep learning.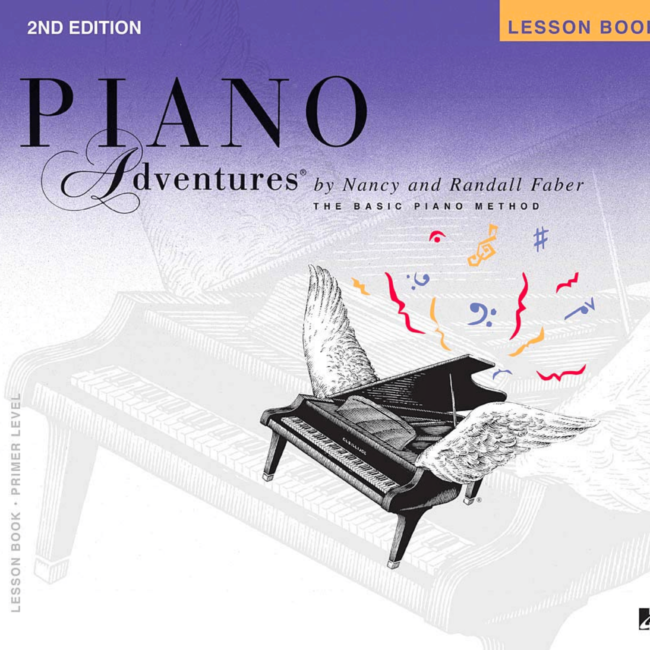 These books get beginners progressing quickly. With clear illustrations of keyboards and detailed descriptions of which notes to play, understanding what you need to do is easy! However, what's interesting about these books is the illustrations–they merge comic strips with piano lessons (speech bubbles and all). Lang Lang is a superhero pianist, and you, the student, join him on his adventures.
Overall this book is very active and, therefore, ideal for people looking to be creative. You can learn about music theory, how to play notes and chords, and how to perform.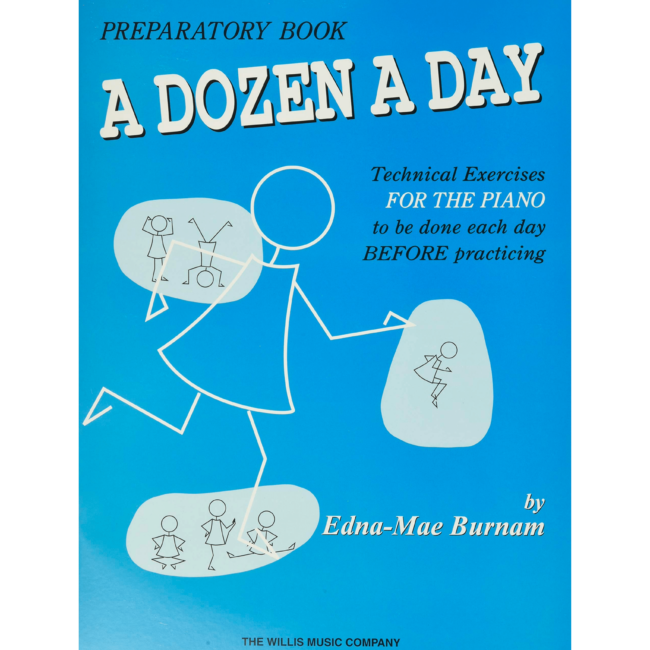 8. A Dozen A Day.
Sometimes simplicity is what you need. If you already have your bearings and are looking to sharpen your skills, this book is for you.
A Dozen A Day is an exercise book that offers beginners many fun and easy-to-play songs. However, this book isn't designed to be your primary source of learning. You can practice your sight reading and test your hand speed and precision.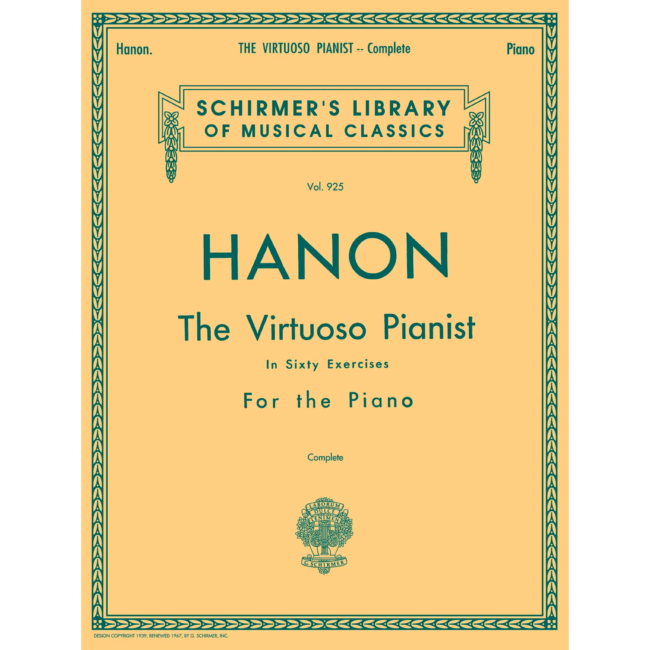 9. Hanon Virtuoso Pianist.
Hanon Virtuoso Pianist is ideal for pianists at the beginner and professional levels.
A staple in the industry, this book is full of essential information, teaching you everything from the basics to advanced techniques. While the information is incredibly helpful, one of its criticisms is that it can be a bit of a dry read. There are no illustrations, just you and pages of notes about how to play the piano.
Blandness aside, the book offers students quality techniques they carry throughout their piano journey.
The magic of reading.
Books are powerful companions for learning any skill. We can record essential information and pass it on to readers. As a beginner, you can pick the brains of highly skilled pianists in your home. 
Learning the piano can be a lifelong journey. Your teachers can come in many forms. For instance, in addition to reading a book, you take private lessons from someone who's been playing much longer, you learn online or from CDs, and you can also learn from apps. 

Simply Piano is an app designed by music teachers. It's a powerful tool that teaches everything from basic hand techniques and reading sheet music to playing your favorite songs.
FAQs