7 Christmas Songs That Sound Great on the Piano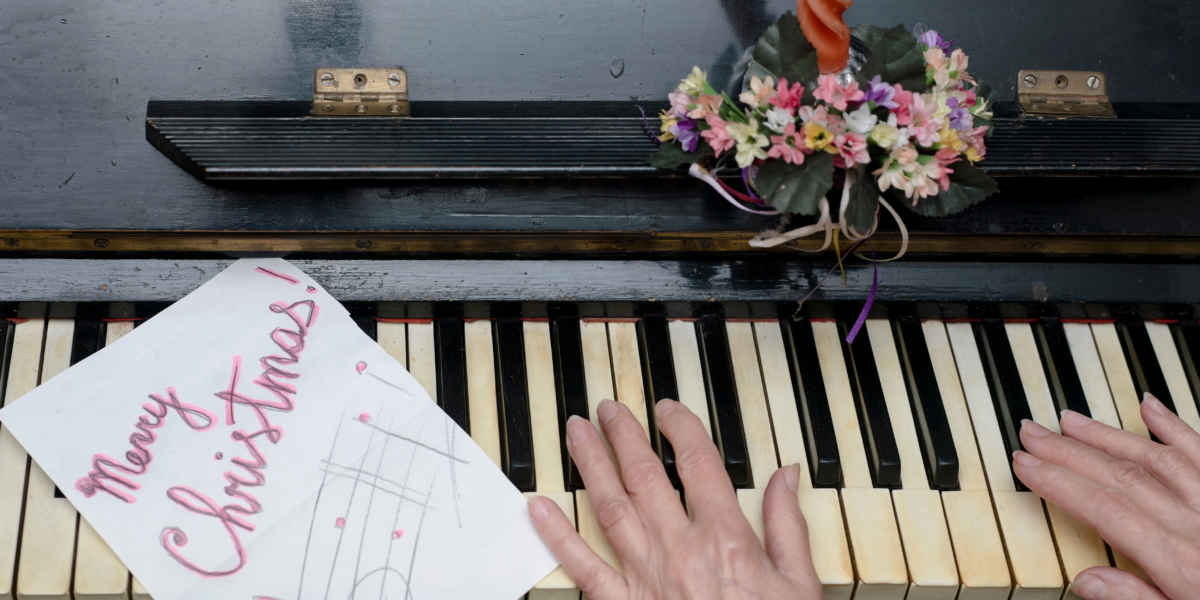 From Jingle Bells to Santa Claus is Coming to Town, here is the list of the seven most famous Christmas songs to play on the piano.
Whether the Christmas bells are ringing or it's Christmas in July, easy Christmas piano music is always in style.
These tunes are familiar, so picking them out on the piano is easy. Also, the arrangements can be as simple or complicated as you choose. You can play a straightforward melody and harmony, improvise and embellish a song, or use chords to accompany a singer.
With these Christmas songs on piano for beginners, you can enjoy the spirit of Christmas at any time of year.
1. Jingle Bells
Jingle Bells is a classic tune to start the cold winter season. It was first published as One Horse Open Sleigh by James Pierpont in 1857 and has been popular ever since.
This song brings up some of the cozy scenes we associate with the Christmas season. Who doesn't love a sleigh ride through a snowy open field?
In this simple arrangement, the right hand plays the melody, and the left hand plays a single bass clef note for each measure. Christmas songs piano sheet music is often some of the easiest sheet music to read. Have a look at the "Jingle Bells" piano sheet.
Get inspired
This Jingle Bells cover by Rousseau takes the piece up into a higher register for a bell-like sound. Add in some jazzy notes and simple chords, and this familiar piece sparkles and glows. It can inspire you with ways to embellish your own melody.
Start playing
This tutorial shows you which notes to play on the staff and the keys. You can follow this simple tutorial and improvise the melody once you have it down pat. Jingle all the way!
2. We Wish You a Merry Christmas
We Wish You A Merry Christmas is an upbeat song and a great piece to keep in your repertoire. We've heard carolers sing it at malls, pianists play it, and families sing a round of this song on Christmas Eve. The chorus is simple, and the words are easy to remember. You can play this song from the beginning of the Christmas season until the new year begins.
Get inspired
This medley combines two holiday favorites: We Wish You a Merry Christmas and Feliz Navidad. It is a lovely piece with perfect background music for a holiday dinner. Next year, this could be you regaling your friends at the piano!
Start playing
This tutorial shows you how to play the piece. You give both hands some exercises, but nothing too complicated! The main goal of this arrangement is to keep a steady melody. Start slow, and build up speed as you get the piano notes down. A metronome can also help keep you on track.
3. Last Christmas
The MTV star George Michael and his band Wham! came out with the Last Christmas in 1984. However, almost forty years later, it is nowhere near done. This popular earworm is staying relevant for new generations. For five consecutive years, from 2016 (the year of George Michael's death) to 2020, it made it to UK's Top 10.
George Michael was the first to sing this song, but he wasn't the last. In its run as a radio hit, other music artists have come out with at least 100 covers of Last Christmas to date. Check them out on Spotify.
Last Christmas has become an iconic song for the holidays. Can the Christmas season really kick off without the help of George Michael's song?
Get inspired
Last Christmas has a perky keyboard tune backing up the vocals while George Michael broods through some snowy winter scenes.
An arranger keyboard can let you layer sounds, record your progress, and listen to the playback to see how close to Wham!'s version you can get. To find a small-scale keyboard that you can take to holiday gigs, look at the best 61-key keyboards. 
This tune is so catchy it forces listeners to sing along!
Start playing
This tutorial arrangement is simple and beginner-friendly. This version downplays the rhythm so the melody line doesn't get out of control. You can practice fingering, eighth notes, and simple chords.
Try it out with your friends when you feel confident playing this piece. You might even make a cover of Last Christmas that is all your own!
4. All I Want for Christmas Is You
We can all hear Mariah Carey's voice belting out All I Want for Christmas as we shop for our friends and family. This song is playful, flirty, and not too serious.
Mariah Carey and Walter Afanasieff wrote this song for the singer's 1994 Christmas album. It has now become a Christmas classic that signals the beginning of the Christmas season.
Get inspired
In this piano arrangement, you can see that two pianists got together to make this pop song a duet. One person takes the jaunty melody while the other plays back up with chords and arpeggios.
This could be fun to try out with a friend when the holiday season rolls around.
Start playing
In this Simply Piano tutorial, you can match up the perky melody with chords in the left hand. This holiday piece has a playful air, so spice it up with a spark of fun!
You can add flair to the piece by playing staccato in the left hand or playing the chords using an uneven, syncopated beat. Or, ask a friend to join you on the piano and see what you come up with!
5. Silent Night
The tune Silent night (or Stille Nacht) was written by Franz Xaver Gruber and Joseph Mohr in a small Austrian town in the early 1800s. On the night of Christmas Eve, Joseph Mohr had a poem prepared but no music to turn it into a song. Also, the church organ was out of order.
The church organist got called in to help and quickly wrote up the memorable tune a few hours before the service started. He played the tune first on the guitar while Mohr sang the melody.
The theme Silent Night struck a chord with the listeners since their country had just come out of a twelve-year war.
The tender melody made its way around the globe from that simple Christmas Eve service. It is now translated into over 300 languages, and in 2011, UNESCO declared Silent Night an intangible cultural heritage.
Get inspired
In this jazz cover of Silent Night, you can hear the piano accompanying the singer with rich harmony using chords and a lyrical harmony line. The piano also takes a solo interlude in the middle of the song to transition between verses.
Start playing
Try out these simple jazz chords if you want to start accompanying a singer or another instrument. Once your fingers know the right notes to play, you can trade some of the block chords out for broken chords. This change of rhythm can add interest to your song.
Silent Night | Jazz Chords I | Simply Piano Tutorial
6. Carol of the Bells
Before the Carol of the Bells became the haunting Christmas song we know today, it was a folk tune in Ukraine. It was written in the early 1900s by Mykola Leontovich and titled Shchedryk, a variation of the word for "bountiful."
The flitting notes represented a bird bringing wishes of good fortune to a household. Even still, Ukrainians sing the tune after Christmas to welcome a new year.
The American arranger Peter Wilhousky fell in love with the tune in the 1930s and wrote English words to match the melody. We are familiar with the song as "Carol of the Bells."
Get inspired
Most often, singers perform Carol of the Bells a capella (without any instruments), but it sounds fascinating on the piano.
In this piece, Tommee Profitt adds scale runs to increase the energy and movement of the piece. You can finally put those daily scale exercises to use!
The song ends with a slow, simple melody line to resemble bells fading away into the distance.
Start playing
The Carol of the Bells sounds complicated, but it centers on only four notes. You can practice the tune with simple chords in the left hand. Then once you have the notes down, you can speed up the pace.
Add some dynamics with crescendos and decrescendos, and this piece can be a showstopper at a Christmas gathering.
7. Santa Claus Is Coming to Town
"He sees you when you're sleeping. He knows when you're awake." It's either a thriller or IT'S SANTA! Get excited because this song tells us that Santa Claus is coming to town to visit the girls and boys with presents.
This tune was written by John Frederick Coots and Haven Gillespie and was first heard on the radio in 1934. Although Coots wrote over 700 popular songs and Broadway tunes, Santa Claus is Coming to Town was his biggest hit.
Famous singers from Frank Sinatra, Michael Buble, Ariana Grande, Mariah Carey, Justin Bieber, to Andrea Bocelli have kept this song relevant over the years.
Get inspired
Mariah Carey jazzes up this song in her re-mix of a Christmas classic. The piano isn't the central instrument in this rendition. But you can hear some awesome-sounding glissandos in the background spicing up this piece.
Start playing
Santa Claus is Coming to Town is a simple melody to play. It has mostly quarter notes, some eighth notes, simple chords, and a few flats thrown in. Once you have this piece under your belt, you might even throw in a glissando.
Ready to be a rockstar?
With a few popular tunes under your belt, you can take on the holidays and show off your skills. If Christmas is still months away, you can still practice familiar tunes to improve your piano skills. When you learn to play the piano, it's a gift that keeps giving.
Download the Simply Piano app if you want some extra guidance as you teach yourself to play. It walks you through popular tunes step-by-step and helps you build your skillset.
FAQs.