Four-Hand Piano: History, Works & How to Play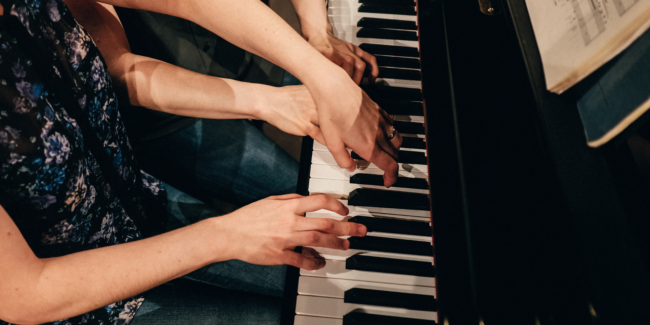 What is a four-hand piano? This article will tell you everything you need to know about this technique.
You're probably saying to yourself – what, playing piano with two hands isn't complicated enough?!
Don't freak out. There's no need to rush into anything that feels like it's out of your league. But it's important to know what's out there, channel your humility, and watch the crazy talent that walks our planet with awe and admiration.
Keep reading to gain a glimpse into the musical marvel that is the four-hand piano. Stay attentive – you never know how it might inspire you, teach you something, or influence your own remarkably ordinary two-handed piano playing.
What is the four-hand piano?
Four-hand piano sounds like four hands — presumably two individuals — playing piano simultaneously. There are two main variations of four-hand piano playing. It could be four hands, one piano, or four hands, two pianos. The essence is a piano duet, where two players work together to create a rich, vibrant cacophony.
A brief history of four-hand piano.
Okay, we don't have time for A Complete Piano History. But if we did, it would be full of weird and wonderful musical creations.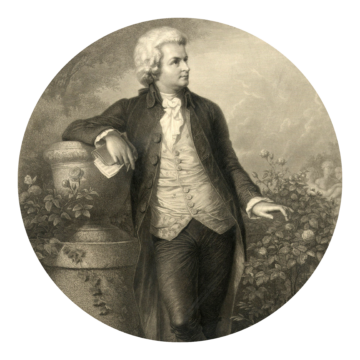 It's hard to track precisely when four-hand piano playing started, but it's safe to say that Mozart was the first prominent composer to show a particular interest. While on tour, he would play duets with his sister Nannerl, which lit the first spark of four-hand inspiration. He also used to play piano duets in London with Bach while studying with him in 1764.
The first four handpieces to appear in print were compositions by Charles Burney, who was better known for his work as a music historian. He composed a set of four piano duet sonatas. Around the same time, Bach also created three magical duet sonatas. But the musical phenomenon of piano duets was ultimately made famous by Mozart with his two teenage sonatas, the Kk497 and 521. They were dedicated to and created for his two young sisters, Babette and Nanette Natorp.
Four famous piano duets.
Some stand-out four-hand pieces have found their way into existence over the last few hundred years. You can check out a whole list with links to recordings too. In the meantime, we've given you a run down on our favorites:
Sonata for Two Pianos in D major, K.448 – Mozart
Mozart wrote this piece when he was 25. It was a composition for a performance with fellow pianist Josepha Auernhammer. It is written in the sonata-allegro form and contains three movements:
Allegro con spirito
Andante in G major, and

Molto allegro. It is a vibrant and adventurous piece, with contrapuntal melodies and homophonic cadences.
Fantasia for Piano Four Hands in F minor, 940 (Op.103) – Schubert
This is one of Schubert's most important works. He composed it in 1828, the last year of his life, and dedicated it to his pupil Caroline Esterházy. The Fantasia is divided into four interconnected, uninterrupted movements, which last altogether about 20 minutes:
Allegro molto moderato
Largo
Scherzo, Allegro vivace
Finale, Allegro molto moderato.
This piece has a melancholy feeling of mourning, which stands distinct from other four-hand composers, such as Mozart, whose work is more upbeat.
Petite Suite, L.65 – Debussy
This was composed from 1886 to 1889. It was first performed by Debussy and pianist-publisher Jacques Durand at a salon in Paris. Rumor has it that he wrote it upon request for a piece that would be accessible to more amateur players. This is believable because its simplicity is starkly different from Debussy's modernist works during the same period.
Visions de l'Amen – Oliver Messaien
This is a suite of seven sections and about 45 minutes in length for two pianos, composed in 1943 for Messaien and Yvonne Loriod. Messiaen explains the different roles of the two-piano parts: The secondo part, he describes "the principal melody, thematic elements, all that demands emotion and strength." The primo part has "rhythmic difficulties, chord clusters, all that has speed, charm, and sound quality." The name 'Visions of Amen' comes from the composer's idea to create a piece that expresses gratitude to God through the voices of seven different creatures.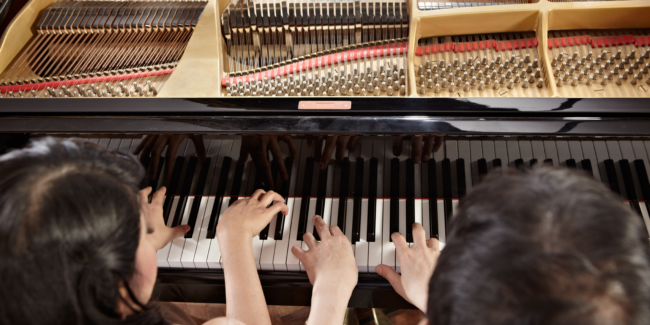 Tips for playing four-hand piano
Not every piano duet is accessible to every student. Specifically for beginners, it's important to find music at the appropriate level so that there is a healthy balance of challenge and a feeling of accomplishment. Once you have chosen a piece or your teacher has selected for you, there is another question – which part should you play? Primo or secondo?
The secondo usually carries the main melody or theme, making it a more integral part. The primo requires more technical ability and prowess. Consult with your partner, and then decide to commit.
Like in any relationship, the partner you choose depends on the purpose of the union. And like in life, it's essential to play all kinds of duets with all sorts of people!
Playing four-hand piano with your teacher, for example, might make you feel small or amateur, but it teaches you a lot quickly. On the other hand, if you decide to play a duet with somebody less experienced than you, you might not feel as stimulated, but you'll have an opportunity to give of your knowledge and expertise.
Finding a partner at your level is a fun and productive way to give, receive, and learn together.
On the macro, this means learning the piece gradually and with patience. Ideally, you and your partner should agree upon a certain amount of material to learn at home. Then when you come together, you can practice with more nuanced attention to detail.
Practicing slowly on the micro means playing the piece at a slower tempo than intended. The best way to internalize musical information is to break it down to a pace that gives our brains time to absorb and process the music–not to mention warming up the fingers. When the music feels comfortable, and you feel comfortable, up the tempo until you feel rechallenged.
One hand at a time.
Keep in mind that four-hand piano pieces are complicated creatures. They should have a sticker that says "Fragile. Beginners take care".
It can be overwhelming enough to deal with your own two hands, let alone trying to do the work in perfect harmony with another pair. Having said that, if you feel super inspired about four-hand piano–give it a crack!
There are plenty of resources to help you along the way. You could even try learning both parts of a four-hand piece and recording yourself one layer at a time. This will be pretty tricky, though – don't say we didn't warn you.
To begin your journey on the right hand, try out the Simply Piano app.
FAQs.