Furniture Made from Old Pianos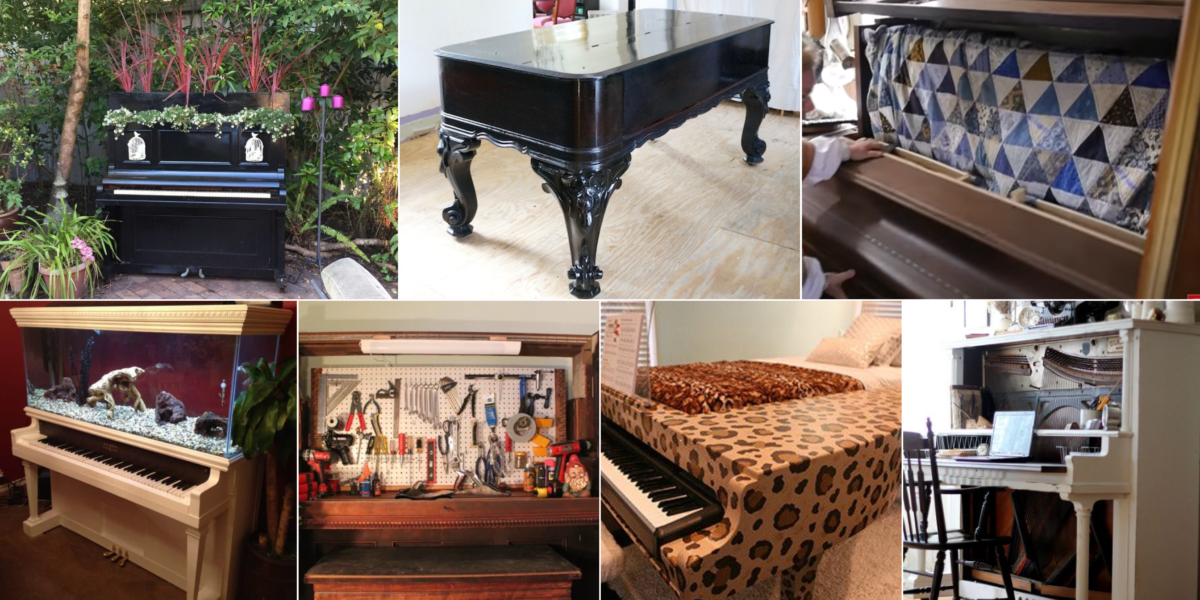 Did you know the internet is full of furniture made from old pianos? An upright piano can convert into a desk and a grand piano into a table or bookshelf.
Antique pianos are beautiful. After about 50 years, the sound quality begins to suffer. Many choose to sell an old piano, refurbish it, donate it, or junk it. If you hate to see a family heirloom head to the dump, you can repurpose an old piano.
We'll look at repurposed furniture made from old pianos. These ideas may inspire you to convert your piano into something beautiful.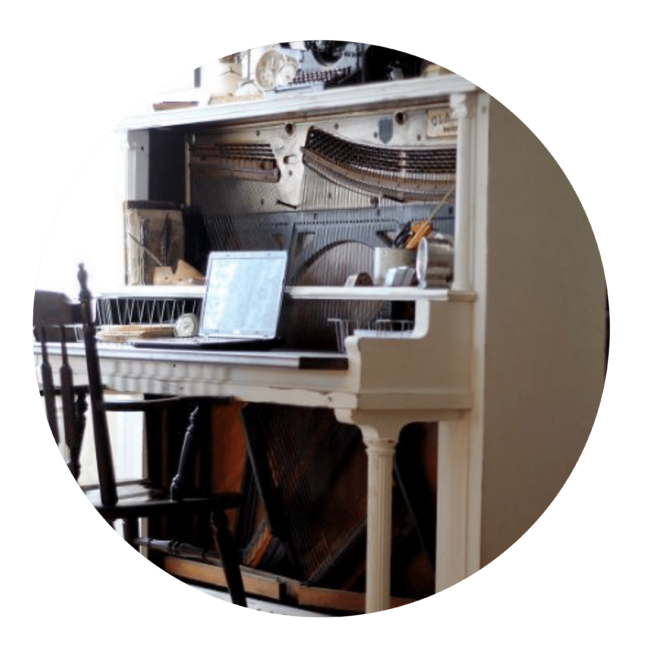 An upright piano desk conversion.
Instead of buying a computer desk that looks out-of-date as soon as you buy it, you can make a unique desk out of a piano. An upright piano is a perfect shape and size to become a desk. The height is perfect, and it already has a place for your legs.
Home Talk posted an example on Pinterest of a piano-turned-computer-desk. They left the strings in place to add interest and replaced the key block with a smooth workspace. You can also add shelves, cubbies, and other extras to make the design your own. This desk looks amazing, and the conversion requires very few steps.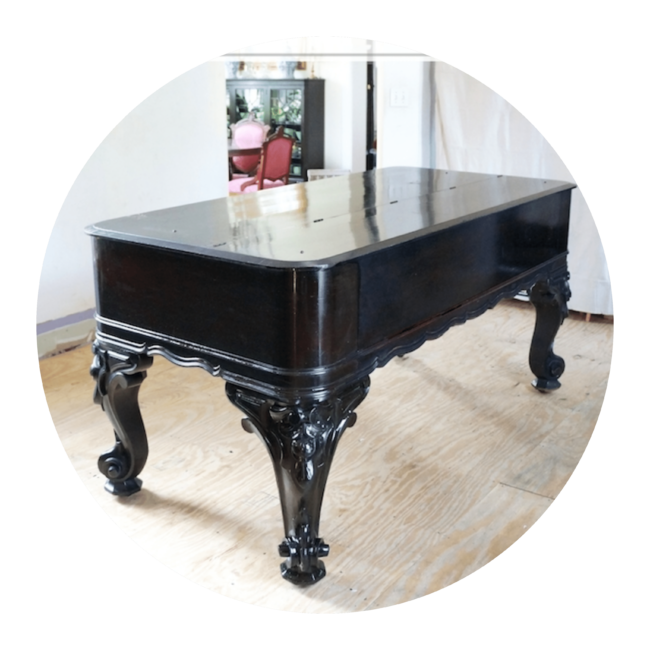 Use a square grand piano to make a kitchen island.
Square grand pianos were a popular design in the mid to late 1800s. These pianos have a unique rectangular design and often include fancy woodwork. As a piece of art, these grand pianos are beautiful. However, these piano soundboards were too narrow when they were built. This design flaw means the square grand pianos started with inferior sound quality.
The sound quality of a square grand won't improve when you tack on 150 years. But you can turn it into a show-stopping kitchen island.
The rectangular shape is perfect, and you can easily replace those broken strings and narrow soundboard with drawers. You can even add a bar to it if you want. Victoria Elizabeth Barnes walks you through her square grand piano transformation.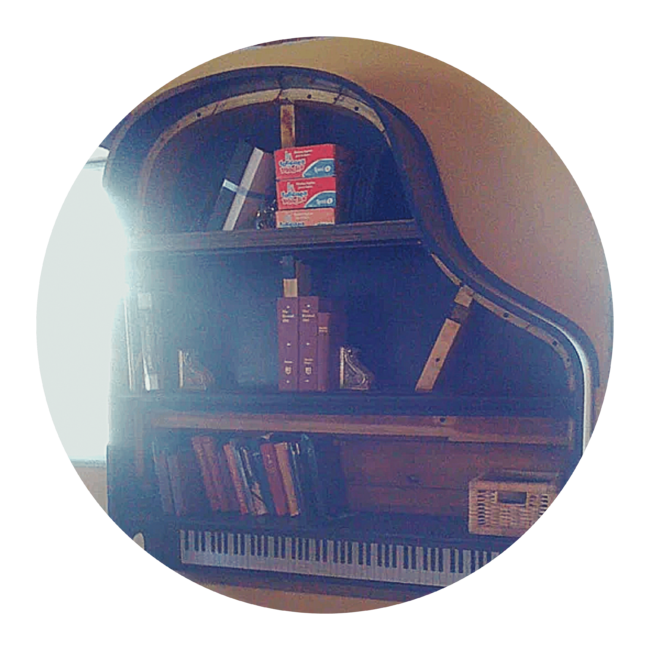 Make a bookshelf out of a grand piano.
A grand piano has an iconic shape. If you have an old piano that no longer plays, it's a shame to let that beautiful wood go to waste! (If you don't have one, check out this article to find a free piano: Piano Donation: How and Where to Donate.)
Keep in mind that grand pianos can measure over seven feet long. So, you might want to measure your wall space before you get to work. Baby grands are slightly over four feet long and may be easier to fit onto a wall.
To make a bookshelf from a piano, take the legs off the grand piano and gut the interior. Add shelves to the interior, and voila!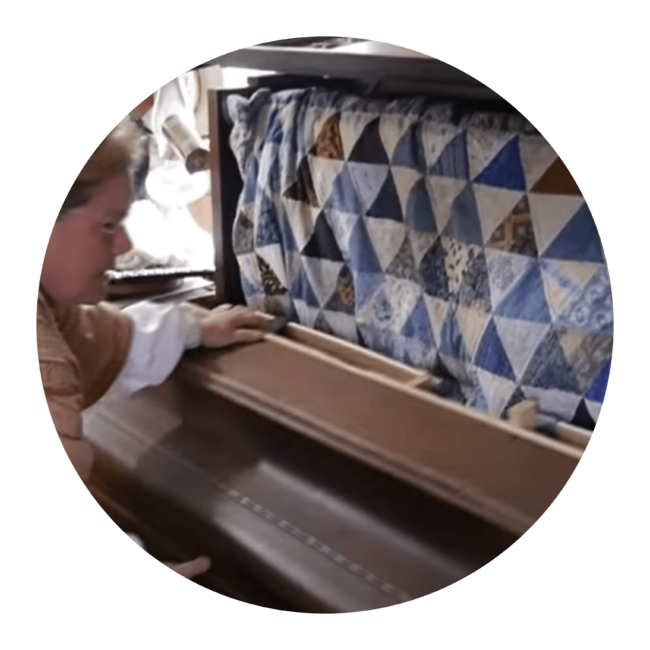 Open up the piano, and out pops a bed.
Most murphy beds fold back up into the wall or a cabinet. However, this murphy bed folds up into a piano. Behind the upper panel and key block, a full-size mattress is waiting. It may look like your regular upright piano on the outside, but when it's time to go to bed at night, this piano is the perfect place for sleeping.
Check out this space-saving piano murphy bed in a tiny house from relaxshack.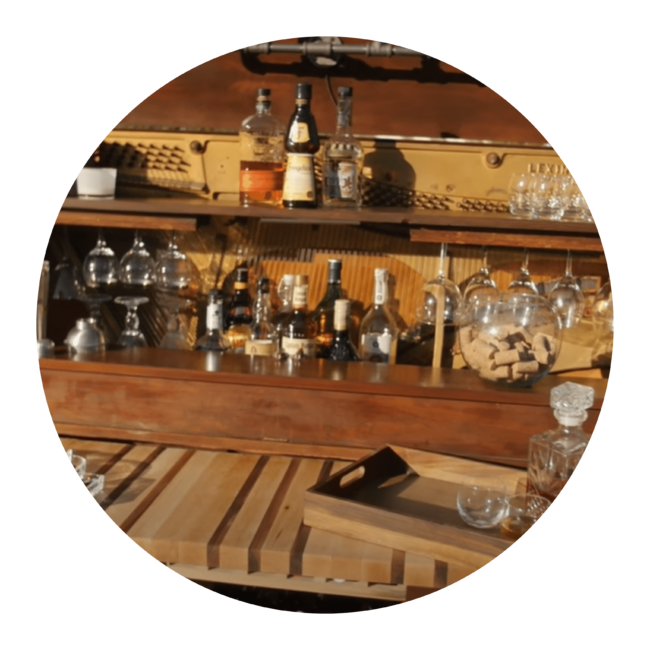 An antique upright becomes a wine bar.
Setting a drink on a working piano can be a recipe for disaster. No one plans to spill a drink over the keys, but it happens. It's especially possible when you play Easy Music Sonata Piano Sheet Music from Beethoven with a drink nearby. For arpeggios, you've got to use your elbows!
However, after a piano has seen better days, it may be time for it to hold your drinks.
There are many different styles for making a piano bar. Some put a criss-cross wine section where the strings used to be, while others use that space for glasses.
Carhartt DIY takes apart an upright piano and cuts the upper panel in half to make doors. Open the doors, and inside you have a mini-bar with drink stands and a workspace. Instead of keys, this piano bar has a chopping block that slides out. The lower panel stores your favorite drinks.
On the outside, this bar still looks like your average piano. However, this transformed piece of furniture is full of surprises.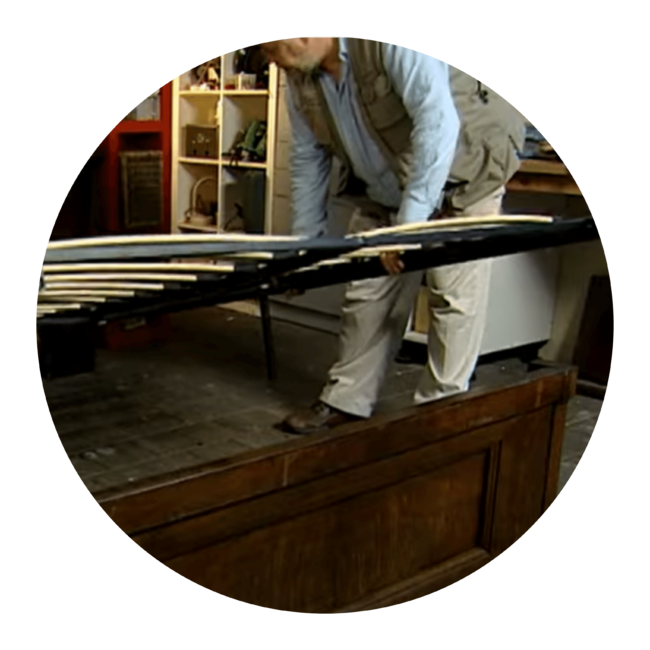 A wooden upright can make a dashing piano headboard and bed frame.
Most wooden headboards cost over $100, while a full bedframe can cost from $500 to over $1,000. However, if you have an old piano at home, you can make your bed frame for free (or for the price of nuts and bolts).
Nuts and bolts DIY shows how to separate the piano into a headboard, footboard, and frame. By the time they build the bedframe, you would never know that it was once an old, out-of-tune piano. An upright now has a new life as an elegant bed. Now, it's ready to live its best life for another 100 years.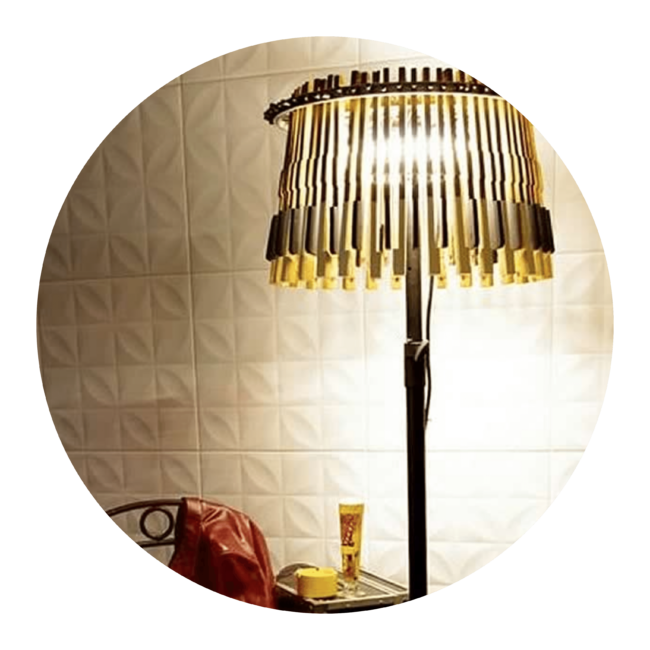 Make a lampshade from old piano keys.
Piano lamps usually cast light on a musician's sheet music. However, this lamp gives a whole new meaning to the name. Upcycle Dzine shows how to use piano key mechanisms to create a unique and modern lamp. You have to look closely to realize that this lamp is sporting ivories and ebonies attached to a bicycle rim. If you want to dissemble a piano, this lamp proves that no piece has to be left behind!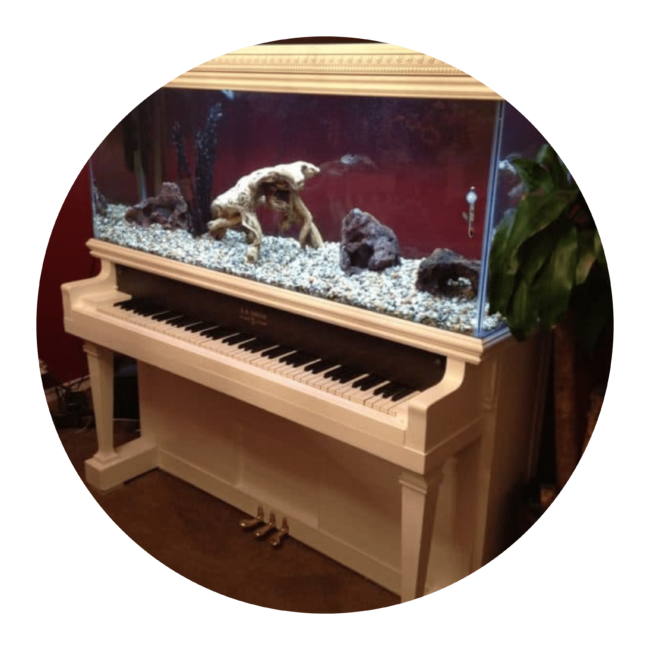 A piano full of fish.
Turning a piano into an aquarium may sound fishy, but many have done it. Recyclart has plenty of pictures to prove we're not making this up. Simply gut the top half of an upright piano and add a fish tank. Some even add a keyboard where the keys used to be.
Now, you can relax and watch the fish while you practice Mozart on the keys. We know of 5 Ways Music Makes You Smarter, but we can't say if it works for fish.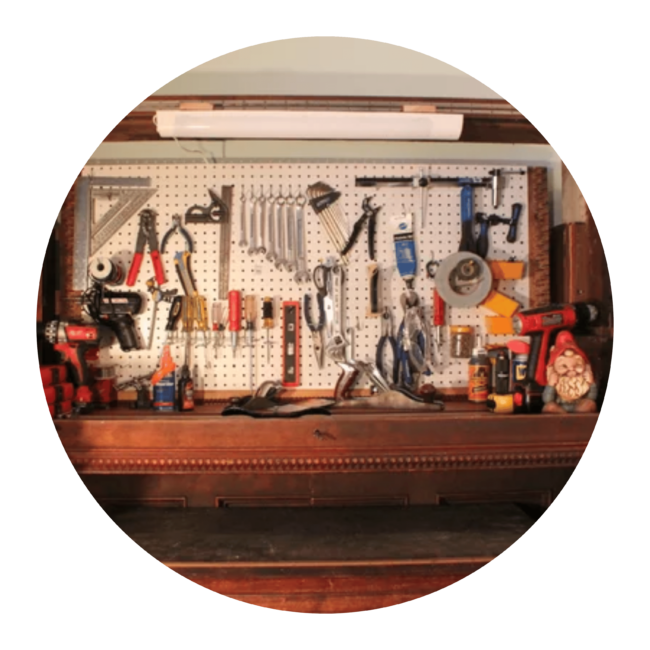 Make a crafty workbench from a piano.
If you love crafts and DIY projects, this piano workbench is right up your alley. You can bring your crafts indoors without having to look at a corner full of drills, nails, saws, and other tools. Instead, hide all those tools away in an antique piano.
You can gut the old music parts and fill the piano with tools and equipment. Add a pegboard to hang your screwdrivers and hammers at the back of the upper cabinet. Then, replace the keys with a worktop. Instructables.com walks you through the process step by step.
This workbench is perfect if you don't have a workshop or garage to house your tools. On the inside of the piano, you have a proper workbench. However, when you close it back up, it looks like you have a classy piano in your living room. Now that's crafty!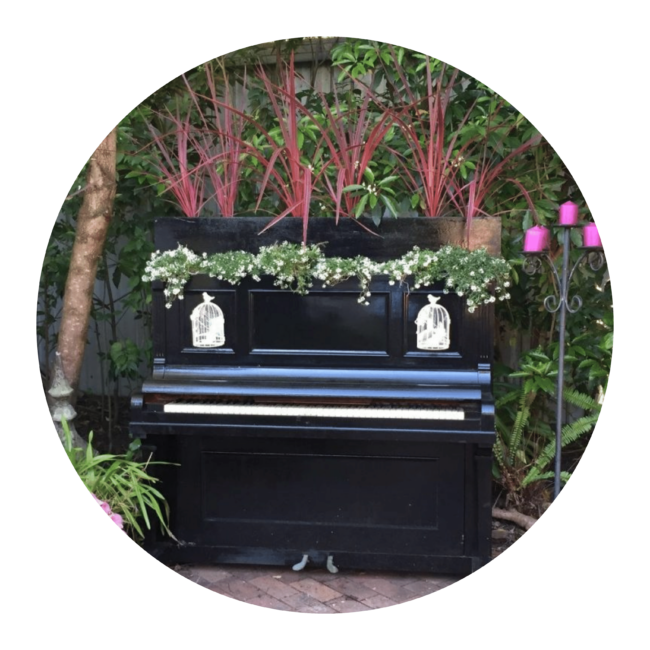 Plant a piano in the garden.
For a plant-lover, any old piece of furniture looks like a planter. Old grand pianos, baby grands, and uprights have had their moment in the sun. Now, it's time for some of these pianos to get out in the sun– full of plants.
While this transformation might make some musicians cringe, it's better than the alternative option where a bulldozer awaits. Also, if a piano has spent many years in a storage unit or garage, it may be too groaty to make its way back inside the house.
We're not sure how long a piano holds up on an outdoor patio in the elements. But, a piano full of living plants is pretty while it lasts.
Out with the old, in with the new [piano].
Making furniture from old pianos is a great way to honor an old musical piece that ain't what it used to be. Instead of watching a well-loved instrument meet the fate of a trash dump, you can save a musical heirloom by repurposing it. But even if your grandma's piano is now a murphy bed, that doesn't mean you should stop playing the piano!
If you don't want the upkeep of an acoustic piano, digital pianos and keyboards can keep your fingers nimble on the keys. These instruments don't take up much space and require very little maintenance.
To decide which instrument is the best option for you, look at The Differences Between a Digital Piano and a Keyboard.