The Best Piano Applications for Kids in 2022
Wondering what the best piano applications for kids in 2022 are? Let's explore a list of the best apps to start learning piano.
Learning to play the piano through an app can be fun for kids and a time-saver for their parents. Instead of spending a few hours a day running kids to piano lessons across town, your kids can use that time to practice piano.
Apps are designed to be fun and friendly. Most of them prepare material in simple soundbites. The child can play through different skill-building exercises and piano pieces, then move on when they master a lesson.
If your child loves playing video games, a piano app can be a fun and motivational tool for learning to play the piano. We've put together a list of the best piano applications for kids today.
How to find the best piano applications for you.
With so many piano apps for kids available, the choices can be overwhelming! Different piano apps focus on various skill levels and learning goals. Some are more game-oriented, and others put a greater emphasis on piano notes and theory.

The good news is there are plenty of options to choose from! The following criteria can help you narrow down your choices.
Is it Android or iPhone compatible?
Before you fall in love with a particular app, make sure you can download it to your device. Many piano apps are compatible with Androids and iOS devices. You can even download some piano learning apps for kids across multiple devices.
Is it compatible with an acoustic piano, digital piano, or keyboard?
Some apps connect with digital pianos or keyboards directly. Others, like Simply Piano, are also compatible with acoustic pianos. Make sure the app you choose can work with your instrument.
How much does it cost?
Many piano apps offer a free trial period before you buy a program. This is a great way to decide if the app fits your learning style, no strings attached!
Once you decide on the right app, you can choose a monthly or year-long subscription. Many piano apps cost as little as $150 per year. Considering that you can spend $50 to $100 on just one in-person piano lesson, that's a bargain!
Is the app designed for beginners or advanced players?
What level is your child as a pianist? Some apps take a child from beginner to intermediate or even advanced piano skills. Look for an app to meet your child at the right level and grow with them.
Or, let your child start with a beginning piano app for a few months. Then, when the subscription is up, you can move on to an app where your child can learn more advanced skills.
How easy is the app to navigate? Is it user-friendly?
When you search for the right app for your child, you want to find one that motivates children to learn. Is it easy for a child to navigate? Is it fun and friendly?
Some offer kid classics, popular songs, classical music, or combinations. Does the music selection suit your child's tastes? Try out a trial version of the piano app for kids to see if it is a good fit.
The five best piano applications for kids today.
1. Simply
The Simply Piano app is a well-known app popular with children and adults. The music selections range from pop songs on the radio to the classics.  You can learn where the notes are on the piano, how to read sheet music, and how to play the treble and bass clefs. 
This app is compatible with acoustic pianos, electric keyboards, and digital pianos. It uses a microphone to listen as you play and gives you valuable real-time feedback. This can help you recognize and correct your mistakes as you go.
If you don't have a piano yet, this app can still walk you through the basics. The Touch Course allows a phone to serve as a backup piano that a child can take with them on the go.
With the Simply Piano app, you can even purchase a family package. The whole family can learn piano on personalized profiles at a reduced rate.
Playing the piano has never been easier with this piano app. With over ten million downloads, Simply Piano is one of the most popular apps on today's market.
2. Flowkey
Flowkey is a simple yet comprehensive learning platform for kids. This app includes piano theory, some history of the instrument, and a good selection of tunes to play on the piano.
Flowkey is helpful for both beginning piano students and those with more advanced skills. Kids can build their repertoire as they play and master various songs in the program.
Whether you have an acoustic piano or a MIDI keyboard, this app can keep your fingers on the right keys. It uses a microphone to listen to the notes you play and lets you know when you strike a wrong chord.
You can watch videos to learn more about the piano and play along with the music on your device. The Flowkey app works on both Android and iOS devices and is a great supplemental learning tool for children enrolled in piano lessons.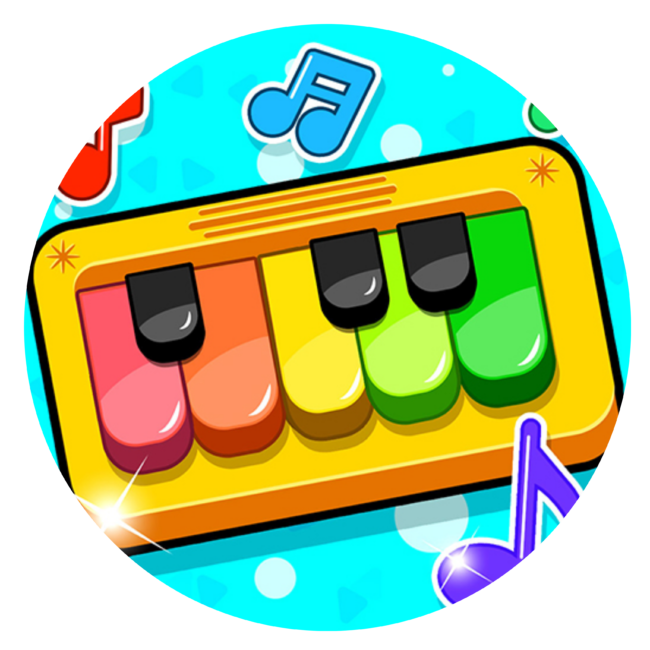 3. Pianokids
Pianokids target a younger audience. It uses simple practice exercises to teach kids notes —breaking down simple music lessons with educational games and puzzles.
Young children play music and games directly on a tablet or phone. You can also print off worksheets from the app. The Pianokids app inspires a love of music in children and teaches them short soundbites of information.
If you are looking for a way to introduce your child to music early, this app can be a fun-packed way for a kid to learn.
4. Gismart Piano
Gismart Piano can be a fun tool for kids who love to learn through play. This app turns a phone into a piano keyboard and uses games to teach your child piano.
Even if your child isn't familiar with music or keyboards, they can still play along with the app's guidance. Kids can choose to play games or record their own songs.
Gismart Piano allows a child to experiment with sounds in different octaves on the piano or other instruments. Some sounds that the app includes are the grand piano, guitar, harpsichord, organ, and accordion.
This app is more of a game than an instructional program. However, through games and experimentation with sounds, your child can develop a love for music that can spark a life-long interest in the piano.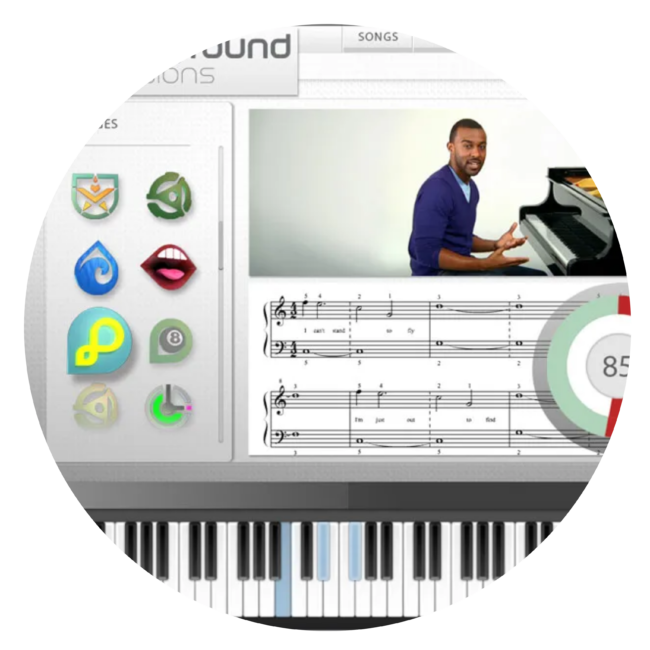 5. Playground Sessions
With Playground Sessions, kids start in Bootcamp to learn the basics. Bootcamp takes a kid from ground-level skills to advanced levels.
Once kids succeed in a level, they can unlock more learning tools and games to advance. Each child gets a score and points for their performance to mark their progress on a level. Your kid can even compete against others as they level up.
This app includes the opportunity for supplemental courses, in-depth theory, and improvisation.
It can be a good fit for kids who love a challenge and competition.
However, unlike other apps, Playground Sessions is exclusive to MIDI keyboards and is incompatible with acoustic pianos.
Download an app, and your kid can start playing today!
Apps can be a fun way for kids to learn piano. These kid-oriented platforms allow kids to succeed without the fear of failure. You can combine an app with in-person lessons or allow your child to be the master of their progress.
For more ideas on encouraging your child's learning experience, you can also check out this Ultimate Guide to Beginner Piano Lessons for Kids.
Download your app of choice, and your child can start learning to play piano today!
FAQs.