The 5 Best Piano Apps for Android in 2022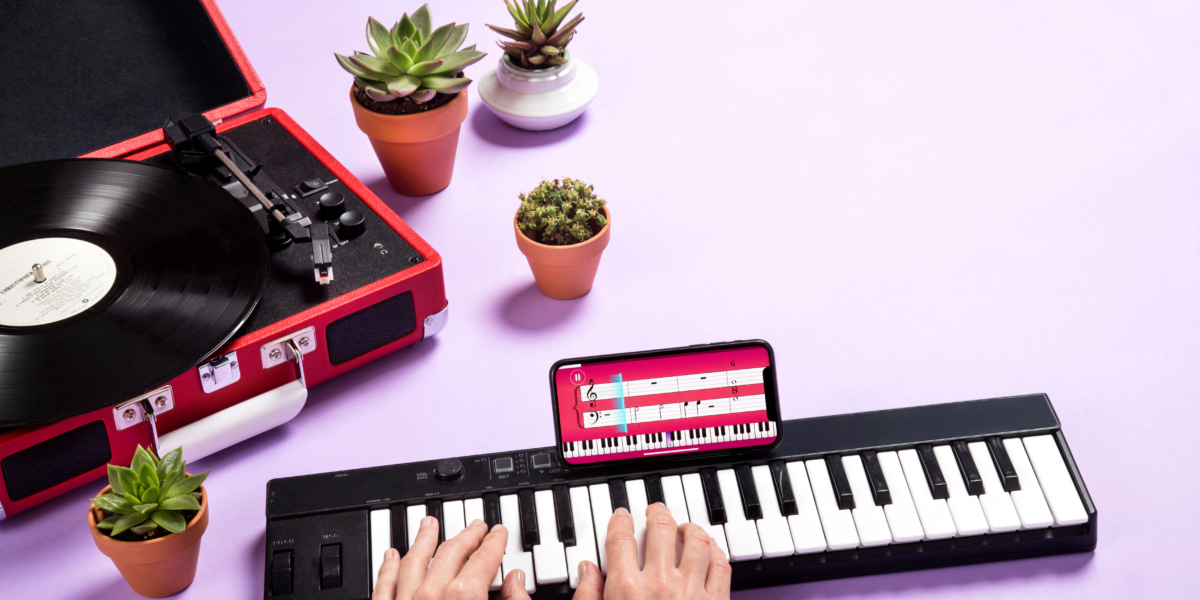 Wondering what are the best piano apps for Android in 2022? This article is a compilation of the best apps to start learning piano.
The Android versus Apple battle is ongoing. The camps are forming. Swapping sides is akin to treason.
Each device has its benefits, but not all apps can run on both platforms. So, if you are looking for a piano app for your Android, you want to make sure you find one compatible with your device.
Luckily, when looking for the best piano app, you can find a wide array of options available for your Android.
Find the best piano apps for your Android.
If you want to learn piano, an app can help you progress. But with so many options on the table, you need to narrow down your choices.
Before you purchase a lifetime subscription to a piano app, ask yourself the following questions:
Who's learning to play the piano?
Some piano apps are kid-friendly, while others are better suited for adults. Some apps are flexible and meet the needs of either party.
Do you want to pick up a new hobby? Or, are you looking for a more productive way for your kid to spend time than playing video games all day?
Look at the app's target audience to know which app is the best choice for you (or your kid).
What skill level do you need?
If you are a beginning student, you want an app that covers the basics. However, you don't want to reinvent the wheel if you just need to brush up on your skills. Some apps focus on games and very basic skills, while others can take you from beginner to advanced.
Think about what you already know and want to learn before making your final choice.
Do you have an acoustic piano, digital piano, or keyboard?
Some apps are flexible. You can use them with acoustic pianos, digital pianos, and keyboards.
However, you have to plug some apps into the keyboard or digital piano to give you real-time advice on your skills.
Other apps are designed to learn directly on the app without needing to access a real instrument. Consider what instrument you have or don't have before signing on the dotted line.
What is your price range?
Most apps offer a free trial period where you can see if the app works for you. Others offer limited free services that you can enjoy long-term.
However, when you purchase an app, you get a wide range of benefits that you can't get for free. If you try the app and enjoy it, you can sign up on a monthly or year-long basis. Some even offer lifetime subscriptions!
Subscribing to an app is significantly cheaper than in-person lessons. Also, with an app, you can pick up your device as often as you want to improve your piano skills on the piano.
Let's look at some of the top piano apps for Android devices in 2022.
1. Simply Piano
The Simply Piano app has millions of users and is available for Android and Apple devices. You can also buy a family plan to download on multiple devices. Whether you are a child or an adult, you can enjoy the step-by-step teaching methods of this app. 
Simply piano shows you proper hand position and note names. They also walk you through the treble and bass clef as you put both hands together on the keys.
You can use this app with an acoustic piano, electric keyboard, or digital piano. It uses a microphone to listen as you practice and then gives you real-time feedback so you can correct your mistakes. Or, you can use a MIDI cable to connect to a device.
If you are traveling, the Touch Course allows you to keep up with your skills on the go. Your android phone becomes a piano, so you don't lose any of your hard-earned progress.
Learning to play your favorite pop songs and classical music has never been easier.
This highly-rated app has been downloaded over ten million times, making Simply Piano one of the most popular apps in 2022.
2. Perfect Piano
Perfect Piano is an 88-key piano simulator for Android systems.
If you don't have a piano nearby, you can keep up your skills by playing on your device. You can also connect a USB MIDI keyboard to take your skills to the next level. Record the songs you learn and save them to listen to.
This app teaches you the tools for playing music by creating weekly challenges where you can compete with other learners. You can also team up with friends and show off your newly-learned skills.
With Perfect Piano, you have thousands of songs at your fingertips and the opportunity to connect with other piano students worldwide. Create your own community and support each other as you learn to play piano.
3. Real Piano Teacher 2
Android users highly rated the Real Piano Teacher app, and the 2.0 version is even better. Real Piano Teacher 2 comes with challenging family and friends to play-offs. This puts your skills to the test in a fun, interactive way.
You can be your own teacher with this app and learn at your own pace. If you want guidance, the app can take you by the hand. However, if you know what you are doing or just want to go it alone, you have that option.
Choose from various lesson plans and play with different instrumental sounds while at it.
Real Piano Teacher 2 could be for you if you want to make learning a game.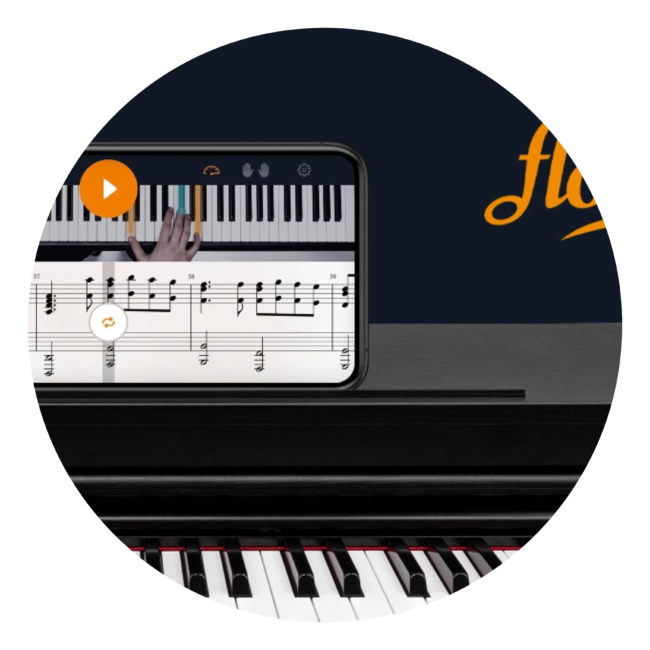 4. Flowkey
Flowkey is a simple and constructive way to learn piano. The app is available for both Apple and Android devices. It has a bit of everything, including theory, piano history, and popular tunes that you can play on the piano.
Whether you are a brand new beginner or already have some piano skills, this app can meet you where you are. Master new songs, and add them to your repertoire as you go.
You can use this app with an acoustic piano or a MIDI keyboard. The in-app microphone listens to the notes you play and gives you feedback as you go. This way, you can catch your mistakes promptly.
The Flowkey app is a perfect supplemental tool to pair with in-person lessons.
5. Perfect Ear
If you already have some piano basics, you may be ready to expand your skill set in new areas.
The Perfect Ear app focuses less on basic finger placement and on training your ear to discern rhythms and note patterns. Learn to recognize chord progressions, triads, intervals, and more.
Practicing your listening skills can help you play scales correctly and improve your improvisation on the keys. Whether a beginner or an experienced pianist, you can grow your musical skills with this app.
Ready to play the piano?
A piano app can give you the structure to build skills and practice what you learn. You can even try free trials of a few different apps before making your final decision. Once you decide which app best suits your needs, download it and start creating music!
To get a headstart on some piano basics, check out this article on How to Read Sheet Music 101.
Are you ready to play the piano? Let's go!
FAQs.