Acrosonic Piano: All You Need to Know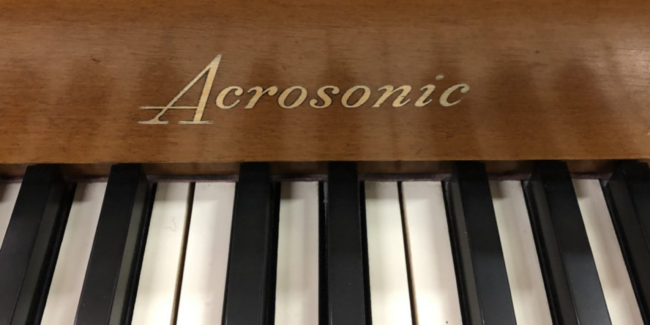 For everyone looking to learn more about the acrosonic piano, this is a comprehensive guide to its history, main characteristics, value, and different models.
There are many piano formats and styles, and almost every prominent piano brand is dropping bills to create an instrument that stands out from the rest.
Baldwin acrosonic pianos were a favored choice for many years and continue to carry an esteemed reputation.
But what made the acrosonic piano so desirable?
A brief history of the acrosonic piano.
The story of "America's Favorite Piano" begins with a music teacher named Dwight Hamilton Baldwin (1821 – 1899). The piano manufacturer started his career as a music teacher specializing in the piano, organ, and violin.
In 1862 he opened his first piano dealership in Cincinnati, Ohio.
Enjoying success in their earlier years, Baldwin would create the Baldwin Company, which quickly became one of the largest piano dealers. By the 1890s, the Baldwin Company had grown to dominate the Mid-Western United States market, and Baldwin vowed to create "the best piano that could be built."
He formed two manufacturing companies, one of them being Baldwin Piano Company's household name, specializing in pianos. They started selling their first upright pianos in 1891. and introduced their first grand piano in 1895.
Things would start to ramp up in the 20th century. The Baldwin Company won several awards: the first at Exposition Universelle in Paris and another at the Louisiana Purchase Exposition in 1914. The business was in full flow by 1913; the company was exporting to 32 countries and held many retailers across the United States.
Despite global challenges such as the Great Depression and World War Two, Baldwin Company managed to get by.
They're not the only piano company to survive this period. To learn about others, check out A Complete Piano History.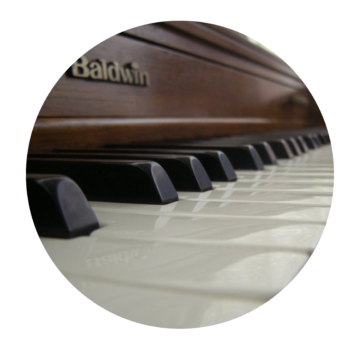 The first Acrosononic piano was released to the public in 1936, and it was lauded for its incredible sound quality and was in high demand.
By 1953, the Baldwin Company was manufacturing upright pianos on a large scale, supplying schools, churches, and individuals with quality instruments.
Today Baldwin Company continues to produce impressive instruments as a subsidiary company of the Gibson Guitar Company.
The main characteristics.
Acrosonic pianos balance size and sound quality while remaining affordable and accessible.
Acrosonic pianos have a similar design to upright pianos but are more desk-like (although you probably wouldn't want to leave any food on them).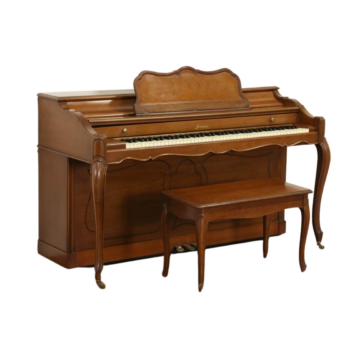 The keyboard sits at the front of a fine-wood frame, and the soundboard and strings tuck neatly into the instrument's body.
What distinguishes the Acrosonoic piano from other acoustic pianos is its size. This instrument is ideal for apartments because it only weighs 300-500 pounds.
The different acrosonic piano models.
We classify the acrosonic piano into two categories: Spinet and Console pianos.
Spinets are the smallest acoustic pianos available. Weight around 300 pounds, they're between 36-40 inches in height and come with a smaller soundboard and shorter strings. They're about five feet wide (depending on the model), but their drop action distinguishes spinet pianos. Drop action or indirect blow action use rods under the keyboard. While the Spinet piano is small and easily fit into an apartment, the sound quality is not as good as:
Console pianos are apartment-sized pianos because of their size. They typically stand 40 to 44 inches tall and weigh up to 400 lbs. Console pianos have a standard action – hammer striking down on a string – and are larger and produce better quality sounds.
What's the cost of an acrosonic piano?
How much is an acrosonic piano anyways? Pianos are large, bulky, and elegant instruments that tend to lean on the expensive. However, it's hard to be a top seller if your product is beyond the means of most people.
Acrosonic pianos go for anywhere from $1,000 to $2,800, according to Blue Book of Pianos. However, with some patience and a watchful eye, you may be able to find a gem for a very reasonable price – who knows, maybe someone is trying to rid themselves of an old piano that's gathering dust in their home!
Are acrosonic pianos good for beginners?
Acrosonic pianos are great for beginners. They typically come with 88 weighted keys, sound fantastic, are durable, and relatively easy to store.
If you're looking for a beautiful instrument that generates quality sounds that also fit your home, then perhaps the acrosonic piano is for you.
Whatever brand or style of piano you prefer, learning how to play remains the same. If you're looking for a way to optimize your piano lessons or an easy way to practice a little every day, the Simply Piano app is ideal for your needs.
FAQs.