Choosing the Best Piano Bench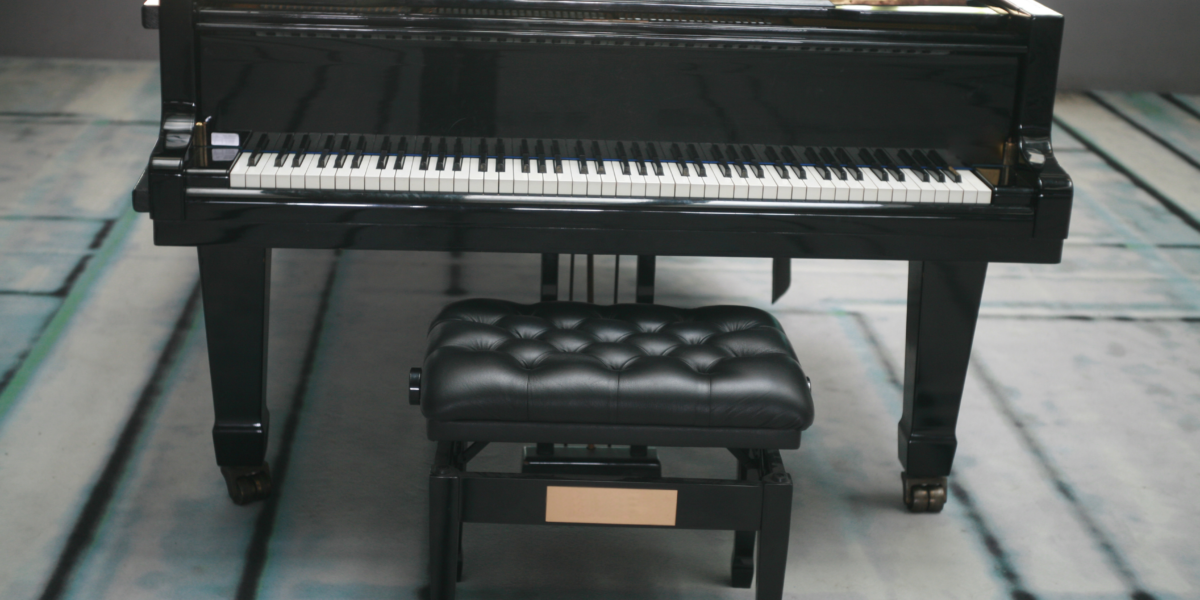 Are you looking to buy your first piano bench but don't know which one is ideal for you? In this buyer's guide, we'll help you choose the best piano bench.
Selecting the right piano bench is essential for playing on your keyboard.
Your piano bench is an extension of your instrument because it affects your playing experience – for the better or otherwise.
Wondering how a piano bench can have such a dramatic impact on your music?
Think of a woodwind musician. They optimize their lung capacity with proper posture, and it's the same for pianists. A suitable piano bench helps you sit comfortably, giving you better access to the keys.
In this article, we give you a few pointers and go over some quality products to help you choose the best piano bench for your needs.
Why is choosing the right piano bench so important?
People (and pianos) come in various shapes and sizes, but proper form is universal. When carrying out any activity, being comfortable and maximizing your mobility sets the stage for superior performance.
The right piano bench will provide you with:
Posture and comfort
Optimizing your piano-playing requires a balance of comfort and mobility.
Although you don't want to over-invest in comfort, you need to be cozy enough to sit through your piano sessions.
With the appropriate bench, you'll be able to position yourself correctly in front of your piano. And with proper posture, you enjoy greater mobility, improving your playing.
What is the proper posture?
To assume the correct posture, sit facing your bench with your feet flat on the floor, and keep your weight centered on your buttocks. This helps you press the pedals more proficiently and makes it easier to keep your back and neck straight and your shoulders down.
There's also a proper way to use your hands too! You can learn about it in our blog Piano Hands: Myths, Technique & Tips.
Questions to ask yourself before buying a piano bench.
Like buying an instrument, it's necessary to consider what qualities you want from your piano bench. So before you commit to one particular piano bench, here are some things to ponder.
Padding
As mentioned earlier, comfort is essential for playing the piano. People have different tolerances when it comes to remaining seated for extended periods. Luckily, cushions come with varying degrees of plumpness.
Consider how often and how long you'll be sitting in a session. You may not notice the difference padding makes if you play in short bursts. On the other hand, if you're the type of individual who plays for hours at a time, more padding is a solid (yet soft) investment for your tush.
Do you want to adjust the height?
An adjustable piano bench is ideal if you're sharing, growing, or unable to find a static seat that fits your stature.
It's not uncommon that piano benches aren't at the right height. An adjustable piano bench ensures you can set the perfect height for yourself, your friends, and your family.
Style
Another consideration takes place on the stylistic front. Like any instrument, quality piano benches can also play an aesthetic role. Being pragmatic is essential, but who doesn't want the look of their seat to be the envy of other piano-playing butts?
Storage space
Maybe you're the kind of person who appreciates optimizing space. If so, there are tons of fabulous seats for you.
Many piano benches come with a storage compartment for you to conveniently stash your music sheets, piano tools, piano cover, cleaning supplies, etc.
Keeping your musical instrument and accessories in your bench compartment will keep you organized and ready to play.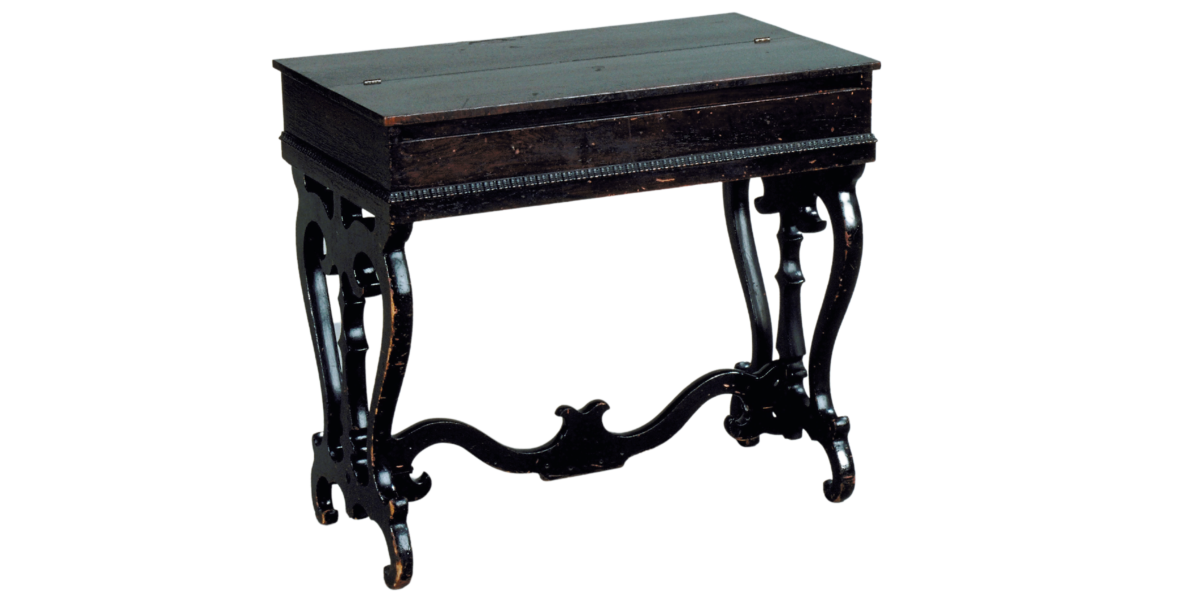 Types of piano benches.
A bench is a bench, right?
Inventors and instrument-makers have altered the piano throughout its history and continue to do so today.
Piano enthusiasts have also been tinkering with the benches that musicians sit on, giving people a vast selection of piano stools.
In our blog, A Complete Piano History, you can learn about the instrument's transformation. 
Adjustable Piano Bench
Adjustable piano benches are ideal if you're someone with an irregular stature or if many people use them. There are various adjustable piano bench styles, from purely practical stools to gorgeous upholstered benches.
Pros
It helps maintain good posture
Great for many users
They're comfy
Cons
Don't usually come with a storage cabinet
Less portability
It can be on the pricier side
Wooden/Duet Piano Bench
The classic wooden bench is a durable and attractive option when it comes to seats for your piano. They're sturdy, elegant, and easy to refurbish. A wooden bench will also complement your piano nicely.
Depending on your preferences and budget, many benches come with leather or vinyl top.
Pros
Sturdy and long-lasting
Promote good posture
Comfortable
Storage
Cons
Low portability
Can be expensive
Foldable Bench
Foldable benches are ideal if you need something portable. Because of the minimalist design, they're lightweight and affordable too.
Pros
Lightweight and portable
Affordable
Easy to store
Cons
No storage compartment
Not very aesthetic
Our five favorite piano benches in 2022.
Numerous piano benches are on the market, and making decisions stresses people out. So we figured we'd help you narrow things down with our five favorite piano benches.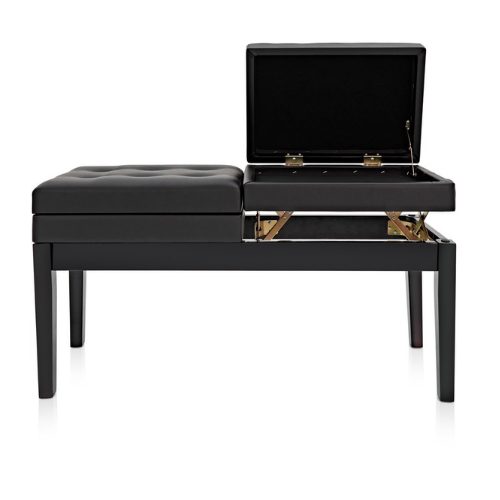 1. On-Stage KT7800+ Deluxe X-Style Padded Bench
With a practical design, this bench is ideal for anyone who values portability. It's lightweight, stable (handling up to 360 pounds), easily folds up, and users can set and lock the bench to their ideal height.
It also has a cushion that is three inches thick so that you can sit comfortably for hours at a time, and there's even enough space to fit two people, making it ideal for teaching and playing duets.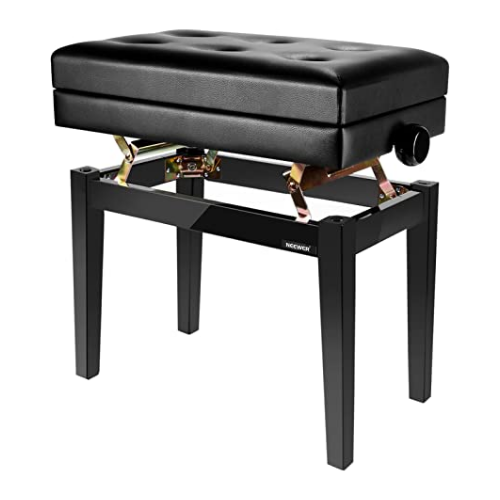 2. Roland PB-500 Piano Bench
Roland's sleek PB-500 piano bench is made with high-quality wood. It's polished with an ebony gloss black finish and is topped with a luxurious leather cushion. The sturdy bench is adjustable within a 10cm range and includes a velvet-lined storage compartment.
This is a high-end piece of furniture that will serve as an elegant companion to your piano and stand the test of time.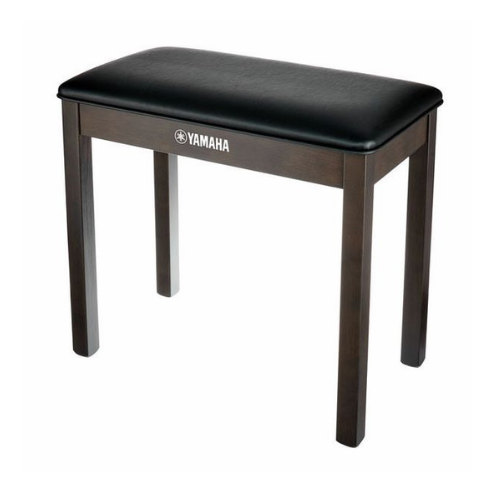 3. Yamaha B1 Piano Bench
The Yamaha B1 is a stool that has a classic allure and simple design that will compliment your piano nicely. It's a solid bench that's built with heavy-duty legs. And with an arched top padded cushion, maintaining a good posture is effortless.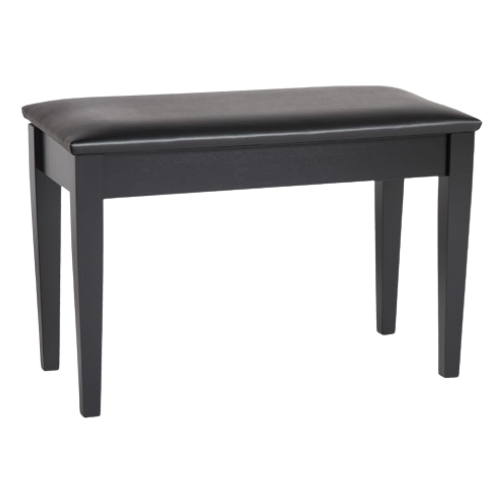 4. Neewer NW-007 Adjustable Deluxe
It's time to get serious with the Neewer NW-007 Adjustable Deluxe. It's a solid, weighty bench with a quality feel that combines pragmatism and style. With a traditional charm, you'll look great as you bust out your music sheets from the compartment and adjust the bench to the perfect height.
The wood is painted with a black gloss, and the seat is cushioned with comfortable imitation leather to keep you comfortable and your spine erect.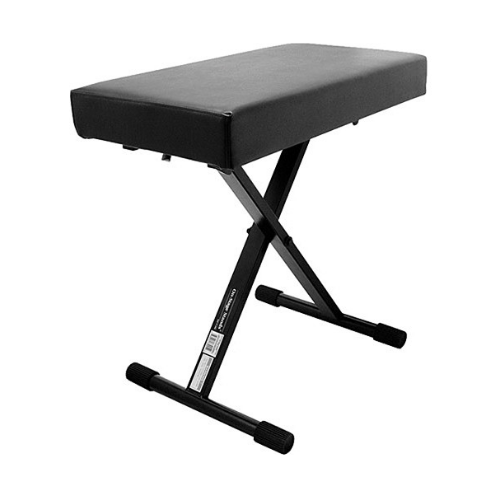 5. Gear4Music Deluxe Duet Piano Stool
If you're a teacher, a practitioner of the duet, or simply want more space, this bench is a great fit.
You can adjust each side's height independently, and there are two individual storage compartments. The stool is made with dark synthetic leather and beech with a gloss black finish, giving it an elegant aesthetic.
Have a seat.
Whether you're buying a piano or a piano bench, taking the time to consider your needs and researching your options is crucial.
A piano bench can be a serious game-changer in learning and playing the piano. It's not just a chair but an extension of your instrument. A bench enables you to sit comfortably while maintaining proper form, optimizing your playing experience.
Another way to optimize your piano experience lies in the tools you use to learn. JoyTunes' Simply Piano is the perfect companion to supplement your piano lessons. Try it today!
FAQs.