23 Piano Gift Ideas for All Kinds of Pianists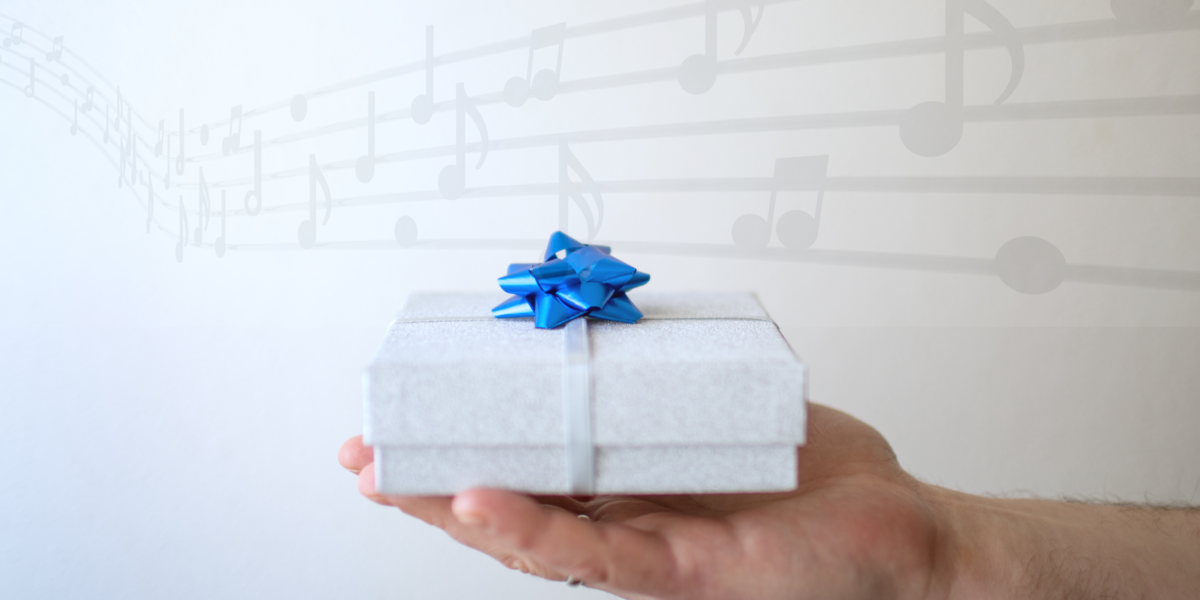 Don't know what to buy? Relax! We've got tons of unique piano gift ideas that even the most complicated people on your list are sure to love.
Whether heading to a piano recital or your favorite pianist's birthday, you want to give the right gift for the occasion. But, it can be hard to wade through the hundreds of options on the market to find the perfect item.
What do you get for the pianist that has it all? We've searched through shapes and sizes, so you don't have to buy something unique. These presents will bring a smile to the piano player you love.
Ready to have a look?
Best gifts for beginning pianists.
Practical gifts can be handy, especially for piano students just starting a musical journey. Musical equipment can be expensive when you are starting from scratch. It may be difficult for a beginning pianist to scrape the funds for all the necessary musical equipment.
Gifts such as music books, scales, metronomes, and more can encourage a musician on their journey. When you invest in tools for a musician, you can be a part of a piano player's progress! 
Here are some gift ideas to consider for the beginning pianist you know and love.
This small but practical gift is flat enough to send in the mail and can be a lifesaver for a pianist. It keeps your book or sheet music open to the right page so you can play through your music smoothly without worrying about losing your place.
No one wants to play smoothly through a piece only to have the book close up and obliterate those final crashing chord notes! This page holder holds your sheet music open so you can easily read the notes and work through trouble spots.
Every pianist needs a way to carry music on the go. This oxford cloth shoulder tote is perfect for the job. It has enough room for piano books, a binder, and an outer pocket for keys, pens, and other small items. You can even pack a bottle of water in the side pouch. The waterproof material protects music books and personal articles in a downpour.
The piano keys and eighth notes on the front of the bag are eye-catching. Everyone will know you are a piano player when you carry this bag over your shoulder.
There are many different ways to Label Piano Keys for Beginners. However, removable stickers are the simplest way to get the job done. These stickers can help beginning students get comfortable with the layout of the piano. Not only are they color-coded, but they also show the note name and its location on the staff.
For visual learners, this can be an invaluable tool as they learn to play the piano. Once students feel confident with the keys, the stickers are easy to remove. Unlike clunky markers, these stickers don't damage the keys. These piano stickers work for pianos and keyboards with 37 up to 88 keys.
Music adds an extra spark to life, and this crystal eighth-note figurine can add sparkle to a music nook. This crystal music note is a great gift to honor a student's achievement. It comes in a gift box and is ready for a special occasion. A pianist can proudly display this small sculpture on a music shelf or on the top of a piano.
The Tempi Metronome sets the pace for practice sessions using visual cues and sound. Check the Italian tempo and set the metronome accordingly. Wind the metronome to start a steady beat. One wind should last for about 18 minutes of practice time.
The mahogany veneer and retro charm make this an excellent gift choice. Not only does this metronome serve a useful purpose, but it also adds a conversation piece to your piano corner.
This Rock Jam 61-key keyboard includes everything a budding pianist needs to start learning music. This package includes a keyboard, stand, piano bench, keynote stickers, and headphones. It even includes the app Simply Piano so a beginner can learn to play the piano at home. Your musician can feel like a rockstar with this full keyboard set-up.
Gifts for intermediate and advanced piano players.
Intermediate and advanced pianists may already have the necessary equipment to play the piano. However, there are still many educational gifts that these piano players may want or need. Here are some useful tools for intermediate and advanced piano players.
There is a lot of music theory to learn and remember when you play the piano. This ultimate piano reference poster includes major and minor keys, scales, chord inversions, and that tricky circle of fifths. Also, the colorful posters look pretty impressive when you hang them up in a music nook. These posters can be a lifesaver if you learn well with visual stimulation.
As piano students learn and grow, the musical pieces become more complicated and the fingerwork more intricate. Some classical composers are notorious for saving the primary notes for your weakest fingers. (We're looking at you, Beethoven). This hand grip exerciser helps pianists strengthen their fingers to attack those tricky keys. Even when you are not near a piano, you can still work on your skills to become the best pianist you can be.
Maintainance for a keyboard or digital piano is pretty low-key. Unlike a piano, it doesn't need tuning. However, if dust builds up on a keyboard, it can affect the sound. Since keyboards can be tricky to clean, the best course is to cover your keys when they're not in use. This perky keyboard dust cover works for 61-key keyboards and 88-keys. The stretchy, elastic seam holds the cover in place and keeps your keys clean and sounding fine.
A flash drive is a handy device for recording practice sessions, layering keyboard sounds, and downloading free sheet music. This 32-gigabyte USB flash drive is perfect for storing music and songs. It has a high read and write speed, is waterproof, and can easily attach to your key ring. Its subtle piano key design makes this USB drive stand out from the rest.
Gifts for guys who love piano.
If you know a guy who loves the piano, we have some great gift choices to brighten his day. These fun gifts are perfect for a boyfriend, piano teacher, and work friend who loves spending his spare time at the keys.
If the pianist you know seems to have it all, a fun t-shirt can be a nice surprise. This black 100% cotton shirt has a piano necktie printed on the front. You can look like you're dressing up while still staying comfy. Any musician can look stylish in this playful piano T-shirt.
Beethoven said, "Music is a higher revelation than all wisdom and philosophy." This upscale pen includes his famous quote as part of the design. It can be the perfect gift for a classical pianist and a fan of Beethoven. A musician may even continue Beethoven's legacy by penning some memorable lines and scores of his own.
When it comes time to relax, a musician can sit with a drink using this novelty whiskey glass. Piano keys decorate the clear exterior creating an artistic vibe. The whiskey glass comes in a gift box with a card for you to write a sweet note. This present can be a special surprise for a pianist.
These cufflinks can add an artistic and fun statement to his ensemble for a guy who has to dress up for performances. The piano keys are in proper octave placement and accented with gold. The set comes in a gift box, ready to surprise a musician you love.
Gifts for women who love piano.
Looking for a gift for your girlfriend, a piano teacher, a colleague, or a classmate? These gifts are unique and fun for a special lady in your life.
This mini crossbody handbag is perfect for keeping your cash, keys, sunglasses, cell phone, and more in one place. The front pocket can hold small items for easy access. Inside the bag, you also have pockets for credit cards and I.D.s. The vegan leather and the piano key design add an artistic touch to this fun and purposeful gift.
If you don't know what to get a woman who loves piano, this gift set with a piano theme will be a hit. It includes a scarf with musical notes, a handbag with a piano key design, and a unique music mug. This cozy gift is perfect for crisp fall weather at the beginning of the school year. It can be a great gift idea for a piano teacher or piano student. A special lady is sure to feel spoiled by this thoughtful gift.
What better way for a pianist to store rings and jewelry than this piano jewelry box? This pewter-colored box has a classic piano design with delicate roses. The soft, velvety lining can keep rings and necklaces safe. It can be a romantic gift for a girlfriend who loves the piano. You can make this gift extra special by including a unique piece of jewelry inside.
Piano hands spend a lot of time exercising and giving those notes their all. It's time to show these nimble fingers some love and care with this Burt's Bees Hand Repair gift set. Sweet almond oil, aloe vera, Vitamin E, and botanical oils can keep a pianist's hands feeling soft and smooth. This self-care set is an excellent way for a piano player to sit back and relax after a long day's work.
Gifts for pianists who have everything.
If the pianist you know seems to have everything, finding the perfect gift for a special occasion can be difficult. Here are a few unique gifts to surprise a pianist with everything he needs.
This extra soft throw blanket is perfect for staying warm and cozy on a cold day. The black and white piano design adds a fun accent to a room and easily fits in with any decor. A musician can wrap up in this piano blanket while enjoying some classical tunes.
For pianists, being punctual is part of the job. They need a reliable clock to keep track of their practice sessions and make it to piano lessons and performances on time. This stylish wall clock with a musical flair is perfect for a piano nook. The sleek wall clock serves a practical purpose and is the perfect addition to a musician's home.
Man can't live on music alone–food and drink are also important. A pianist can use this artistic charcuterie board to host an upscale wine and cheese party. The bamboo board looks like a piano, and the keys have an intricate design. Under the lid of the piano are brushed stainless steel tools. These include a cheese fork, a pronged knife, and a compact corkscrew. This bamboo cheese board set can be a treat for a musical artist.
A musician may think they have it all, but this unique gift will surely be a surprise! The handcrafted puzzle box looks like a piano; you must find the trick to open it. This trinket box is a gift in itself. However, you can also surprise a musician with a special message, a piece of jewelry, or a gift card inside.
If you can't be there for a musician's special day, a heartfelt card can let you know you are thinking of them. This 3-D pop-up card is a work of art. It pops up into a grand piano, giving you plenty of room to add a special note. A pianist can display this card with pride.
Now, which gift is the best choice for your piano player?
Finding the right gift for that special person in your life can be difficult. However, if you know they have a passion for playing the piano, this can point you in the right direction. We found many practical and unique gifts for pianists. Now it's time for you to decide which gift will bring a smile to your musician's face.